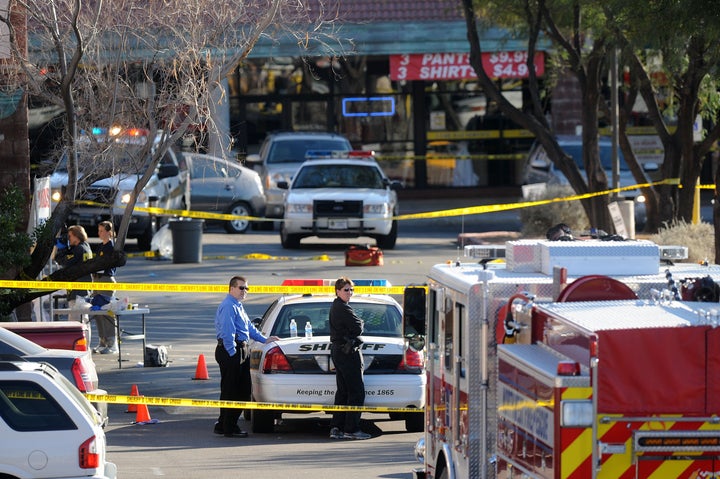 Tea Party Nation founder Judson Phillips described Jared Loughner -- the suspected perpetrator of a fatal shooting in Arizona on Saturday -- as a "liberal lunatic" in an e-mail to members of the conservative group in the wake of the tragedy, the Atlantic reports.
Loughner was charged with murder and attempted assassination, as well as three additional charges, one day following the incident in which Rep. Gabrielle Giffords was shot in the head and others were wounded or had their lives taken.
TPN founder Judson Phillips, in an article linked off the e-mail "The shooting of Gabrielle Giffords and the left's attack on the Tea Party movement," described the shooter as "a leftist lunatic" and Pima County Sheriff Clarence Dupnik as a "leftist sheriff" who "was one of the first to start in on the liberal attack." Phillips urged tea party supporters to blame liberals for the attack on centrist Democratic Rep. Gabrielle Giffords of Arizona, who was shot through the head and is now fighting for her life, as a means of defending the tea party movement's recent electoral gains.
At a press conference on Saturday night following the shooting, Dupnik made headlines when he suggested Arizona has "become the mecca for prejudice and bigotry."
"The hard left is going to try and silence the Tea Party movement by blaming us for this," wrote Phillips in his e-mail. According to the Atlantic, he accused former President Bill Clinton of using the 1995 Oklahoma City bombing to "blame conservative talk radio, especially Rush Limbaugh." He said, "The tactic worked then, backing conservatives off and possibly helping to ensure a second Clinton term."
In alleging the left of playing the blame game, Phillips told members of his group, "We need to push back harder with the simple truth. The shooter was a liberal lunatic. Emphasis on both words."
The Tea Party Express, a distinct group from Phillips's organization, responded to the shooting in Arizona with a different tone. CNN relays remarks released by Tea Party Express Chairwoman Amy Kremer following the incident:
"These heinous crimes have no place in America, and they are especially grievous when committed against our elected officials. Spirited debate is desirable in our country, but it only should be the clash of ideas," Kremer said in a statement. "An attack on anyone for political purposes, if that was a factor in this shooting, is an attack on the democratic process. We join with everyone in vociferously condemning it."
Popular in the Community