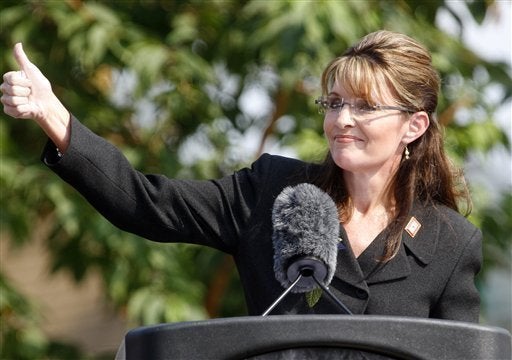 Skepticism about the Tea Party National Convention has been brewing over the past week, and now there's even more reason to wonder.
It was reported yesterday that the convention will be almost entirely closed to the press, bar a few "selected" journalists. This constraint will be extended even to speeches by the convention's headliners, Minnesota congresswoman Michele Bachmann and former vice presidential candidate Sarah Palin.
Judson Phillips, a spokesman for the convention, told the Minnesota Star Tribune that the sessions were closed "at the request" of the presenters themselves. Palin, in fact, won't be available for any interviews at all during the convention.
Last week, there were reports that Tea Party organizers are charging $549 for admission to their convention, or $349 just to see their headline event, a speech by future Fox News pundit Sarah Palin. Not only that, but the former governor might be landing upwards of $100,000 for a booking fee.
These details alone had many wondering if this convention isn't actually a departure from the Tea Party's roots. Talking Points Memo reported yesterday that many Tea Party activists are already becoming disillusioned with the event's high price tag. It is effectively "too expensive for the working Americans the movement aspires to represent."
The Tea Party National Convention gained another surprising critic yesterday, in the form of Erick Erickson, the founder of conservative blog RedState. In a blog post, Erickson said he is worried that the Tea Party "has largely descended into ego and quest for purpose for individuals at the expense of what the tea party movement started out to be."
"Let me be blunt: charging people $500.00 plus the costs of travel and lodging to go to a "National Tea Party Convention" run by a for profit group no one has ever heard of sounds as credible as an email from Nigeria promising me a million bucks if I fork over my bank account number. "
Now, the members of tea party groups who are expected to help raise money to send their best delegate to the convention won't actually have any involvement in the conference. So much for populism.
Support HuffPost
The Stakes Have Never Been Higher
Popular in the Community