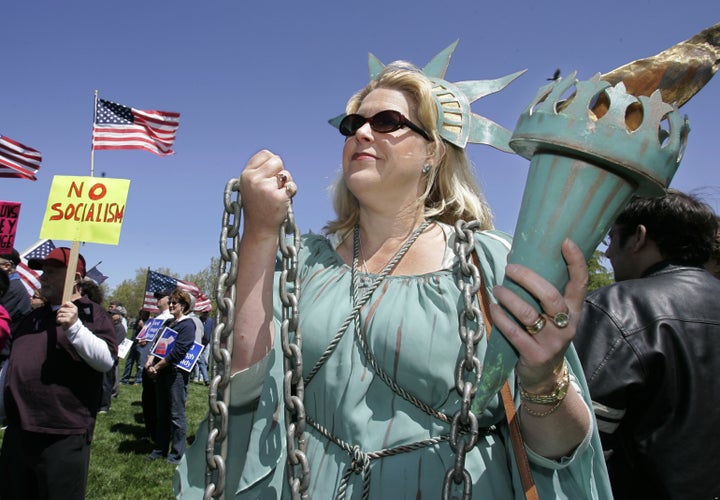 Following the release of Google and Verizon's controversial proposal on managing Internet traffic, which comes less than a week after the FCC abandoned efforts at a hammering out a compromise, Tea Party groups have taken a strong stance on the issue of net neutrality.
Specifically, they're against it. The head of one Tea Party organization says she is concerned that the policy would increase government regulation and power, calling net neutrality one of many "assaults on individual liberties."
As The Hill reports, "[a] coalition that included 35 Tea Party groups sent a letter to the Federal Communications Commission (FCC) on Wednesday urging the agency not to boost its authority over broadband providers through a controversial process known as reclassification."
"Despite universal acknowledgement [sic] that Americans enjoy a free, open, and vibrant Internet, the FCC is relentlessly pursuing a massive regulatory regime that would stifle broadband expansion, create congestion, slow Internet speeds, jeopardize job retention and growth, and lead to higher prices for consumers," the Tea Party groups' letter states. It concludes, "The Internet has never been a regulated utility and we urge you to keep it that way by rejecting so-called "Net Neutrality" regulations on the Internet and the proposed Title II reclassification."
Chairman of the Virginia Tea Party Patriot Federation Jamie Radtke told The Hill the tea party has been increasingly concerned with the issue of net neutrality. "It's starting to get onto the radar now," she said. "I think the clearest thing is it's an affront to free speech and free markets."
Where do others stand on the issue? See what executives, academics, and advocates are saying about the Verizon-Google proposal here.
Related
Popular in the Community