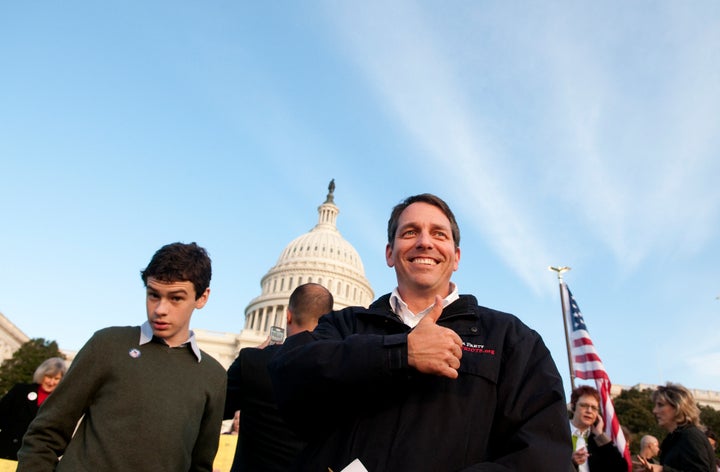 One of the founders of the Tea Party Patriots was busted at New York City's LaGuardia Airport on a gun charge, his lawyer said Thursday.
"Mark Meckler, an attorney and National Coordinator for Tea Party Patriots, who holds a concealed-carry permit from the state of California, today was charged with a firearms violation at LaGuardia Airport in New York City," said Brian Stapleton, Meckler's lawyer, in a statement.
"While in temporary transit through the state of New York in possession of an unloaded, lawful firearm that was locked in a [Transportation Security Administration]-approved safe, he legally declared his possession of the firearm in his checked baggage at the ticket counter as required by law and in a manner approved by TSA and the airline, yet was arrested by port authority for said possession," Stapleton said.
Port Authority police could not immediately be reached for comment.
According to the Associated Press:
Queens prosecutors say Tea Party Patriots co-founder Mark Meckler was taken into custody at about 5:20 a.m. Thursday after he tried to check in for a Delta flight ... with a box containing a Glock pistol and 19 cartridges of ammunition.

Officials said Meckler declared the weapon, as required. He was also licensed to carry the gun in California, where he lives.

But that license is not valid in New York, which has strict rules on carrying concealed weapons.
UPDATE: 9:10 p.m. -- A spokesman for the Port Authority of New York and New Jersey, which runs LaGuardia, called the case an "unfortunate situation" and said that Meckler apparently did not know the law in New York.
Spokesman Al Della Fave said that Meckler, 49, had arrived at the airport at 5:30 a.m. to board a Delta flight to Detroit.
He declared that he had the weapon in his luggage, Della Fave said, and the ticket agent notified police.
Police found the gun, which is registered, locked in a case.
"He had the weapon and ammunition, and that's like having a loaded weapon," Della Fave said.
Although Meckler has a permit for California, he does not have one for New York, where he had stayed for several days, Della Fave said.
Meckler was cooperative, and told police he carried the gun because he had been getting death threats.
"It's an unfortunate situation," said Della Fave, who advised gun owners to check the rules before they travel somewhere. "This is not the first time this has happened to somebody, and it won't be the last. It just happened to be Mr. Meckler this time."
Meckler was still being held Thursday night. He was charged with second-degree possession of a weapon.
A law enforcement source said such cases generally result in a fine, and not jail time.
Support HuffPost
The Stakes Have Never Been Higher
Popular in the Community