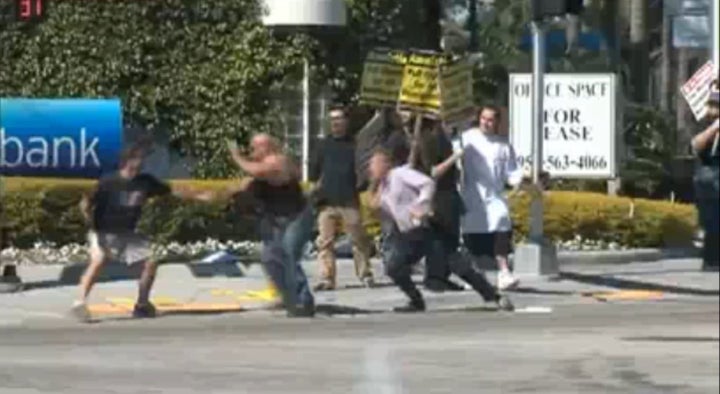 Tea Partiers tussled with counter protesters during at least two of the nationwide anti-immigration Tea Party rallies on Saturday.
In Ft. Lauderdale, several Tea Partiers brawled in the street with counter protesters from the Florida Chapter of Act Now to Stop War and End Racism (ANSWER).
The video, which was shot by Americans for Legal Immigration PAC (ALIPAC), shows two Tea Partiers with their own video cameras making their way through the area designated by police for counter protesters from ANSWER. As the Tea Partiers reach the end of the ANSWER group, one of the Tea Partiers can be seen having an argument with one of the ANSWER counter-protesters when that counter-protester pummels him with his sign.
The brawl quickly spilled into the road, with some joining in and some trying to break up the fight. By the end of the incident, both Tea Partiers were on the ground, being battered by counter-protesters. 62 year-old Dave Caulkett of Floridians for Immigration Enforcement says he was kicked in the face just before being let up from the ground.
Police did not intervene on the video, but sirens can be heard in the background. It is unclear why no police were present to keep the peace between the two opposing groups.
Video of the incident was posted by ALIPAC, an immigration control organization. It includes captions depicting the Tea Party perspective of the incident:
Friday, the day before the Tea Party rally, ANSWER sent out a provocative email, which is now being cited and criticized extensively in conservative blogs. The email included the following statement:
Racism is like anything else in this world: in order to make it fall, you must smash it! That is why we are calling on all people to come out tomorrow, to organize a militant confrontation with the so-called 'tea baggers.' Beating back these forces will require us to organize together, take the streets, fight the racists wherever they show their faces and drive them out of every community.
Also on Saturday, at the corresponding anti-immigration Tea Party rally in Phoenix, a Tea Partier got into a scuffle when a Neo-Nazi tried to unfurl a banner with Adolf Hitler painted on it. The incident was also caught on video:
UPDATE (Wed, Nov 18): HuffPost received a response from ANSWER last night. ANSWER alleges that the video tape is incomplete and that one of the Tea Partiers shown in the video came to the police-designated ANSWER area and attacked an ANSWER protester a few minutes before the tape begins. ANSWER also alleges that one of the Tea Partiers was swinging his tripod "in a threatening manner," which ANSWER alleges is also left out of the video. I spoke with an ANSWER spokesperson who says none of the ANSWER protesters were videotaping, and the only video available of the incident is from the Tea Partiers. HuffPost has been unable to obtain any other video.
Support HuffPost
The Stakes Have Never Been Higher
Popular in the Community