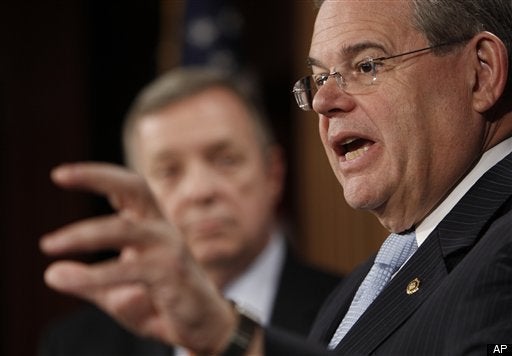 You know, typically, I wouldn't dream of suggesting that the Tea Party movement is a group of people who have taken their internalized anger at losing a presidential election and created a witless, paranoid movement centered around the idea that America is experiencing bona fide, big government tyranny. But then you get to Friday, July 16, 2010, and you find that they're angry that a Democratic senator wants to find out if BP played a role in the early release of Libyan Lockerbie terrorist Abdel Basset Ali al-Megrahi.
In the second letter, the four Democrats said they were concerned BP may have put profits ahead of justice in the al-Megrahi case, given the petroleum giant's current handling of the Gulf oil spill.

"Evidence in the Deepwater Horizon disaster seems to suggest that BP would put profit ahead of people -- its attention to safety was negligible and it routinely underestimated the amount of oil gushing into the Gulf," according to the letter from Kirsten Gillibrand and Charles Schumer of New York and Frank Lautenberg and Robert Menendez of New Jersey. "The question we now have to answer is, was this corporation willing to trade justice in the murder of 270 innocent people for oil profits?"
The BP-Lockerbie connection is a serious matter to serious-minded people. But, if you are a Tea Party member from New Jersey, your one and only thought is: "BLAAARRGLE! MENENDEZ BAD!" And so, tra-la:
"For Menendez now to be calling for a man like al-Megrahi to be put back in [prison], after voting against sensible national-security measures all the time he's been in the Senate, is the height of hypocrisy," says [RoseAnn] Salanitri.
The self-proclaimed constitutional purists are upset that Menendez and other senators refused to give the federal government greater surveillance powers.
Riiiight. Remember, this is a movement opposed to "big government" and "tyranny."
REAL LIFE. REAL NEWS. REAL VOICES.
Help us tell more of the stories that matter from voices that too often remain unheard.