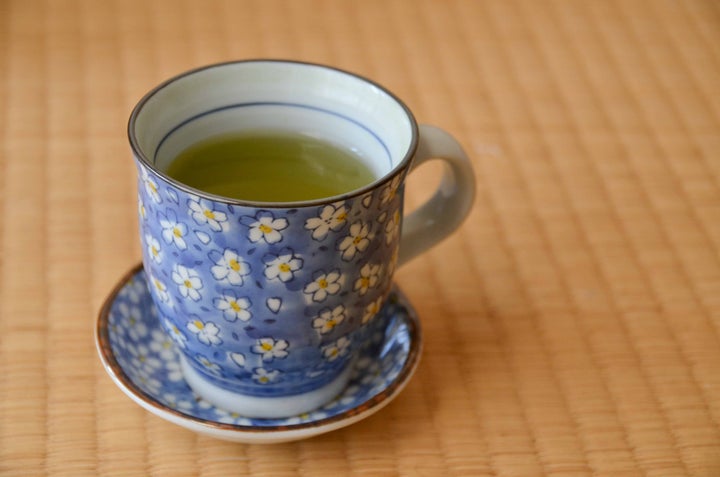 If your New Year's resolution is to lose weight, you may want to consider drinking Yogi Chai tea. Yogi Chai is a warm, spiced tea containing green or black tea and stimulating spices such as ginger, cinnamon, and cloves. According to yoga's sister science, Ayurveda, Yogi Chai promotes the body's metabolism by stimulating digestion (called agni).
Drinking tea is one of the easiest and most natural ways to lose body fat. Green tea, derived from the leaves of the tea plant Camellia sinensis, contains high concentrations of polyphenol antioxidants called catechins or EGCG (epigallocatechin-3-gallate). Current research reports that green tea catechins can increase fat burning and boost abdominal fat loss.
A placebo-controlled study published in the journal Obesity found that green tea can help boost abdominal fat loss. Chinese researchers administered four different green tea servings daily to 182 moderately-overweight Chinese men and women (ages 18 to 55). For 90 days, the participants received either one serving of a high-catechin green tea (458 mg catechins) plus one control drink (30 mg catechins), two servings of a high-catechin green tea, two servings of an extra high-catechin green tea (886 mg catechins), or two servings of a control drink.
The researchers found that the extra high-catechin group had a lower total body fat and body fat percentage compared to the control group. The highest catechin group had an average 5.6 square centimeter lower intra-abdominal fat area, 1.9 centimeter less waist circumference and 1.2 kilogram lower weight than the control group. Fat loss was most pronounced in the abdominal area.
Another study, published in the European Journal of Clinical Nutrition, reports that green tea can increase fat burning up to 33 percent. Swiss researchers administered either low dose EGCG (300 mg), high dose EGCG (600 mg), EGCG plus caffeine (300 mg/200 mg), caffeine (200 mg), or a placebo to 10 overweight and obese men for three days.
The researchers found that the low dose EGCG group had a 33 percent boost in fat burning (fat oxidation), while the caffeine group was associated with a 35 percent increase. The combined EGCG/caffeine group had a 49 percent boost in fat loss.
Ingredients:
2 cups water
1 bag (or 1 teaspoon) green tea
1 cinnamon stick
1 whole clove
1 small slice fresh ginger
pinch of ground cardamon
Directions:
1. In a medium saucepan, bring water to a boil over high heat. Remove the saucepan from the heat.
2. Add the tea and spices. Let steep for five minutes.
3. Remove the tea bag (or strain the tea leaves), cinnamon stick, clove, and ginger. Serve immediately.
You can buy Elaine Gavalas' books here.
Elaine Gavalas is an exercise physiologist, yoga therapist, weight management specialist, nutritionist and healthy recipe developer.
Related