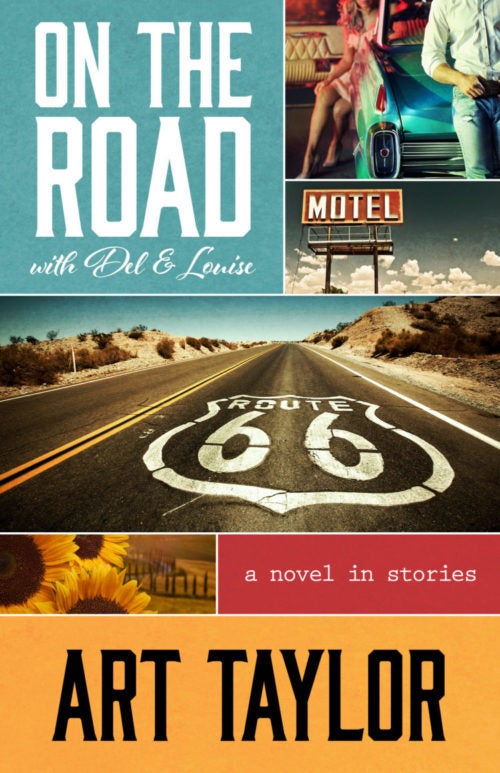 Today I'm spending time with Art Taylor, Agatha Award winner for Best First Novel and winner of this year's Agatha Award for Best Short Story, "Parallel Play". After reading "Parallel Play" in the Chesapeake Crimes: Storm Warning, I knew I wanted to spend some time getting to know Art and introducing him to you. One of the many things I learned is that Art, like me, has a passion for Capital Teas. I think you'll enjoy meeting him; and if you have the chance, I know you'll enjoy reading his work!
WHEN DID YOU FIRST DISCOVER YOUR LOVE OF MYSTERY?
I've been a big mystery reader ever since I was a child: Encyclopedia Brown, Nancy Drew, and The Three Investigators were favorites then—and still are! The transition to adult mystery fiction came through John D. MacDonald and Harry Kemelman and then some of the classic writers, Hammett and Chandler, for instance. These days I read pretty widely across various subgenres, so much to love.
WHEN DID YOU DECIDE TO WRITE YOUR FIRST BOOK AND WHAT MADE YOU GO FOR IT?
On fall in elementary school—third grade, as I recall—I told my English teacher that I was writing a book and that it would be out sometime after Christmas…. It took a few extra decades my first book to actually get published. On the Road with Del & Louise grew from one of my short stories for Ellery Queen's Mystery Magazine. That story, "Rearview Mirror," was about a young woman and her boyfriend, a small-time crook, and his one last job before going straight. The story got a good response—it won my first Derringer Award—and I kept thinking about what happened to Del and Louise after the end of that story, so…. The book is structured as a novel in stories—six adventures in all, collectively telling the larger story of this couple along their own rocky road of romance—and I've been very fortunate with the attention it received, including winning the Agatha Award for Best First Novel.
ARE THERE ANY SPECIAL RITUALS YOU HAVE OR PLACES YOU GO THAT INSPIRE YOUR WRITING?
I write mostly in my office at work—I teach in the English Department at George Mason University in Northern Virginia. While I'd hesitate to call them rituals, I do always make a cup of tea and turn on Spotify (jazz of some kind) whenever I write.
WHERE DO YOUR PLOT IDEAS COME FROM?
I've had stories come from dreams, from conversations I've overheard (I won't say eavesdropped on!), and then from my own life, though my storylines are never directly autobiographical. With my recent story "Parallel Play," for example, I was inspired by three specific things: being the only dad at my son's weekly Gymboree play sessions, seeing a thunderstorm rolling toward us though the big plate-glass windows of the Gymboree classroom (the story ended up in the anthology Chesapeake Crimes: Storm Warning), and then a winding, twisting road that leads toward Clifton, Virginia. But while the story explores some of the anxieties and pressures of new parenthood—and I was a new parent myself writing it—you won't find either me or my son anywhere in the story.
WHO IS YOUR FAVORITE DETECTIVE CHARACTER (BOOK, TV, OR MOVIE) AND WHY?
This is a tough one because of all the iconic detectives that leap immediately to mind: from Sherlock to Nancy Drew (again!) to Columbo to….. Thinking contemporary: I'm a big fan of Margaret Maron's Deborah Knott series—both the main character (a complex and fascinating woman) and also the setting of North Carolina (I'm a native of the state myself), which becomes a character in its own right with its ever-shifting political and social structures and concerns. A fabulous series, which just came to a close with the novel Long Upon the Land.
WHO IS YOUR FAVORITE MYSTERY AUTHOR AND WHY?
Oh, this is a tough one too! I'm gonna default back to the classics here. I'm a great fan of Stanley Ellin's stories—and just hope that even one of my own stories might someday be as good as his best (check out "The Moment of Decision" and "The House Party" and "The Day of the Bullet," for example).
ANY ADVICE FOR ASPIRING WRITERS?
It's a commonplace bit of advice, but… read as widely as you can, both to immerse yourself in storytelling (both plot and prose) and so you can understand the traditions you're working in and building on. An extra bit: Be patient with both the craft and the business of writing. I think too many writers are eager to get quick publication when they might do better to develop their craft fully first.
WHAT WOULD WE FIND IN YOUR MUG FIRST THING IN THE MORNING? TEA? COFFEE? SOMETHING ELSE?
Tea! …though I do have orange juice with breakfast first. (Not a coffee drinker.)
WHAT IS YOUR FAVORITE TEA BLEND?
These days I've been enjoying Chesapeake Sunrise each more, a blend from Capital Teas (black and green with orange peel and almonds)—one of my all time favorites. In the afternoons, I go with a denser black tea—these days Bewley's Irish Afternoon Tea. Come later fall and winter, it'll be Lapsang Souchong in the afternoons—and I specifically like the version from Taylors of Harrogate.
WHEN WERE YOU FIRST INTRODUCED TO TEA?
We drank sweet iced tea all throughout my childhood, but hot tea is a relatively new things for me (relative to childhood, I mean). I still drink iced tea too, of course!
DO YOU HAVE ANY SPECIAL TEA RITUALS?
I'm fairly boring here, unfortunately…. Pour, stir (a little sugar or honey), and sip.
WHERE DO YOU LIKE TO SPEND TIME WITH A GOOD BOOK?
I read everywhere—at my desk at work, walking across campus (carrying the newspaper), if I'm eating alone, waiting in line or even at a stoplight (hello, smartphone!), and always at night before going to bed. Anyplace is a good place to read.
IF YOU WERE GIVEN AN ENTIRELY FREE DAY, NO RESPONSIBILITY OR TASKS, WHAT WOULD YOU SPEND THE DAY DOING?
I'd travel! In fact, traveling seems to be the only time where I do feel free from responsibilities. Our last trip was to Portland, Oregon, and the Hood River Valley—the first week-long vacation we've taken since our son was born—and we all three enjoyed it mightily.
I like a nice glass of bourbon…. (But I don't actually feel any guilt about that.)
Art Taylor is the author of On the Road with Del & Louise: A Novel in Stories, winner of the Agatha Award for Best First Novel, and of "Parallel Play" (from the anthology Chesapeake Crimes: Storm Warning), winner of this year's Agatha Award for Best Short Story and currently a finalist for the Anthony Award, the Macavity Award, and the Thriller Award for Best Short Story as well. He has won two additional Agatha Awards, an Anthony Award, a Macavity Award, and three consecutive Derringer Awards for his short fiction, and his work has appeared in Best American Mystery Stories. He also edited Murder Under the Oaks: Bouchercon Anthology 2015, winner of the Anthony Award for Best Anthology or Collection. He is an associate professor of English at George Mason University, and he contributes frequently to the Washington Post, the Washington Independent Review of Books, and Mystery Scene Magazine.
Related
Popular in the Community