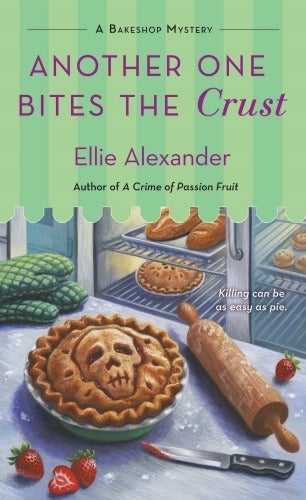 Today I'm sitting down with Ellie Alexander, author of The Bakeshop Mystery Series. Her latest, Another One Bites The Crust, is the 7th in the series and just released today. Ellie has a talent for writing wonderful characters and well-crafted mysteries; her latest installment is no exception. Today I'm learning more about her love of mysteries and our shared passions of baking and watching Monk! Thanks for joining me Ellie.
WHEN DID YOU FIRST DISCOVER YOUR LOVE OF MYSTERY?
At a very young age! My mom used to take my brother and me to the library every Friday. We would return home with a stack of books that I would quickly devour. She was a huge fan of mysteries and introduced me to Trixie Belden and Nancy Drew. One summer when I was thirteen or fourteen, I read Agatha Christie's entire works. Reading mysteries became perfect escapism and fueled my love for adventure and travel. Through the pages of books, I saw far-off corners of the globe, like the sandy banks of the Nile River with Amelia Peabody and London's dark, cobblestone streets with Sherlock Holmes. I loved getting to piece the clues together and the thrill of figuring out whodunit.
WHEN DID YOU DECIDE TO WRITE YOUR FIRST BOOK AND WHAT MADE YOU GO FOR IT?
I always wanted to write a mystery. In fact, I recently found a copy of the first mystery I ever wrote, circa 2nd grade. It was titled The House on the Haunted Hill. It had absolutely no plot or character development, but lots of spooky potential. And, I must say that my penmanship in 2ndgrade was much better than it is today. Despite my early foray into mystery writing, my career took a different path. I worked as a speech therapist and then in communication and public policy. I always dabbled in writing on the side. I wrote a lot of terrible first drafts that will never see the light of day, along with a number of unfinished ideas that never evolved into anything. One day I was out hiking with my family and stumbled upon an idea for a story. I went home and started sketching it out and then next thing I knew I had finished a rough draft for a book a few months later.
I was thrilled to have a rough draft, but had no idea what to do next, so I attended workshops and writers' conferences. I learned so much information through those experiences, that I felt ready to go for it!
ARE THERE ANY SPECIAL RITUALS YOU HAVE OR PLACES YOU GO THAT INSPIRE YOUR WRITING?
I live in the Pacific Northwest and my books are set here. I want the setting to feel like a character. Maybe in part because I took so much enjoyment in my early reading years traveling through the lens of the sleuths I was following. I have to be able to see, and feel, and touch, and smell a place in order to write about it. When a reader cracks open the spine of one of my books I want them to have that same experience.
The first thing I do when I'm working on a new book is take a notebook and a pencil and find a bench or a shady tree in the park and begin brainstorming while taking in the smell of baking pine needles on the ground or the sound of birds chattering overhead. Connecting to nature really opens up my creativity.
WHERE DO YOUR PLOT IDEAS COME FROM?
Everywhere! Honestly, the ideas are limitless. You should see the giant whiteboard in my office. It's covered with notes and ideas for future books. When I first started writing mysteries I was nervous that I would run out of plot ideas, but I've found the opposite is true. I don't have enough hours in the day to get to everything I want to write. Readers have been great about sending me ideas and newspaper clippings.
WHAT ARE YOU READING NOW?
The Indigo Girl by Natasha Boyd. It's fantastic!
WHAT'S IN YOUR TBR PILE?
The better question should be, what's not in my TBR pile? I read pretty much anything I can get my hands on. Although it's hard to read mysteries while I'm working on a manuscript. I read a lot of nonfiction, historical, sci-fi, YA, and even a bit of romance. Here's some of what's in my stack at the moment:
Walk on the Earth a Stranger by Rae Carson
Mr. Dickens and His Carol by Samantha Silva
The Book of Dust by Phillip Pullman
WHO IS YOUR FAVORITE DETECTIVE CHARACTER (BOOK, TV, OR MOVIE) AND WHY?
Detective Adrian Monk from the TV show Monk. If you haven't watched the series, go directly to your Netflix account and begin binging it now. Tony Shalhoub is brilliant in the series. He plays a detective who suffers from debilitating OCD and yet is one of the sharpest minds in the field. I watched the series in it's entirety when it first aired and have recently been re-watching it with my thirteen-year-old son, and it completely holds up. I think it's really smart writing, amazing casting, and hits the right balance of a compelling mystery without a ton of gratuitous violence and plenty of heart.
WHO IS YOUR FAVORITE MYSTERY AUTHOR AND WHY?
Such a hard question. Do I have to pick one? Hmmm. I mean, I suppose I'd have to go with the Great Dame Agatha Christie. She was prolific and a master at her craft. She created some of my all-time favorite sleuths from the quiet tea-sipping Miss Marple to the snooty Poirot. Her stories still resonate generations later, and have a new crop of young mystery readers turning the pages. That's a gift!
ANY ADVICE FOR ASPIRING WRITERS?
Take your writing seriously, but don't take yourself too seriously. Do anything and everything you can to strengthen your craft and learn about the publishing industry. You should treat writing like a job. It is a job albeit an amazing and creative job, but like other jobs writing comes with deadlines, and edits, and marketing plans, and so much more. Approach writing professionally and your odds of getting published will skyrocket. Spend time researching agents and editors, meet other authors, introduce yourself to bookstore owners and librarians. Join writers' groups and professional organizations like Mystery Writers of America and Sisters In Crime.
WHAT WOULD WE FIND IN YOUR MUG FIRST THING IN THE MORNING? TEA? COFFEE? SOMETHING ELSE?
WHERE DO YOU LIKE TO SPEND TIME WITH A GOOD BOOK?
The bath! Although just last week I had to do the library walk of shame and hand-in a library book that took a dip in the tub with me. Super embarrassing, especially as an author. The librarian had a good laugh and I ended up buying the very soggy book.
IF YOU WERE GIVEN AN ENTIRELY FREE DAY, NO RESPONSIBILITY OR TASKS, WHAT WOULD YOU SPEND THE DAY DOING?
My dream day with begin with a leisurely cup of coffee. Followed by a long hike in the mountains. After clearing my head and burning off a few calories, I'd close the day by baking something delicious and flaky in my kitchen and curling up with a hot pastry and a good read.
ANY GUILTY PLEASURES?
I love reality TV. From cooking shows like the Great British Baking Show to outdoor adventure shows like Survivor and Running Wild with Bear Grylls, I'm a total reality tv addict.
TELL US ABOUT AN ITEM ON YOUR BUCKET LIST.
I want to spend an entire summer hiking my way through Ireland and Wales. My great-grandparents immigrated from Wales and I've always wanted to visit. I have the sense that the landscapes will have some commonalities with the Pacific Northwest. Plus, I'd have to stop in a number of small villages and have a pint with the locals!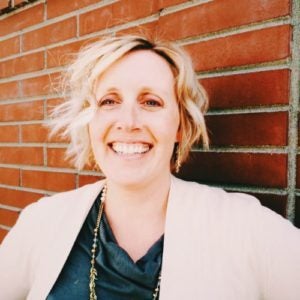 Ellie Alexander writes the Bakeshop Mystery series for St. Martin's Press, set in the Shakespearean town of Ashland, Oregon and featuring a romantic, artisan pastry chef, Juliet Montague Capshaw.
Ellie is a Pacific Northwest native who spends ample time testing pastry recipes in her home kitchen or at one of the many famed coffeehouses nearby. When she's not coated in flour, you'll find her outside exploring hiking trails and trying to burn off calories consumed in the name of research.
You can find her online at:
REAL LIFE. REAL NEWS. REAL VOICES.
Help us tell more of the stories that matter from voices that too often remain unheard.
This post was published on the now-closed HuffPost Contributor platform. Contributors control their own work and posted freely to our site. If you need to flag this entry as abusive,
send us an email
.