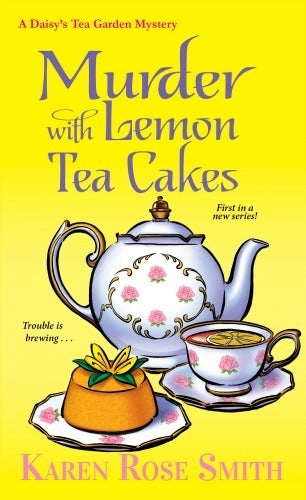 Karen Rose Smith is an award-winning mystery author known for creating characters that pull you into the story and become friends that you want to visit with again and again. Today I'm sitting down with Karen to learn more about how she got started and where her ideas come from. Welcome Karen, thanks for joining us!
WHEN DID YOU FIRST DISCOVER YOUR LOVE OF MYSTERY?
My love of mystery began when I was in elementary school and I found Nancy Drew mysteries. I followed along as Nancy found clue after clue. But I wasn't only interested in the mystery. I was also interested in the relationship between her and her best friend George and Ned.
WHEN DID YOU DECIDE TO WRITE YOUR FIRST BOOK AND WHAT MADE YOU GO FOR IT?
In high school I wrote poetry and essays and was a journalist for the school newspaper. In college. In college, I continued writing poetry but also started my first book. That book was a conglomeration of scenes I'd put together over the years. I also took a creative writing course and began writing short stories. I put all of that aside as I got married, had a baby, and began teaching. Then my life took a twist. I was active going bike riding for miles with my husband and son, horseback riding and swimming. After a vacation and a long drive I began having back pain. I cut out activities one by one. Finally I had back surgery but it didn't go well. I was flat on my back in a hospital bed in our family room for 4 years. That's when I seriously began writing.
At first I wrote short stories that became longer and longer. So I tried a book. Writing became my creative and emotional outlet. I wrote for 6 years and finished thirteen manuscripts before I sold two books within a week to two different publishers!
ARE THERE ANY SPECIAL RITUALS YOU HAVE OR PLACES YOU GO AND INSPIRE YOUR WRITING?
I'm very fortunate to have had almost continuous contracts and deadlines since I began selling in 1991. Since that has been the case, I can't wait for the muse to hit. My writing life has changed over the years. After a diagnosis of fibromyalgia and the condition affecting my eyes, I switched from typing to recording on a tape recorder. I have a typist to transcribe and I still read the hardcopy but I stay away from the computer as much as I can.
My husband created a patio and I became interested in gardens. In the spring, summer and fall, I often write on the patio. In the summer, two stray cats we care for keep me company at their convenience (we have six inside feline rescues). Amidst colorful zinnias, snapdragons, cone flowers, petunias and roses, many of which I start myself in winter, I find sensual stimulation and inspiration. The butterflies and hummingbirds flittering by encourage me to see the beauty around me. I also like to record on the patio under the moonlight.
WHERE DO YOUR PLOT IDEAS COME FROM?
My plot ideas come from everywhere. I can be sitting at McDonald's and hear a snippet of conversation that inspires a storyline. TV shows, news stories, and even walking down the street churn up ideas that I can develop into a book.
WHO IS YOUR FAVORITE DETECTIVE CHARACTER?
WHAT ARE YOU READING NOW?
I listen to audiobooks for pleasure reading. Right now I'm listening to The Lying Game by Ruth Ware.
Who is your favorite mystery author and why? By far Harlan Coban is my favorite mystery author he develops his characters and gives them many facets. He concentrates on relationships as well as the mystery. He also tells a woman's point of view beautifully.
ANY ADVICE FOR ASPIRING WRITERS?
Writing must be your vocation as well as passion to succeed at it for any length of time. If you want to succeed you have to be persistent and courageous. The manuscript has to be your focus and learning to trust your instincts to find your own unique voice.
WHAT WOULD WE FIND IN YOUR MUG THE FIRST THING IN THE MORNING?
Depending on my mood you would find coffee, tea or hot chocolate.
WHERE DO YOU LIKE TO SPEND TIME WITH A GOOD BOOK?
In my office with my cats around me or in the garden.
IF YOU WERE GIVEN AN ENTIRELY FREE DAY, NO RESPONSIBILITY OR TASKS, WHAT WOULD YOU SPEND THE DAY DOING?
Having tea in a tea room with a friend or…shopping!
Chocolate, croissants, and listening to oldies music.
TELL US ABOUT AN ITEM ON YOUR BUCKET LIST.
The major item on my bucket list was to see one of my novels come alive as a movie. I was blessed this year with that dream coming true. My romance His Country Cinderella was developed into A VERY COUNTRY CHRISTMAS, a TV movie on the UP network.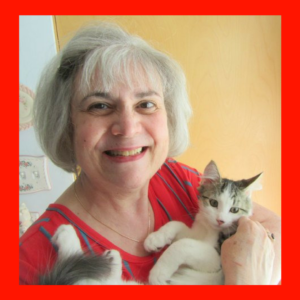 USA Today Bestselling Author Karen Rose Smith's 100th novel is a 2018 release. Her passion is caring for her six rescued cats…and other felines who stop by in winter. Her hobbies are gardening, cooking, watercolor painting and photography. An only child, Karen delved into books at an early age. Even though she escaped into story worlds, she had many cousins around her on weekends. Families are a strong theme in both her mysteries and romances. After writing romances for 20 years, she began writing women's fiction and cozy mysteries. She hopes to write novels in all of these genres for many years to come.
Karen's Social Media links
REAL LIFE. REAL NEWS. REAL VOICES.
Help us tell more of the stories that matter from voices that too often remain unheard.
This post was published on the now-closed HuffPost Contributor platform. Contributors control their own work and posted freely to our site. If you need to flag this entry as abusive,
send us an email
.