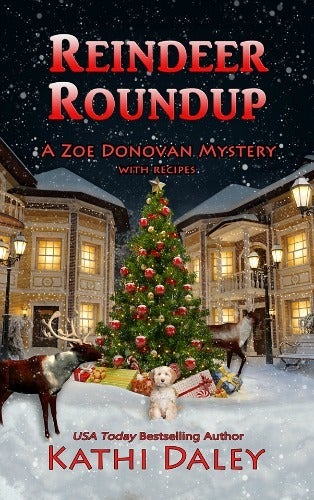 Today I'm chatting with Kathi Daley, author of over 75 great cozy mysteries including the Zoe Donovan Series. Her latest in the series, Reindeer Roundup, has just released and it's a must read! Today she's giving us a glimpse into her life and how she writes. Plus a great tip for aspiring mystery authors. Thanks for stopping by Kathi!
WHEN DID YOU FIRST DISCOVER YOUR LOVE OF MYSTERY?
I have loved mysteries since I was a child. There is nothing better than the thrill of trying to figure out a good whodunit. Like many children from my era, I grew up with Nancy Drew and the Hardy Boys.
WHEN DID YOU DECIDE TO WRITE YOUR FIRST BOOK AND WHAT MADE YOU GO FOR IT?
I wrote my first book in 2013. It was really sort of an impulse. My husband and I had sold our business and I was kicking around the idea of writing a book for something to keep me occupied but I really hadn't followed through at that point. Then one day I was on Facebook and my dog was sitting next to me. I had the idea of sharing a Facebook page with my dog. A paragraph popped into my head which began with: "My name is Zoe Donovan. According to my Facebook bio which I share with my dog, Charlie…" I just kept writing and a week later I had a book. I asked a friend of mine who had been self-publishing for a while how to do a cover and upload the book. I figured I'd sell a few to my family but to my utter surprise I sold a Ton of books. I was motivated to go ahead and write book two in the series and the rest is history. I have published around 75 books in 8 series at this point.
ARE THERE ANY SPECIAL RITUALS YOU HAVE OR PLACES YOU GO THAT INSPIRE YOUR WRITING?
I like to visit the real-life location of my fictional town. For example, I decided I wanted to write a book set in Alaska so two years ago I took a trip to Alaska to have a look around. I also have a series set in Hawaii and I try to go to Hawaii once a year for inspiration.
WHERE DO YOUR PLOT IDEAS COME FROM?
Honestly, I'm not sure. I publish often and usually I find the best way to find a plot is to just start writing and see where the story takes me. I never outline. I just write.
WHAT ARE YOU READING NOW?
Right now I am not reading anything because I have several deadlines staring me in the face. When I do read I usually will read a mystery or romance written by one of my author friends.
WHAT'S IN YOUR TBR PILE?
I have so many books loaded onto my Kindle that I have never gotten around to that it isn't even funny. I am currently part of a Christmas Romance boxed set with eleven other romance writers. I'd like to find the time to read some of the stories submitted by the other authors. I am also part of a mystery boxed set with eleven mystery writers which publishes in January so I will probably focus on the books in that set once it publishes.
WHO IS YOUR FAVORITE DETECTIVE CHARACTER (BOOK, TV, OR MOVIE) AND WHY?
Wow, that is a hard one. Although he is not actually a detective I really liked Castle when it was on. He was funny, open-minded, and childlike, yet he still seemed to solve the murder every week.
WHO IS YOUR FAVORITE MYSTERY AUTHOR AND WHY?
Okay now this one could get me into trouble since I have a LOT of very good friends who write mysteries and they are all awesome. I guess if I had to say one writer who has made a difference in my career I would have to say Melanie Jackson. I read and loved her mysteries before I even became a writer and she really helped me to get started when I decided to publish.
ANY ADVICE FOR ASPIRING WRITERS?
Just do it. I know that is cliché but it is true. I get emails from a lot of aspiring writers who want to get started and are asking for advice. I tell them to find a starting point such as a character, plot, or setting you want to explore and then just do it. There is a great group for new and aspiring writers called the Sisters in Crime Guppies. It is a wonderful place to ask questions, join critique groups, and try out our craft in a safe and supportive environment.
WHAT WOULD WE FIND IN YOUR MUG FIRST THING IN THE MORNING? TEA? COFFEE? SOMETHING ELSE?
WHERE DO YOU LIKE TO SPEND TIME WITH A GOOD BOOK?
The beach or by the pool in the summer and by a nice fire in the winter. I live in Lake Tahoe so I have a beach nearby in the summer.
If you were given an entirely free day, no responsibility or tasks, what would you spend the day doing?
If it was today, I would want to curl up with a Christmas themed book and read by the fire.
ANY GUILTY PLEASURES?
I love wine with a few bites of dark chocolate.
TELL US ABOUT AN ITEM ON YOUR BUCKET LIST.
I don't have a bucket list and to be honest I've done a lot already in my life. I've been to every state and to every national park in the 50 states. I live in my dream house in my dream location and I make a living doing my dream job. I guess if I could choose one thing I haven't done it would be to go up to northern Canada and see the polar bears. I used to scuba dive and had a few dive spots I wanted to visit but I injured my back a while back so I can really dive any longer.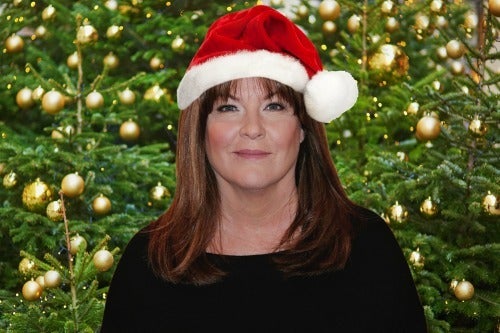 USA Today bestselling author, Kathi Daley, lives in beautiful Lake Tahoe with her husband Ken. When she isn't writing, she likes spending time hiking the miles of desolate trails surrounding her home. She has authored more than seventy-five books in eight series including: Zoe Donovan Cozy Mysteries, Whales and Tails Island Mysteries, Sand and Sea Hawaiian Mysteries, Tj Jensen Paradise Lake Series, Writer's Retreat Southern Seashore Mysteries, Rescue Alaska Paranormal Mysteries, Tess and Tilly Cozy Mysteries, and Seacliff High Teen Mysteries. Find out more about her books at www.kathidaley.com
Stay Up To Date with Kathi:
REAL LIFE. REAL NEWS. REAL VOICES.
Help us tell more of the stories that matter from voices that too often remain unheard.
This post was published on the now-closed HuffPost Contributor platform. Contributors control their own work and posted freely to our site. If you need to flag this entry as abusive,
send us an email
.