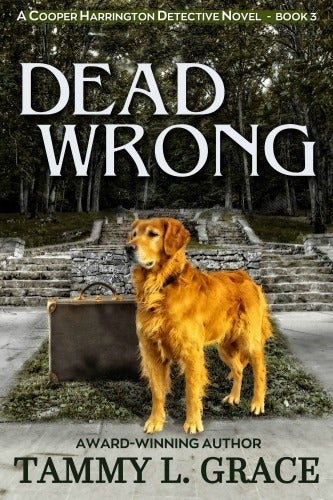 Tammy Grace is known for her clever twists and turns that keep her readings guessing until the end. That's especially true with the latest installment of her Cooper Harrington series, Dead Wrong. Today I'm sitting down with her over a cup a chai tea latte (a love we have in common) to discuss inspiration, writing rituals, and Harry Bosch. Welcome Tammy!
WHEN DID YOU FIRST DISCOVER YOUR LOVE OF MYSTERY?
I've always loved to read and grew up with Nancy Drew and The Hardy Boys.  My mom has always been a big fan of mysteries and she led me to authors like Agatha Christie.  My dad spent his career in law enforcement, exposing me to true stories of local crime and mischief.  I always enjoy mysteries, whether it be books, movies, or television. I love solving the puzzle and enjoy a story with twists.
WHEN DID YOU DECIDE TO WRITE YOUR FIRST BOOK AND WHAT MADE YOU GO FOR IT?
I have always wanted to write novels and retired a few years ago, so now have the time to dedicate to writing.  I commuted for over an hour each way to work for several years and it gave me plenty of plotting and thinking time.  As I neared retirement, the ideas for my books were fleshed out on the road.  My mystery series was inspired by a trip I took to Nashville which led to touring through a variety of neighborhoods.  I found the perfect location for a murder and the idea of a bachelor detective living with his wealthy aunt was born.
ARE THERE ANY SPECIAL RITUALS YOU HAVE OR PLACES YOU GO THAT INSPIRE YOUR WRITING?
I write in my home office and do most of my work early in the morning.  I'm not one to write in coffee shops or bustling public spaces, but find inspiration for ideas and characters everywhere.  I keep a notebook with me and if I see something interesting, I write it down.  Walking is another activity that inspires writing and if I'm stuck on a scene, going for a walk often solves the issue.
WHERE DO YOUR PLOT IDEAS COME FROM?
My own imagination and life experience.  I usually start an idea by posing a "What if…" question and then build on it.  I also get ideas when I visit new places.  Nashville inspired my detective series and a ferry ride to the San Juan Islands off the coast of Washington inspired my Hometown Harbor Series.  Seeing new locales sparks ideas.  I need to travel more!
WHAT ARE YOU READING NOW?
I just received Lee Child's new Jack Reacher book, The Midnight Line, and am in the midst of David Baldacci's latest, End Game.  I'm going to squeeze in a little Christmas before Jack Reacher and read The Noel Diary from Richard Paul Evans.  I don't read while I'm writing, so after I finish a book, I do a fair amount of binge reading as a reward.  I also have several books from author friends that I intend to read this month.
WHO IS YOUR FAVORITE DETECTIVE CHARACTER (BOOK, TV, OR MOVIE) AND WHY?
I'm not sure I can pick one, but I love Harry Bosch from Michael Connelly, Dismas Hardy from John Lescroart, and Lucas Davenport from John Sanford.  My dad spent over thirty years in law enforcement, so I'm drawn to true detectives rather than amateur sleuths.  I like the complexity of the characters and the more realistic cases they investigate.
WHO IS YOUR FAVORITE MYSTERY AUTHOR AND WHY?
Another tough one!   I enjoy mysteries that I can't figure out until the end of the book, so tend to like whodunits and more of the mystery/thriller type of books.  I enjoy Robert B. Parker, Lee Child, John Sanford, Michael Connelly, and David Baldacci.  Of those, David Baldacci would be my number one choice due to the characters he created in the Camel Club Series.  I felt a strong connection to them and was devastated when the series came to an end.  He's a brilliant writer, delivering heart-pounding suspense and wonderful characters.  I enjoy all of his books and never miss one.
ANY ADVICE FOR ASPIRING WRITERS?
Keep writing and read a ton of books.  I find it valuable to write as much as possible and I think the more I write, the easier it becomes.  Read for enjoyment and then analyze what makes you like a book or what makes you dislike a certain style.  I also highly recommend attending a conference for writers and learning all you can about the publishing industry and options so you are informed when you're first book is ready.
WHAT WOULD WE FIND IN YOUR MUG FIRST THING IN THE MORNING? TEA? COFFEE? SOMETHING ELSE?
I'm a big tea drinker (no coffee for me).  English Breakfast and Earl Gray are my favorites.  I love a chai tea latte in the morning and tend to drink tea all day, especially while I'm writing.
WHERE DO YOU LIKE TO SPEND TIME WITH A GOOD BOOK?
I've always carried a book with me and probably always will, just in case I'm stuck somewhere and bored.  My favorite reading spots are in my comfy chair by the fire in the winter and on lounge chair with a lake view in the summer.
IF YOU WERE GIVEN AN ENTIRELY FREE DAY, NO RESPONSIBILITY OR TASKS, WHAT WOULD YOU SPEND THE DAY DOING?
I'd fill my day with some reading, eating at a couple of favorite spots, and watching a movie or binging on a series I haven't seen.
ANY GUILTY PLEASURES?
I love chocolate and ice cream, shoes (I really need to stop), and binge-watching AcornTV (wonderful British shows).
TELL US ABOUT AN ITEM ON YOUR BUCKET LIST.
I visited Ireland when I retired, but didn't have time for Scotland…that's next on my list.  I know I can get a good cup of tea there!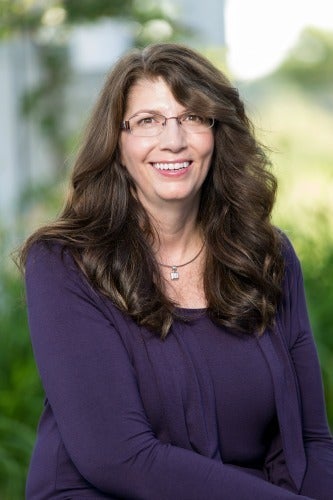 Tammy L. Grace is the award-winning author of The Hometown Harbor Series of women's fiction set in the picturesque San Jan Islands in Washington and a mystery series set in Nashville, Tennessee, featuring Cooper Harrington, Private Detective.
Born and raised in Nevada, Tammy L. Grace loved reading at a young age. With the help of her middle school teacher, she discovered the joy of writing. When Tammy isn't working on ideas for a novel, she's spending time with family and friends or supporting her addiction to books and chocolate. She and her husband have one grown son and a spoiled golden retriever.
Cooper Harrington Detective Series:
REAL LIFE. REAL NEWS. REAL VOICES.
Help us tell more of the stories that matter from voices that too often remain unheard.
This post was published on the now-closed HuffPost Contributor platform. Contributors control their own work and posted freely to our site. If you need to flag this entry as abusive,
send us an email
.