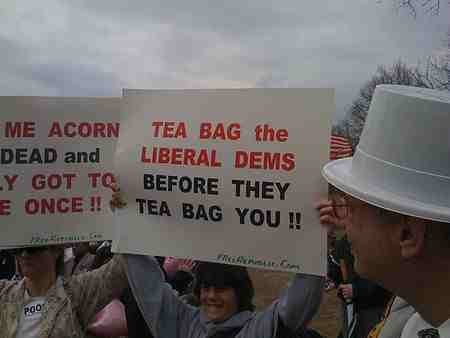 Ms. Maddow has taped two segments with Air America's Ana Marie Cox, who made her bones penning the often-lewd blog Wonkette before becoming a White House reporter, making fun of the protesters in this manner over the last week. In both segments, the first of which was 13 minutes long, the ladies endlessly mocked the tea parties, in what Ms. Maddow called "a double entendre palooza."

MSNBC said this was fair because Ms. Maddow and Ms. Cox were merely playing on words the protesters were using themselves. MSNBC spokesman Alana Russo noted that Ms. Maddow used clips of activists talking to Fox News and made references to Facebook groups and Twitter accounts being used by the protesters.

Many conservatives were angered by the segment's bathroom humor, while others merely shrugged it off as par for the course among progressive personalities like Ms. Maddow.
Anyway, my great big heart is moved with pity for all of you who cannot enjoy these racy jokings, which, unless you actually enjoy parsing the prion-addled political mind of this movement -- is the only pleasurable product these tea parties have offered anyone.
Popular in the Community