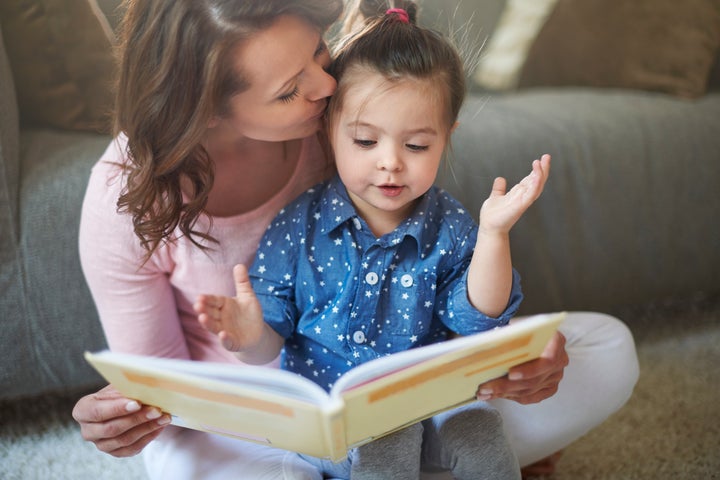 If parents want to help their babies learn to talk, they need to ditch the chattering electronic toys and bring back the books and blocks.
That's the conclusion of Anna V. Sosa, an associate professor at Northern Arizona University, who conducted an experiment to determine whether the type of toy used during parent-child play influenced the quantity and quality of communications.
Sosa gave parents simple board books, traditional toys such as blocks, puzzles and shape sorters, and battery-operated toys such as a talking farm and a baby laptop and cell phone. Sosa then asked the parents to play with their child at home for 15 minutes at a time, twice a day, for three days. During each playtime, the parents used one type of toy or book. The children, who ranged in age from 10 to 16 months, wore a vest with a recorder to record their interactions. At this age, the infants typically relied on baby talk, such as "gah," or single words.
The responsiveness of the caregiver, Sosa said, "is the No. 1 thing that seems to influence language development — are they tuned in to that child."
The more parents talk to their children, the larger those children's vocabularies, which can affect their achievement in school, researchers have found. Children from high-income, well-educated families can hear up to 30 million more words by the age of 3 than children in low-income, less-educated households. This research finding has been dubbed The Thirty Million Word Gap.
Although the parents in Sosa's study were fairly homogeneous – mostly white, well-educated mothers – there were substantial differences in how much they talked to their babies, Sosa said. The babies wore the recorders for up to 16 hours during the day, making it possible for Sosa and her assistants to note those differences.
"We had parents who were super talkative and parents who over the course of the three days weren't talking very much," Sosa said. "We analyzed the results of the more chatty and less chatty parents."
The less chatty parents talked a lot less, but in all cases, the books and traditional toys inspired the most verbal interactions.
"I was surprised at how consistent the results were," Sosa said.
A recent study found that reading books aloud provides exposure to a wider vocabulary than simply talking to children. In the Sosa study, books also were best at encouraging the most words and more content-specific words, even though the board books given to the parents were mostly pictures with few words.
"They weren't story books," Sosa said. "But even with a limited number of words, they provided some sort of script that encouraged parents to talk."
Though not as stimulating as books, traditional toys were also substantially better than electronic toys in encouraging more talking and content-specific words from the adults.
"For families where reading books is not a preferred activity or the child is too active and doesn't want to sit and look at a book, traditional toys may be a valuable alternative for parent-infant playtime," Sosa said.
Overall, the results "provide a basis for discouraging the purchase of electronic toys for babies that are promoted as educational and are often quite expensive," she said.
Electronic toys may work as entertainment to keep babies occupied while parents are busy, "but there is no evidence that kids this young can learn language that way," Sosa said.