Our economy is faltering and our schools lag in math and science. Yet we've overlooked one of the best ways to fix both, until today. Today, www.Code.org launches a short film with spokespeople from Bill Gates to Mark Zuckergberg, from rock stars to NBA all-stars, advocating for students to learn basic coding. Learning to code is the new literacy. It accelerates child development; it stimulates creativity and builds confidence, especially for girls; and it unlocks the best careers in America, with the potential to lift up an entire generation of American youth regardless of race, gender, or socioeconomic background.
At a time when most English majors graduate jobless, computer science majors are twice as likely to land a job. Computers are our job-creation engine, and programmers earn among the highest salaries in America.
Ironically, computer education has declined over the past decade. Fewer schools, fewer teachers, and fewer students engage in this field than 10 years ago. Only 9 states even recognize computer science as a math or science! Only 10% of schools even offer it. This is easy to change, and it's time to start.
"To grow our middle class, our citizens must have access to the education and training that today's jobs require." ~ President Obama, State of the Union, 2013
What's wrong with this picture?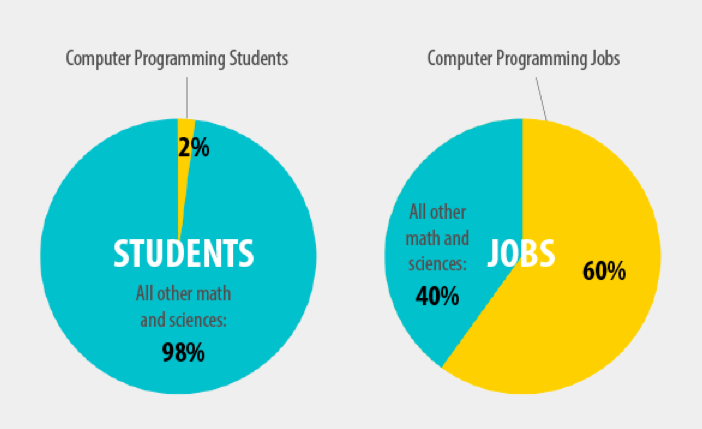 Sources: the College Board, Bureau of Labor Statistics
This is an opportunity to fix the economy. Today 2% of students learn to code. If we grew that to 6%, we'd close the gap between students and jobs, adding $500 billion to our economy, and impacting every industry (almost 70% of these jobs are outside the tech sector).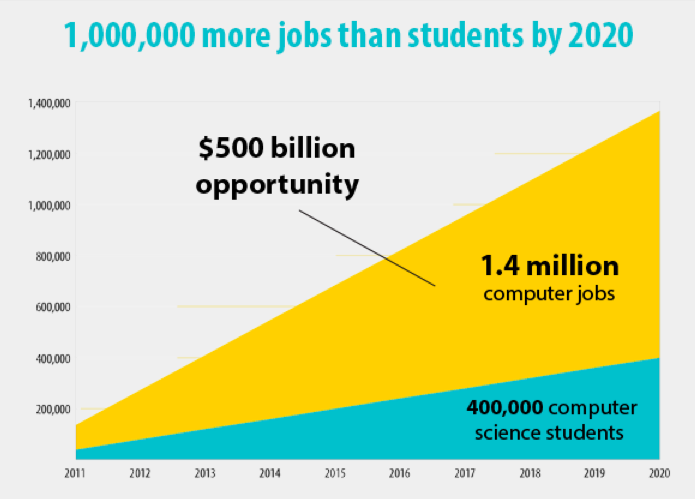 Sources: National Science Foundation, Bureau of Labor Statistics
This is also about the American dream -- the idea that you could start a company like Facebook in your college dorm room. Although computer science is the most popular course at universities like Harvard or Stanford, most minorities or low-income students are never even exposed to it.
How do we turn around the economy and fix the American dream?
To start, Americans need to recognize this problem, and the opportunity it represents.
At schools that offer computer programming, parents should urge their children to study it. At schools that don't, students can learn online for free. Teachers and schools can find creative ways to add this field to the curriculum despite budget challenges. And the 41 states that don't recognize computer science for graduation credit need to update their requirements for the 21st century. Learning to code can transform a young person's life, and such an opportunity should be available to everybody, not just the lucky few.
Code.org features the voices of leaders from every walk of life supporting of this idea: business leaders like Bill Gates, Mark Zuckerberg, Sheryl Sandberg, and Richard Branson; politicians such as Al Gore, Mayor Bloomberg, and Bill Clinton; deans and presidents of Stanford, Harvard, University of Washington, and LA Unified Schools; celebrities such as Bono, Ashton Kutcher, and Will.i.am; athletes such as Chris Bosh; and leading scientists, doctors, and astronauts. These leaders are endorsing an idea -- the idea that whether you want to become a doctor, a lawyer, an entrepreneur, or a rock star, you should learn the basics of coding.
What is our biggest obstacle? Fear of the unknown. Most of us never learned computer programming in school; we don't know how to teach it, and we assume it's only for the geniuses. We don't realize that fifth-grade girls are learning to code in low-income public schools, or that iPad apps can teach the basics to a kindergartener.
Code.org has released a five-minute film to dispel these fears. Coding is easier than you think, more fun than you think, and it can change your world. The film stars Bill Gates, Mark Zuckerberg, Will.i.am, Chris Bosh, and the founders of Twitter, Dropbox, Zappos, and others, and is directed by Lesley Chilcott (An Inconvenient Truth, Waiting for Superman). Watch it here or at www.Code.org.
Help turn around the economy and fix the American dream: share this film with your friends, your parents, and your children. Our tests show that students who see this film are moved to learn. We can help students find free courses online, free apps for their phones, or local after-school workshops that teach this essential skill. But first, we need them to know it's important to their future, and that's where you can help.
~ Hadi Partovi and Ali Partovi, twin brothers and co-founders, Code.org
Here are leaders who agree that more students need to learn to code:
President Bill Clinton
Mike Bloomberg
Bill Gates
Mark Zuckerberg
will.i.am
Sheryl Sandberg
Vice President Al Gore
Ron Conway
Chris Bosh
Ashton Kutcher
Richard Branson
Eric Schmidt
Larry Corey, President, Fred Hutchinson Cancer Research Center
John Hennessy, President, Stanford
Dennis Van Roekel, President, National Education Association
Wendy Kopp, CEO, Teach For America
Steve Ballmer
Marc Andreessen
Reid Hoffman, Chairman & Co-founder, LinkedIn
Susan Wojcicki, SVP, Google
Louise Waters, Superintendent, Leadership Public Schools
Leland Melvin, Associate Administrator for Education, NASA
John Hickenlooper, Governor, State of Colorado
Michael Cohen, President, Achieve.org
Jeff Wilke, SVP, Amazon.com
Esther Wojcicki, Vice Chair, Creative Commons Board of Directors
Drew Houston, Founder & CEO, Dropbox
Tony Hsieh, CEO, Zappos
Jack Dorsey
Harry Lewis, Dean of Harvard College (1995-2003)
Mitch Kapor
Jay Inslee, Governor, Washington State
Fred Wilson Managing Partner, Union Square Ventures
Maria Klawe President, Harvey Mudd College
Mark Surman, Executive Director, Mozilla Foundation
Anne Wojcicki, CEO and Founder, 23andMe
Brad Smith SVP General Counsel, Microsoft
Max Levchin, CEO & Co-founder, Paypal
Dara Khosrowshahi CEO, Expedia, Inc.
Ed Lazowska Chair in Computer Science, UW
Anousheh Ansari Co-founder and Chairwoman, Prodea Systems
Dean Kamen Founder, USFIRST Robotics
Mithra Irani Ramalaey SVP Regional & Site Operations, City Year
Marc Benioff Chairman and CEO, salesforce.com
Cory Booker Mayor, Newark, New Jersey
Dick Costolo CEO, Twitter
Elena Silenok Founder, Clothia
Tim O'Reilly Founder, O'Reilly Media
Gabe Newell Founder and President, Valve
Rob Glaser, Founder, RealNetworks
Lucy Sanders, CEO & Founder, NCWIT
Brad Feld, Managing Director, Foundry Group
Steve Case, Founder, AOL
Dr. John Deasy, Superintendent, LA Unified School District
Chris Stephenson, Founding Executive Director, CSTA
Yishan Wong, CEO, Reddit
Nicholas Negroponte Founder and Chairman MIT Media Lab
Jeff Skoll, Founder, Participant Media
Richard Barth, CEO, KIPP Foundation
Salman Khan, Founder, Khan Academy
Jane Margolis, Senior Researcher & Author, UCLA
Mark Pincus, CEO and Founder, Zynga
Vanessa Hurst, Co-founder, Girl Develop It
Dr. Alan Goodwin, Principal, Walt Whitman High School
Douglas Rushkoff, Author, Program or Be Programmed
Related
Popular in the Community