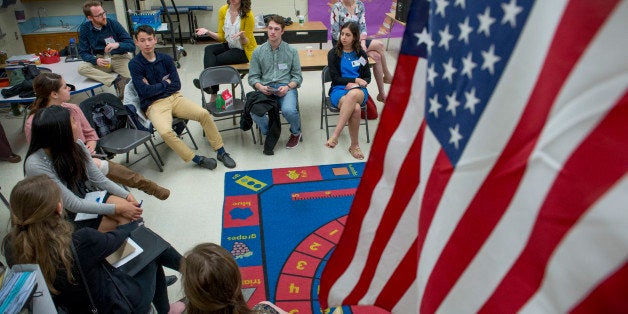 Promoting alternative pathways for recruiting teachers and attacks on the inadequacies of Schools of Education are among the hallmarks of the so-called education reform agenda. I teach in a School of Education (SOE) and definitely do not defend everything that I see in the field. But we do try to prepare teachers who are curriculum creators and classroom decision makers committed to lifetime professional growth and the education of children. But educational deformers do not value these kinds of teachers. Among other things, with experience they become more expensive and less likely to adopt the latest fad without raising questions. Reformers prefer revolving door recruits that follow scripts, enforce rules, and administer tests. Their plan would turn teaching from a respected profession into a low-paid temporary job.
Teach for America (TFA), the oldest, best known, and maybe the most controversial alternative pathway to teaching has been in operation since 1990. But trouble is building at TFA and it may be starting to fade away.
In San Francisco the school board decided not to accept any more TFA recruits, even though the district has teaching vacancies. Meanwhile applications to become a TFA recruit have declined for three consecutive years. There are 37,000 TFA applicants in 2016. This is down from 57,000 in 2013.
A recent TeachNY Advisory Council report prepared for the New York State Education Department on preparing, recruiting, and retaining quality teachers concluded, "However praiseworthy, TFA hardly offers a solution that can be brought to scale, both because of its limited size and more importantly because too few of the students who enroll in the program and who subsequently enter the classrooms, no matter how successful they may be, are still teaching two years later."
"Truth For America" is a podcast about Teach For America (TFA) co-hosted by Julian Vasquez Heilig of the University of California (Sacramento) and Jameson Brewer of the University of Illinois (Urbana-Champaign). Its eight episodes include interviews with TFA recruits about their experiences as part of the program. Because of the sensitive nature of some of their comments and complaints, the interviewees are assigned pseudonyms.
"Tiffany" and "Ann" are 2015-2016 TFA recruits. They enlisted because they hoped to become activists for educational reform and civil rights, but they soon were disillusioned. Few of the other recruits in their cohort were interested in educational change and willing to invest in the communities where they were placed and TFA was dismissive of everybody else's voice. The program itself is accused by critics of being "education tourism" for privileged Ivy Leaguers looking to build resumes before returning to school or starting lucrative careers. More than half of TFA recruits leave the low-income minority schools where they were assigned by the end of their second year when their agreement with TFA expires. Fewer than 15 percent remain in these schools for five years.
After five weeks of a summer training "Institute" where recruits receive training manuals that they never actually read, Tiffany began teaching in kindergarten in a rural area with many TFA recruits. Ann was assigned to teach English in a new charter school that wasn't completely built and was required to work weekends helping with construction. Ann feels that TFA never really checked out the situation before they assigned her. At one point Ann asked TFA if she should complain to the teachers' union about conditions in the school, and she was told not to. They did not want her to create waves that might prevent TFA from placing recruits there in the future. She felt she was sacrificed to save face for TFA and the charter school.
Tiffany and Ann both complained about the lack of support after they started teaching. According to its website, TFA provides "professional development sessions with other corps members in your region" and "access to regionally recommended resources to maximize student learning including sample assessments, student-data tracking systems, and planning templates, among others." In addition, " corps member" are supposed to be partnered with a "manager of teacher leadership and development (MTLD) who will provide individualized coaching, support, and guidance. Strong relationships are the basis of this support, and MTLDs and corps members must work to develop trust quickly so that they can work as teammates." However, neither Tiffany nor Ann had seen their MPLB for months at a time and did not understand their job or even know their title. When they the MTLD did arrive, they came late for appointments and classes and their support was erratic. They felt the MTLD's were over-extended, putting out too many fires.
TFA recruits are required to complete rubrics and portfolios to acquire state teaching certification, but received little help completing them. Tiffany and Ann reached out to the director of their TFA region on a number of occasions, but nothing changed. They sent in monthly and quarterly surveys complaining about the lack of support without any resolution. They know that seventy percent of her "corps" also complained to TFA that they were unhappy with the level of support but again, nothing changed.
A group called Mathematica Policy Research issued a March 2015 report on the effectiveness of Teach for America. They found that fewer than sixty percent of TFA recruits reported positive teaching experiences and almost half complained about support from the MTLDs. Large majorities found the online resources and group learning activities that were supposed to aid teaching very helpful (p. 31).
Tiffany and Ann described the TFA approach to teaching as a corporate cookie-cutter model. Their training manuals are a thick compendium of confusing acronyms instead of useful suggestions on how to teach. Tiffany and Ann were especially upset with the lack of preparation working with students living in these region. They barely learned anything about the region or the students before they were assigned. At the TFA Summer Institute, Tiffany practice taught a well behaved focused group of third graders in a high-performing school and then was placed in an area where families are struggling and students have major learning problems. TFA has responded to criticism by hiring university professors to infuse culturally diverse pedagogy into the program, but it is not clear this has led to meaningful change in preparing TFA recruits to be teachers. According to Ann, when recruits have problems in their schools they are put on improvement plans, but in her experience TFA never follows up with additional help. Ann wanted to leave the program, but she owed TFA money she had borrowed to live on while at the Summer Institute and money to the university where she was taking teacher certification classes.
New York City has its own Teach for America-style program called the New York City Teaching Fellows. I discuss the Teaching Fellows in my next post.
Calling all HuffPost superfans!
Sign up for membership to become a founding member and help shape HuffPost's next chapter