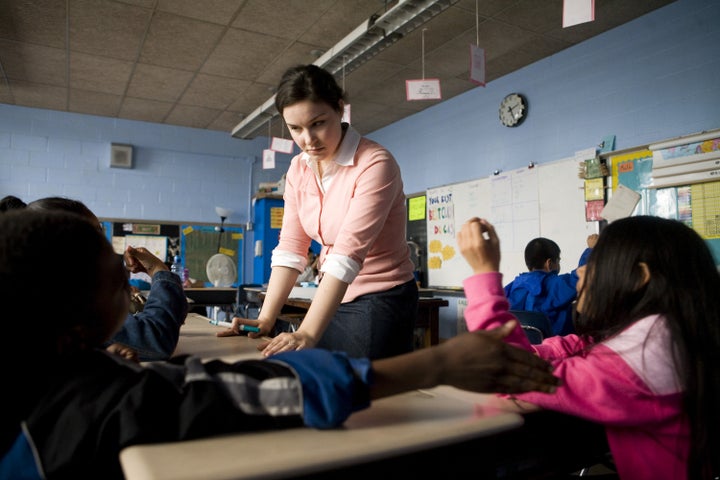 I prepare to depart for the 20th Anniversary Alumni Summit for Teach for America in Washington, D.C. and I reflect on why I am attending. Some of the reasons are obvious -- seeing friends and acquaintances from long ago (I joined TFA in 1994), networking with some of the top educators and social entrepreneurs (a who's who in education newsmakers), and a chance to see some of my former students working and going to college in DC. The real question on my mind -- does my attendance signal my agreement with the general direction of the organization?
I credit Teach for America with giving me my start into teaching. I decided late in college I wanted to be a teacher and this was the quickest path to get there. Attracted by the mission and the idea of being part of something bigger, it was also a convenient excuse to move from snowy upstate N.Y. to sunny L.A. I loved my two years as part of the corps. The L.A. office organized some great parties and every once in a while, a bunch of us science teachers got together to plan -- admittedly, much has changed in supporting corps members since then.
Much has changed in many aspects of TFA. Maybe I was blind to the plan all along, but I thought the main idea was to place motivated individuals into high-need and hard to staff urban and rural school districts throughout the country. If teachers stuck it out after two years -- great! If not, hopefully they'd remember their experience and whether they were going into law, politics, business, or something else, alumni would always serve as advocates for the rights of the students we had the pleasure of serving for those two years (although I taught for seven years in my placement site and then six more years at another urban school). At least that's how I understood it.
Having stayed close to the corps as an alumnus, volunteer, and credentialing program instructor, I have seen this model flipped on its head. Now, growth of the corps and what happens after one leaves the classroom seems more important than staffing those hard to serve schools. I point to three pieces of evidence:
1. More and more, corps members are placed in high performing charter networks who have little trouble filling teaching positions. Growth is king and I have to admit -- I was guilty here. As a former principal and Chief Academic Officer of a charter network, I placed over 50 corps members in three years at 15 of our charter schools -- many of them, some of the highest performing schools in the city. Corps members were high quality at a low price. I do mean high quality. I would hire at least 90 percent of them again -- much higher than hiring outside of TFA and over 70 percent of them stayed for at least a third year. These corps members were serving some of the highest need students, but they were not doing so in the highest need, hardest to staff schools.
2. Being an alum, many of those 50+ corps members sought me out for guidance. Their concern -- "What will I do after my two years?" Over the last several years, TFA has rolled out several initiatives promoting pathways to school leadership, political office, and graduate schools. I'd ask them if teaching were an option and most had the same response, "If I can't figure out what else I want to do, I might teach another year." While this may be the nature of Millenials, it may also be the over-emphasis by TFA on what alumni are doing after their two years in the classroom. TFA's development of a comprehensive intranet serves as an amazing tool for alumni figuring out their next step. An incredibly helpful Alumni Engagement staff dedicated to helping corps members find their next opportunities adds to this. TFA takes care of their alumni like no one else I have ever seen -- something that schools and other organizations should take note of and replicate if they could find the funding. If nothing else, alumni can usually find a job working for TFA as one of the thousands of staff members TFA employs. Let me be clear -- there's nothing wrong with providing this type of service for alumni, but there needs to be a greater emphasis on staying on as a classroom teacher.
3. With state budget cuts, corps members and other newer teachers have been getting pink-slips while new corps members are being recruited for those same regions. Meanwhile, our country is going to need 1.7 million teaching jobs in the next five years. So, while there will continue to be a need for TFA, the need may not lie for as many teachers in the same regions they have always served.
The rise of TFA has been meteoric -- growing more than five times in the last decade. Is it possible to slow down and refocus or maybe even put it in reverse? There are probably ($)100 million reasons why the answer is no. They have a bold goal to create a corps of over 15,000 strong, but would it be a bolder goal to place teachers only where truly needed?
Here are some other, less developed, but equally important ideas for TFA to consider:
- With 46,000+ applicants for 4,400 spots, change your rubric, providing more weight for applicants who share similar backgrounds to the students corps members teach as well as those who are more likely to select teaching as a viable career option. I know TFA is working hard at recruiting a more diverse applicant pool, but until applicants of color are recognized and rewarded for the experiences they bring to communities they share a common bond with by earning "application points", little will be done to truly diversify the corps.
- Stop over-emphasizing the importance of test scores. The achievement gap is real and pervasive, but the amount of time new corps members spend on test prep and the lack of time they spend on developing higher order thinking skills is alarming. Preparing students to perform well on standardized tests and preparing students to be college and career ready do not have to be mutually exclusive, but for newer teachers they all too often are. Corps members get this message enough from their principals and their districts. Someone needs to be the voice of sanity and this is the perfect opportunity for TFA to take a pro-active stance as the trainer of new corps members before this standards-based, test-obsessed culture backfires and swings the pendulum in the completely opposite direction (a mistake as well) -- as it always does in education.
- Develop a sustainable model. Stop asking me and other alumni for money when between the regional office and home office the number of staff closes in on the number of corps members. Besides, most alumni would be much more useful as mentors, volunteers, and evangelists for the cause than annual $50 check writers.
I love Teach for America and share the mission that "One day, all students will have access to an excellent education." We just differ on how to get there. That's why I hope, on the eve of my trip to the 20th Anniversary Summit, that there is room for a dissenting opinion and dialogue around such ideas within the organization -- here's to another 20 years.
Calling all HuffPost superfans!
Sign up for membership to become a founding member and help shape HuffPost's next chapter