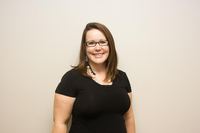 My students know that they grow when they get good feedback. Whether it's helping them think through a new math problem or sound out a new word, my students know that working through something they don't know well helps them grow. As an Indianapolis Public Schools (IPS) teacher and lifelong learner, I'm dedicated to getting better at my job. Like so many of my peers, though, the IPS teacher evaluation structure wasn't helping me get better.
Earlier this month, Indianapolis Public Schools (IPS) announced massive changes to our teacher evaluation system. This includes a new rubric designed to provide teachers with more feedback, and expanded training for principals and teachers. To help roll out the new system to their peers, the district has hired teacher-leaders. These changes are a significant departure from the previous evaluation system, and it happened because teachers led the charge for change, and are now leading the implementation.
In June of 2015, my Teach Plus Teaching Policy Fellow colleagues and I published a brief called RISE to the Challenge: Developing teacher talent through effective evaluation. We ran five focus groups of IPS teachers ranging from 4-34 years of experience, to learn what district teachers wanted in an evaluation system. After analyzing our data, we found that teachers were hungry for meaningful feedback, and wanted structures in place to ensure their evaluator has insight to help them get better.
In the fall of 2015, I and fellow Teach Plus teachers Abby Taylor, LaMeca Perkins-Knight, and Madeline Mason were selected to be part of a district-wide committee responsible for recommending changes to IPS' evaluation system. Partnering with the Center for Education and Lifelong Learning at Indiana University, our committee dug into the current IPS evaluation tool, and learned about other teacher evaluation models available to the district. Ultimately, my committee decided to scrap the current evaluation tool for a new model that we think provides teachers with clear, meaningful feedback for growth.
We are rolling this model out in the fall. Since I was part of the team responsible for bringing the issue to light and designing the new system, I will be helping administrators onboard school-based teams with workshops throughout the summer and fall. We know that this system's effectiveness is based extensively on our educators' buy-in, so we're doing everything we can to ensure teachers and evaluators are invested.
We will hold workshops with teachers and administrators to create a shared language and understanding of our new evaluation system. The summer workshop will provide teachers and administrators with clear, actionable information about the evaluation process. Each school will have a teacher development team chosen to communicate and implement the evaluation system in their schools.
Continuous feedback is critical for improving student or teacher performance, and for improving the evaluation system's performance. The school-based teams will be responsible for communicating their questions and concerns back to the Talent Office, which manages the evaluation system. As we found in our research, teachers who see their ideas for improvement incorporated have greater buy-in into new systems.
We've seen what happens when an evaluation system does not have significant teacher participation at the policy level. Many teachers and administrators perceived the previous model as a box-checking exercise. Almost all teachers were rated as effective or highly effective, and few schools used the evaluation process as an opportunity for teacher development.
The new evaluation framework was called for by teachers, adopted with significant teacher input, and is being implemented and advocated for by IPS teachers. I've been fortunate to be one of the teachers at the table for every stage of the policy change process to make the IPS evaluation system more feedback-oriented. IPS teachers and Teach Plus Teaching Policy Fellows have used their classroom perspective and policy understanding to change the district's approach to teacher evaluation. It is our hope that the new system will be used as a tool to provide all teachers the feedback they need to help them and their students grow.

Courtney Singleton is a special education teacher at George H. Fisher Elementary in IPS. She's an alumna of the Teach Plus Teaching Policy Fellowship
Popular in the Community