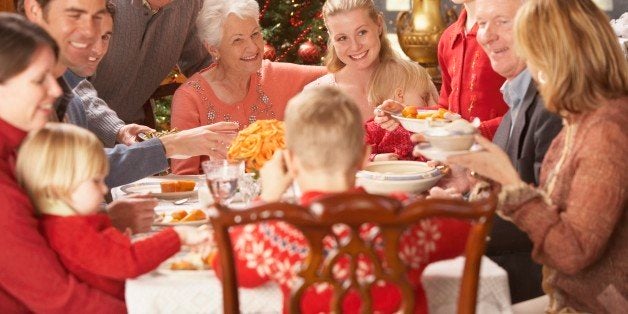 I am not a big planner, I like to go with the flow, and live in the moment. Yet, as a parent I have learned that simply living in the moment, and handling things as they arise is not always the most effective, responsible, or thoughtful thing to do.
The upcoming holiday season provides us with the perfect opportunity to reflect on the powerful subtitle of my favorite parenting book, Dr. Thomas Gordon's Parent Effectiveness Training, which is: "The Proven Program for Raising Responsible Children". So often as we read through parenting books and learn new skills we easily forget about a longer lasting benefit -- raising children who will pass these same parenting skills onto future generations.
What has the subtitle, "The Proven Program for Raising Responsible Children," got to do with the holiday season though, you might ask? We all know that the holidays are all about coming together with family and friends. But what does this really mean? Do we really treat this aspect of coming together over the holidays with the respect that it deserves?
Often, we are so focused on the planning that goes into making the holidays happen that we think we have everything covered. This holiday season think about going a few steps further and show your children what it means to be truly thoughtful.
Use the time before the holidays, what Dr. Thomas Gordon refers to as the "No Problem Space" -- when everything is fine, to think and plan ahead for each of the transitions that comes with the holiday season. I never cease to be amazed at how many there are when I sit down to think about a break from the normal routine.
Once we have come together as a family to think ahead about the people, places and situations that will make up our holiday season it is easier for me to know what "Preventive I-messages" I need to send. For example, it might be fine for my children to help themselves to snacks at home, but perhaps this is not okay when visiting family members.
Letting my children know this beforehand helps everyone to enjoy the time spent together. In the instance of visiting family, one of my "Preventive I-Messages" might be: "Kids, we haven't seen Aunt Jean in a long time and I want her to enjoy our visit and look forward to having us come back another time. Although it is okay for you to help yourselves to snacks at home, this is not okay at Aunt Jean's house. Her feelings are important to me and I want to make sure that we respect her rules when we visit."
I have put together a short list of questions that my family and I reflect on each holiday season. You can create a similar list for your family's unique needs and then put your own "Preventive I-Messages" together as needed.
What are each person's goals for the holiday season? What will make the time off work/school most enjoyable?
What will be different in our day-to-day routine during the holidays?
How can we best prepare for what will be different?
Will we be traveling? What do we need to consider to make the traveling as smooth as possible?
Will we be seeing family or friends we haven't seen for a while? What will help those reunions be as enjoyable as possible?
Will we be staying with family or friends? Do they have different routines/rules? What is important for each of us to consider when we are a house guest?
Will friends or family be staying with us? What is important for each of us to consider when we are hosting guests?
What events will we be attending? What do we need to take into account at each event?
Do you have any concerns about the upcoming holidays?
When we look back on the holiday season what would we like to be able to say about the time we had together as a family?
Taking some time to do this before the holiday season arrives allows us to go with the flow and live in the moment on the day. Most importantly, it is a simple and effective way to lead by example.
Modeling how to be truly thoughtful of each other so that everyone gets the most from precious time spent with family and friends. Sharing parenting skills that will last for generations to come, now that is something to be very thankful for.