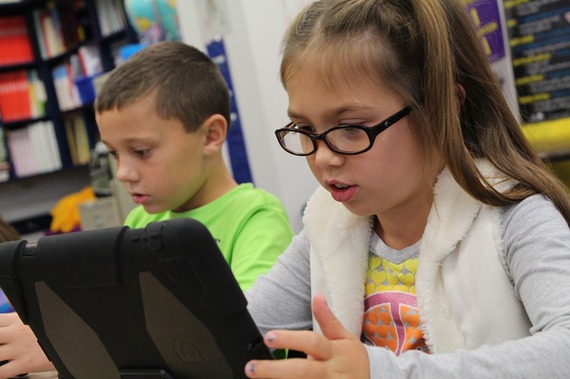 Employers looking to hire a STEM-educated standout, one who also has a flair for the humanities, need look no further than Karen Nguyen's class of first-graders at Cesar Chavez Elementary School in Bakersfield, CA. It's true, businesses will need to wait 15 years or so before they enter the job market, but these students are on track to emerge from school ready for what the world will demand of its future leaders.

Introducing STEM (science, technology, engineering, and math) to six-year-olds, while still covering 1st grade basics, takes creativity and commitment. "I got interested in STEM about 10 years ago, when I wanted to do better than 'no child left behind.' I wanted to integrate STEM into 1st grade instead of waiting until 7th grade," Nguyen said. After collaborating with friends and colleagues, she added other subjects into the STEM mix and her SMART-E lab was born.

A day in Nguyen's class combines traditional STEM activities with music, art, and reading (and the "other r"--writing). It's a wide range of disciplines, but they hold the students' interest; and the children thrive.

Debbie Haberle, whose son, Luke, is a student in Nguyen's class, teaches art technique to the students. She said she appreciates Nguyen's emphasis on technology. "It's the way kids learn. It's not how I learned, but things are different now. This is what they need," she said.

Chromebooks are a regular tool for learning in Bakersfield City School District classrooms. Nguyen wanted still more for her students. "I've become a grant writer, too," she said. She's gained funding from corporations like Chevron and private individuals, too. Those funds help stock her classroom with iPads and other hands-on activities, in addition to the laptops and the more traditional desktop computers already on-hand.

In spite of the STEM component, language arts is the bulk of Nguyen's SMART-E lab. One of her favorite activities is helping create young authors. Students write stories for "publication" on their computers, sounding out words and learning keyboard skills at the same time. They sit with Nguyen to edit their work before illustrating the pages. Finally, they have their exciting moment in the Author Chair, where they read their book to the class, then take questions and comments from fellow students. "I liked your plot," one said during a recent class, while another student asked the author why she likes Paris. If the participants were taller, this could easily be a high school classroom, or beyond.

"My dream," Nguyen said, "is that someone here could cure cancer, or might be a great statesman, or a fashion designer...or an astronaut. We have high expectations in this class, but in the end, I tell my students, 'You are fabulous. Be who you are.'"
Originally published in Bakersfield Life Magazine, March 2016
Calling all HuffPost superfans!
Sign up for membership to become a founding member and help shape HuffPost's next chapter