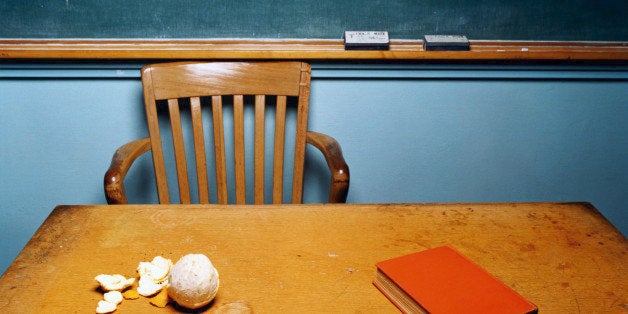 Political battles over teaching in the last decade have focused on complexities of pensions, evaluations and standardized testing, often ignoring a basic but critical issue: Attendance.
Teachers in the nation's 40 largest school districts came to school 94 percent of the time in the 2012-2013 school year, according to the report released Tuesday by the National Council on Teacher Quality, a think tank that advocates tougher teacher evaluations. "Like clockwork," said Nancy Waymack, the group's managing director of district policy. On average, the urban teachers missed about 11 school days out of 186, and used slightly less than their allotment of short-term leave.
But the National Council on Teacher Quality classifies 16 percent of teachers in those cities as "chronically absent," meaning they missed 18 or more days per school year. Together, chronically absent teachers accounted for one-third of all teacher absences. Districts with formal policies designed to discourage teachers from missing class "do not appear to have better attendance rates than those without such policies," the report concludes.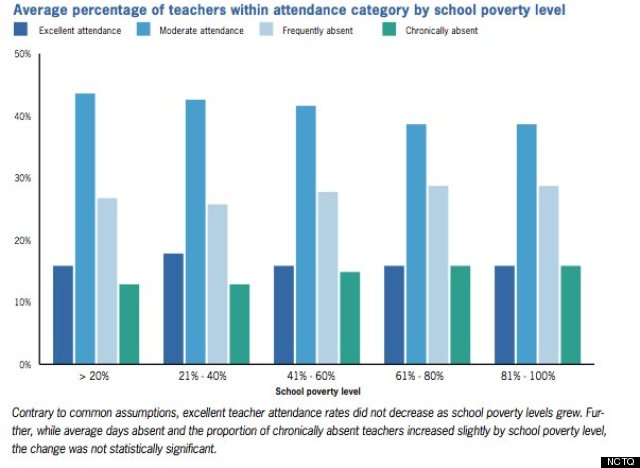 The Washington-based National Council on Teacher Quality fueled many of the ongoing teacher evaluation battles, producing reports urging states to include test scores in teacher evaluations. The group, funded by philanthropists backing the so-called education reform movement, has also tried to shake up education schools by ranking them and evaluating their curricula.
As the group collected information on teaching quality, it presented findings to individual school districts. Year after year, Waymack said, district officials expressed surprise with teacher attendance numbers -- an area her team initially thought would be familiar to administrators.
"It occurred to us that teacher attendance could be a very easy win to increase teacher quality. Regardless of how effective a teacher is, it doesn't matter if they're not in a classroom," Waymack said. "There's a substantial cost both academic and financial to absences when they're larger than they need to be."
The study found that the 40 urban districts spent about $424 million on substitute teachers in 2012-2013. Of those districts, Cleveland and Columbus in Ohio, and Nashville in Tennessee, had the largest number of average days absent. Louisville, Ky., Washington, D.C., and Indianapolis had the fewest. In 11 districts, teachers had more absences than the number of short-term leave days offered by the district. The study speculates that those teachers took unpaid leave, or used those days for authorized professional development activities.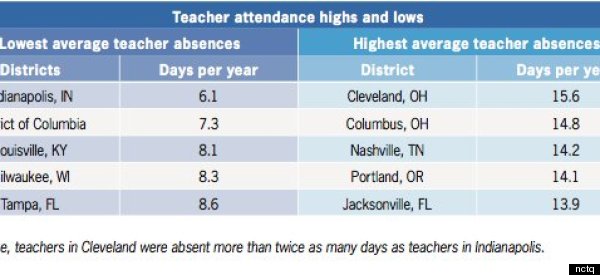 To minimize absences, the study suggests changing school culture by requiring teachers to call principals to report absences rather than using an online absence logging system. The group also suggests focusing on chronically absent teachers and finding why they're missing so many days. "You could cut absences significantly if you address those teachers' needs," Waymack said.
Segun Eubanks, who directs teacher quality for the National Education Association, the nation's largest teachers' union, said the study raises questions. "Thirty percent of the absences are professional and other. It's really hard to gauge what it means," he said. "Much of their professional absence could be productive absence -- teachers who are out expanding their professional growth." Some districts count these days as absences, while others do not.
Eubanks also took issue with the "chronically absent" label, because the study only includes one year's attendance statistics. "It takes a snapshot of a profession," he said. "You can't call teachers chronically absent unless there is some kind of pattern over time. It masks patterns -- if it's the same 16 percent over and over again, that's a problem. But we think if you did look at it that way, you wouldn't see that." He said teachers' attendance ranked only slightly below that of other professionals.
Waymack said the study's large sample of 234,000 teachers meant it "probably avoided some of these issues," and added that she would "encourage districts to look at multiple years and patterns."
Others said they found the report's findings to be positive. "While some, no doubt, will find fault with teachers in this attendance report, an overall 94 percent attendance rate shows the extraordinary dedication of teachers across the country, who come to school each day ready and excited to teach," said Randi Weingarten, president of the American Federation of Teachers union. "This kind of stability is what our kids need to succeed."
Waymack stressed that the study's expectations were feasible. "We are not trying to set an unrealistic measure of saying, who has perfect attendance," she said. "Teachers need the flexibility to be out sick or away that they need to attend to outside of the classroom."
The study was funded by the Abell Foundation, the Bodman Foundation, the Philadelphia School Partnership, and the Bill & Melinda Gates Foundation. The Gates Foundation is a major player in education philanthropy that has pushed amped-up teacher evaluations and the Common Core State Standards.
Before You Go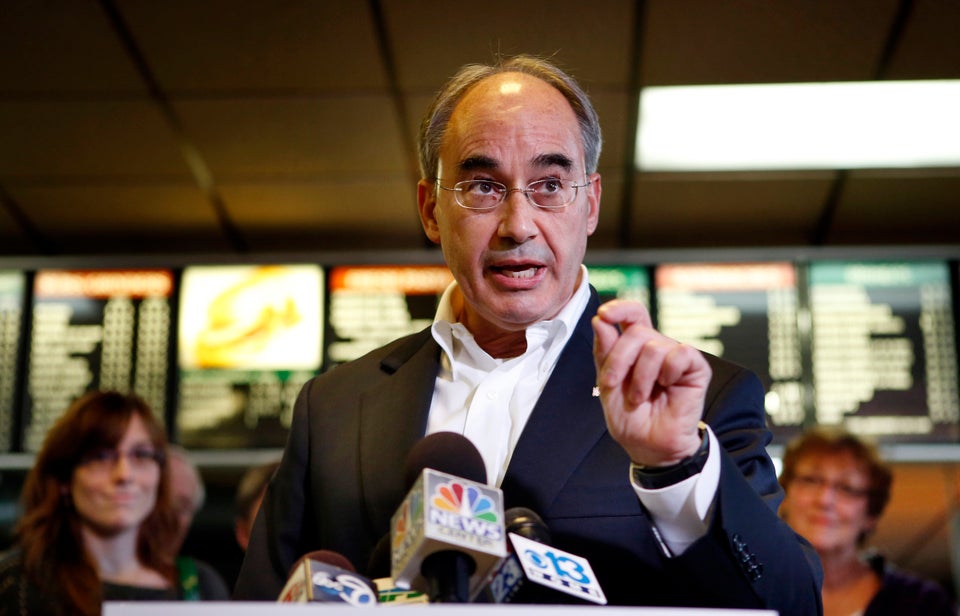 Great Political Names
Popular in the Community