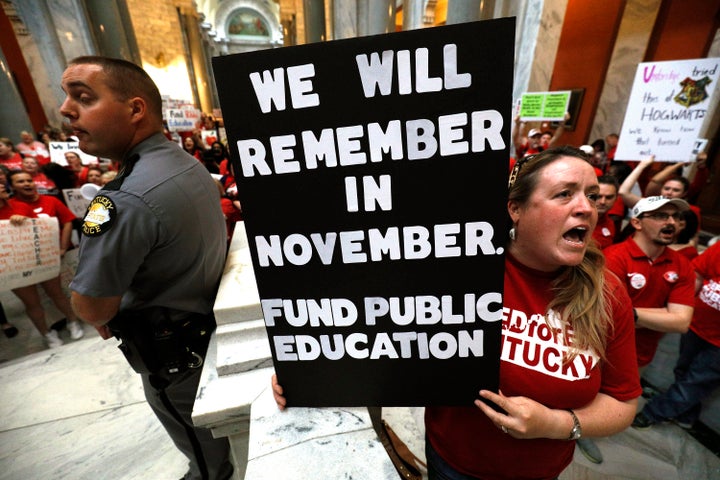 Teachers whose protests have spread across the country scored one of their first major electoral victories on Tuesday night, when Travis Brenda, a teacher at Rockcastle County High School in Mount Vernon, Kentucky, defeated the state's House majority leader in a Republican primary.
As the Republican House majority's floor leader, Shell helped craft and pass a slate of controversial changes to the state's public pension system that drew the ire of teachers and other state employees in late March and early April. In response to the legislation, which was tucked into a bill that previously dealt with public sewage, teachers shut down school districts in dozens of counties across the state on multiple days.
Sixteen of those candidates had primaries on Tuesday, according to the Lexington Herald-Leader, which reported that Brenda used his victory speech to credit state employees and teachers for helping him push back against Gov. Matt Bevin (R) and Republican leaders "for what they did on the pension bill."
"Travis Brenda was one of at least 40 teachers seeking public office in Kentucky during the 2018 cycle."
Kentucky's teacher protests also targeted Bevin's proposed cuts to the education budget, which has faced 20 separate rounds of spending reductions in the last three decades, according to the Kentucky Center for Economic Policy. The state legislature eventually voted to restore funding to many of the programs Bevin had sought to cut.
But that hasn't suppressed dissatisfaction with the governor or his allies in the legislature, especially as Bevin continued to criticize teachers in radio and television interviews (in one such case, Bevin blamed the teacher protests for instances of child abuse before later apologizing.)
Teachers were successful in other Kentucky races, too, though none scored a victory quite as significant as Brenda's.
Unofficial results from the Kentucky Secretary of State showed that retired teachers Linda Edwards and Tom Williamson and current educators Jenny Urie and Lisa Willner appeared to have won Democratic primaries in state House races. Western Kentucky University history professor Patti Minter had a lead in her Democratic primary with nearly all precincts reporting late Tuesday night. And Scott Lewis, a school superintendent in Ohio County, won the Republican nomination in his House district.
Amid the protests, teachers repeatedly promised that when it came time to vote in November, they would target lawmakers who'd supported changes to the pension system and further cuts to state education budgets. Now they've delivered a strong early warning to Bevin and those lawmakers that they have the power to follow through on the threats.
Popular in the Community