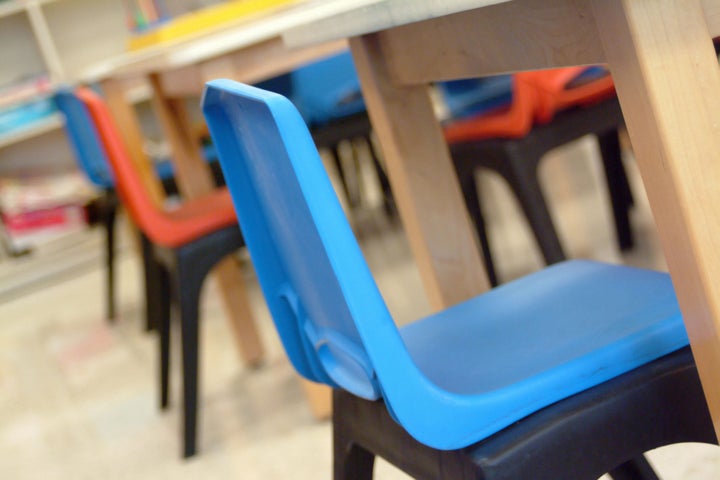 A Bronx teacher allegedly duct-taped a rowdy student to his chair while other classmates laughed and pushed him around, New York Daily News reports.
The 12 year-old student's mother, Lenora Cuffee, is now suing New York City, the city's Department of Education, and the teacher, Marcy Rubenstein, in Bronx County Supreme Court, Courthouse News reports.
The sixth grade class at Intermediate School 339 was taking a test, and teacher Marcy Rubenstein became irritated after the 12 year-old student, Irel Cuffee, got up repeatedly. So the teacher reportedly took out duct tape and stretched it across Irel's chest.
"And then she wrapped it around the chair, and again, and she bit it off and she stuck it to me, and she didn't take it off of me," the sixty-two pound Irel told NBC New York.
Irel's classmates then began to make fun of him and push him around, he says. "She was just grinning, not helping me," he said.
He was duct-taped down for a total of 20 minutes.
"I was embarrassed," Irel told the Daily News. "The whole class laughed. I felt threatened."
Irel told the Daily News that although he can sometimes be a little rambunctious, he did not deserve to be duct-taped to a chair.
Teacher Marcy Rubenstein was a first-year instructor with a salary of $51,000, according to the Daily News. She has been transferred to a desk job since the incident.
The end of the school year has brought multiple instances of teachers over reacting to students they perceive to be troubling.
Recently in Texas, parents Amber and Michael Tilley are suing two employees at Peaster Elementary School for forcing their third-grade son to strip and bathe in front of them. The two employees singled out the eight-year-old boy because he "smelled badly, was dirty and had bad hygiene."
The two school employees, Julie West and school nurse Debbie Van Rite, allegedly told the boy that he and his backpack would be sprayed with deodorant every day so he wouldn't smell.
"If you ever come to school dirty again," they reportedly warned him, "we will strip you buck naked and throw you in the shower and scrub you down."
In Clinton, N.C., Justin Cox, a third-grader at Union Elementary School, says he was strip-searched by school administrators after a girl accused him of stealing $20 from her, WRAL reports. The 10-year-old boy was forced by school officials to remove everything except his T-shirt and underwear.
"I was furious," Clarinda told WRAL. "[The assistant principal] rubbed her fingers around the inside of his underwear. If that isn't intrusive, I don't know what is."
Calling all HuffPost superfans!
Sign up for membership to become a founding member and help shape HuffPost's next chapter
BEFORE YOU GO