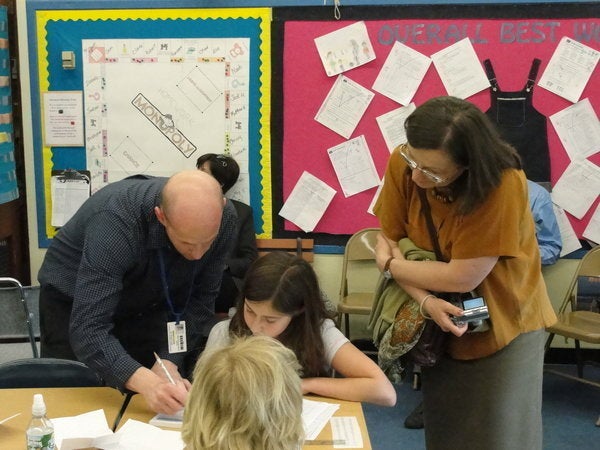 WASHINGTON -- The nation's governors on Thursday announced plans to work with three states and one territory on developing new teacher evaluation guidelines, which could then be shared with other states.
The National Governors Association will be collaborating with North Carolina, Nevada, Colorado and Guam to create systems for reviewing individual teacher performance in a 14-month-long project, funded by a grant from the Bill and Melinda Gates Foundation. Nevada and Guam will be building new performance evaluation programs, while Colorado and North Carolina are working to improve existing policies.
"We have research that the number one school-based factor that influences the amount the student learns is the quality of the teacher," said Tabitha Grossman, the association's program director overseeing the project. "We don't have state policies to evaluate teachers in a uniform and consistent way. Developing the state policies is needed to determine how effective teachers are."
Grossman noted that many states look at student test scores in judging the effectiveness of their school systems, but said the National Governors Association believes that individual teacher performance reviews should also be included in any evaluation system.
"That should not be the only measure of effectiveness," Grossman said of test scores.
Under the federal No Child Left Behind law, enacted in 2001, student scores have become the basis for judging schools' overall performance, although states continue to use other measures as well in judging teachers.
Grossman said the governors project seeks to develop systems that look at how teachers actually teach in the classroom, along with programs to help teachers improve. Teachers, she said, should also receive feedback on their professional development.
The point is not to encourage the firing of more teachers. "That would be an impractical application," she said.
The states in the pilot program were selected through a competitive process by a search committee that included representatives from teachers unions. Likewise, Grossman said, the participating states have to establish a leadership committee for the program that includes union representatives, along with officials from the state education department and the governor's office.
While Grossman said that the National Governors Association lacks grant funding for other states, it will be looking to provide technical assistance in the development of teacher evaluation programs. After 14 months, the association will release a report on the progress of the initiatives in North Carolina, Nevada, Colorado and Guam.

Calling all HuffPost superfans!
Sign up for membership to become a founding member and help shape HuffPost's next chapter