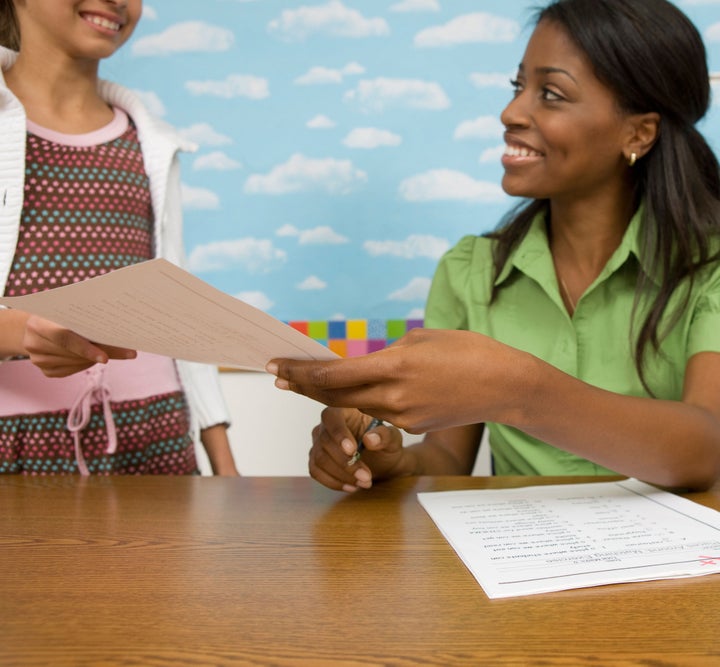 As more school districts across the country move closer to consensus on teacher evaluation, here in Los Angeles we've barely left the starting gate. The polarizing debate over evaluation stifles the kind of thoughtful and civil discourse needed for compromise and consensus. As a result, we have a stalemate at the negotiating table.
While LAUSD is piloting a multi measured evaluation system in some of its schools, the question of how to use test score results to rate a teacher's effectiveness has held up a broader deal. Hardcore opponents talk of a conspiracy to reduce teaching to a scantron sheet. Meanwhile, strict proponents of data see it as a panacea for producing effective and accountable schools.
Most of the teachers I meet are in a place Educators 4 Excellence calls the Rational Middle. They see the strengths and limitations of incorporating student growth outcomes, via test scores, into teacher evaluation. Such a system was recently approved in New York State, though the details of implementation must be collectively bargained. Revamped evaluation systems are being implemented in places like New Haven, Washington, D.C. and at many charter schools in California.
To be clear, the practice of linking teacher performance to actual student outcomes is an emerging science that will only evolve as districts improve the quality of our tests and begin gathering and using test data. Understanding this science has been an intense topic of research among districts and academics nationwide. At a local event with teachers discussing the use of student growth data, Dr. Robert Meyer, an expert on value-added modeling, noted that test data should be one of many tools that provide insight into effective teaching. For instance, if a high school English teacher provides students with engaging and rigorous lessons, we should see some evidence of student growth in reading and writing.
Similarly, strategic use of test data in evaluation would actually help us identify inauthentic teaching or teaching to the test. I once shared a classroom with a colleague who famously got all his students to pass the standardized test in English. He administered sample tests every day and taught Shakespearean plays only by film so his students didn't waste test-prep time reading. Like many veteran teachers, it had been years since my colleague had been truly observed. A multi-measure evaluation system that included metrics like student surveys, peer feedback and principal observations would have revealed that my colleague was effective at teaching the test, but not literature.
These nuanced conversations about how we measure and support inspired and effective teaching often get drowned out in the rhetoric over testing. Those of us in the Rational Middle recognize the importance of student growth measures and the limitations of our current approach to testing. For example, a high-performing history teacher at a magnet school feels the standardized test for his subject area relies too much on recall questions and not enough on evaluative and analytical skills. Students are asked to recall random facts, but not asked to analyze historic documents to form conclusions. He welcomes the use of data, but would like to see testing be more aligned with college and career preparedness.
Similarly, we rarely hear about the concerns and ideas of special education teachers. They feel their work is often overlooked by education reformers. These teachers wonder how we will evaluate and support their progress, which is heavily focused on designing strategies to be integrated in the curricula of other teachers.
Nor do we hear the concerns of teachers in non-tested subjects. A gym teacher who works at a charter school keeps scratching his head about how to use specific student outcomes to evaluate his instruction. Any coach can tell you there is clearly a connection between good teaching and a student's understanding of the mechanics, nature and value of sports education, but the challenge is designing the local assessments that get to the heart of this connection.
Our national debate over evaluation lacks the courage and nuance of the real-life conversations I have with hardworking, rational teachers. Instead, the debate is dominated by polarizing sound bites that inspire fear, not rational discourse. "Testing will be the death of public education." "Testing is the only way to provide accountability." These warring ideologies prevent us from coming together to find common ground and digging into the details of implementation. More important, they drown out the Rational Middle, those sobering voices that policy makers seldom hear.
While the ideologues trade sound bites, the Rational Middle will continue wrestling with the practical details of how we measure and support the multifaceted art and science of teaching.

Related
Popular in the Community