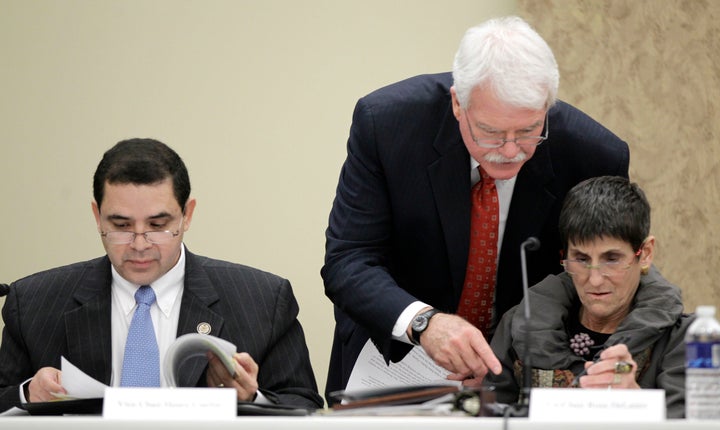 WASHINGTON -- Education leaders told a House committee Wednesday to focus on crafting comprehensive blueprint for teacher evaluations as Congress moves ahead in overhauling No Child Left Behind.
The four witnesses called before the House Committee on Education and the Workforce agreed educators have not come up with an ideal framework to evaluate teachers. They also expressed concern over whether teachers are being prepared for the classroom, and said the right people might not be going into education in the first place.
Witnesses questioned whether the higher education institutions were actively recruiting people who had a true interest or in being educators.
Kate Walsh, president of the National Council on Teacher Quality, said half the people that graduate from an education program don't wind up getting teaching jobs.
"I fear that for too many of those individuals have gone into an education school because it may be the easiest program on a college campus to complete," Walsh said.
Walsh then asserted it was "easier to get into an education school than it is to qualify to play college football."
Witnesses told the committee there should be accountability for institutions where teachers are trained. The burden to retain teachers, they said, should not fall on school districts.
Lawmakers wondered if the right teachers were getting hired. Rep. Glenn Thompson (R-Penn.) made the point there needed to be better hiring practices, and most of the panel agreed agreed. Several members of the committee, and some of the witnesses, suggested there was a problem with teacher tenure.
"In any profession sometimes you make hiring decisions that don't turn out well," said Thomas Boasberg, a superintendent from Denver. "While we need to focus on hiring, we also need to recognize some of the systems about replacing low-performing [educators] need to be changed as well."
Tennessee Commissioner of Education Kevin Huffman said hiring the right people in the first place would solve a lot of tenure problems, but noted many districts have tended to hire graduates from the nearest higher education institution.
The nationwide push for newer teachers also received some attention from the panel.
David Cicarella, president of the New Haven Federation of Teachers, resisted the idea that bringing in many young teachers would boost student performance. Rather, he said, the best districts have a mixture of young teachers and veterans.
Walsh said young teachers are often placed in low-performing schools, but because they lack experience, their students tend to not do as well.
Overall, the witnesses agreed there is not yet an adequate system for evaluating teachers once they get in the classroom, something they said should be central to education policy.
Walsh said without comprehensive evaluation systems, it's difficult for school administrators to know what a teacher needs.
"I don't think we've figured out what the perfect system is, I think we need a lot of flexibility," Huffman said. "[We need to] make sure there's consistency in application across districts."
Popular in the Community