Disturbing video taken at a Louisiana school board meeting on Monday shows a teacher being forcefully removed in handcuffs after she questioned a superintendent's pay raise during a public comment portion.
The teacher, who was identified as Deyshia Hargrave in a YouTube video and by a colleague to HuffPost, was called on to speak by a member of the Vermilion Parish School Board on Monday as it voted on the superintendent's contract — one that would reportedly give him a five-digit pay bump.
Hargrave, who is an English language arts teacher at Rene Rost Middle School, according to the school's website, voiced her concern about superintendent Jerome Puyau's pay increase, calling it a "slap in the face" to teachers who "work very hard with very little" as their class sizes grow.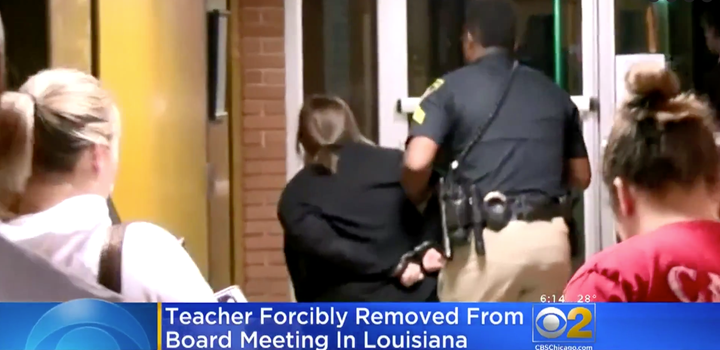 "We're doing the work, the students are doing the work," Hargrave is heard telling the board. "At the top, that's not where kids learn. It's in the classrooms. And those teachers, like myself, are not getting a dime from that, and that is unspeakable."
Hargrave was silenced by a board member identified by Shreveport station KTBS as board President Anthony Fontana, who said concern about a raise wasn't relevant to the meeting's agenda and that questions were not permitted.
"What's on the agenda is the superintendent's contract," he told the audience.
"With a raise," the audience responded.
As Puyau addressed Hargrave directly, a law enforcement officer approached her, saying, "You're going to leave or I'm going to remove you."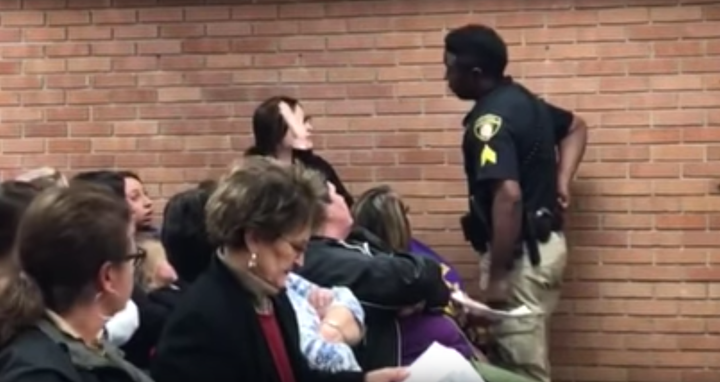 Hargrave obediently leaves with the officer, but once out of the camera's view, she is heard yelling from an outside hallway. Video obtained by KTBS then shows her on the ground as the officer places her in handcuffs and physically removes her from the building.
In the parking lot, with a crowd of people standing by to watch, the officer threatens to perform more arrests for "public intimidation."
KATC reported that Hargrave was booked into the Abbeville City Jail on charges of remaining where forbidden and resisting an officer before bonding out.
The Abbeville City Marshal's Office, which the Vermilion Parish Sheriff's Department told HuffPost performed the arrest, did not return calls requesting comment.
A school district employee who said she works with Hargrave and spoke to HuffPost on Tuesday under the condition of anonymity out of fear of losing her job, confirmed that substantial pay bump, adding that Puyau's new contract also gives him a car.
A copy of what appears to be Puyau's contract, which was obtained by HuffPost, states that the car, its fuel and maintenance will be paid for by the school district. The contract's authenticity could not be independently confirmed.
Puyau and the Vermilion Parish School District have not responded to requests for comment.
"It's been approximately 10 years since they've had a pay raise for teachers, and there's a lack of technology, we don't have enough computers for every student, they've increased our insurance, and yet they give him a $38,000 raise and a vehicle," the district employee told HuffPost.
"That's a big raise," she said, adding that it's one he doesn't deserve.
"Everyone is supporting her," she said of Hargrove, who she said came into work Tuesday morning with bruises from her arrest.
"Everyone at this school is distraught and sick about what happened," she said.
Speaking of Puyau, she said: "We're upset with him for his performance and lack of concern for our school. He's not a nice guy."
Stephanie Robichaux, who said she retired from the school district last spring after 25 years working as a teacher and then school librarian, echoed disgust with the pay raise and how the situation was handled.
"The man could have escorted her out, but to put her in handcuffs and arrest the woman, that was absolutely ridiculous," she told HuffPost by phone.
"The man could have escorted her out, but to put her in handcuffs and arrest the woman, that was absolutely ridiculous.""
Robichaux said that, though most faculty members are afraid to publicly speak out about Puyau, she believes a teacher strike may be on the horizon.
"We don't have money for things that are needed within the school, but they're able to give him a pay raise?" she questioned.
Robichaux said she did not attend the meeting but knew that those attending it, who were not on the board, were intentionally left in the dark about how much the new contract would pay Puyau, which could explain Fontana's insistence during the meeting that a raise was not relevant to the meeting.
"Everyone knew he was getting a pay raise, but they didn't know how much," she said.
Fontana and Hargrave also did not return emails seeking comment.