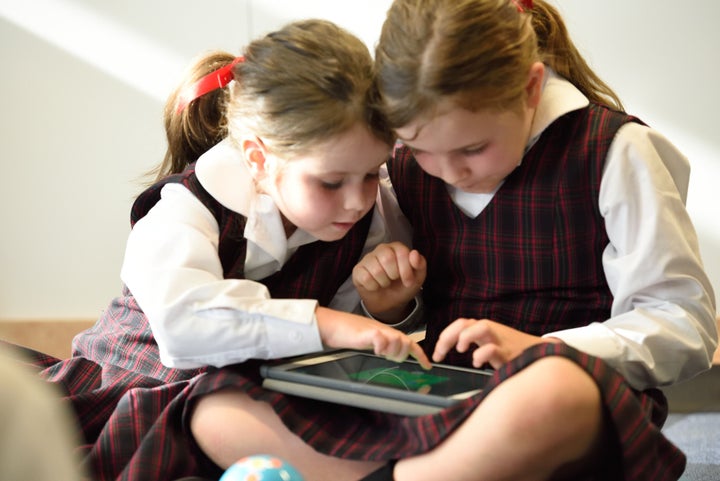 Fortunately, several high-quality apps are available to help kindergartners start the year off right. Best of all, each has the approval of the teacher community on our site for educators, Common Sense Education. Here's a solid "app kit" for kindergartners that includes both academic skill builders and soft-skills strengtheners.
Teaches: Numbers, simple addition, logic, letters, early reading and storytelling
This fantastic early learning app uses games, videos, books and creative activities to teach kids a wide range of skills in an engaging way. Khan Academy and developers worked in partnership with the Stanford Graduate School of Education to ground all the activities in effective learning.
Teaches: Language skills, reading comprehension and love of literature
Access more than 25,000 high-quality (and recognizable) kids' books from your mobile device with this digital library and e-reader app. Books are available for multiple reading levels, some even with a read-to-me option for nonreaders. Although the app is free only for teachers, parents can get a monthly subscription to the full library for less than the cost of most books.
Teaches: Ocean science, ecology and animal and plant life
This gorgeously animated, realistic ocean-exploration app introduces key scientific ideas to kids in a fun, immersive way. Young users learn about the relationships among different coral reef species by exploring several undersea environments.
Teaches: Number sense, basic arithmetic and number lines
Kids will hardly realize they're learning about numbers while exploring the games and challenges in this playful app. Colorful creatures called "Nooms" represent the numbers from 1 to 10, and kids can solve puzzles by stacking them, slicing them (subtraction), and having them "eat" each other (addition).
Teaches: Getting along with others, friendship building and following directions
This collaborative app turns the iPad into a virtual table, complete with tablecloth, teacups and treats. Kids are empowered to make choices as they create their tea party and as they pretend to host or attend the tea party with their friends or parents.
Popular in the Community