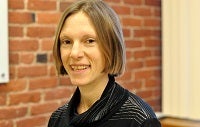 To sell my students on a visual comprehension tool, called the top-down web, that helps to understand higher-level concepts, I say to them: "You are going to be like Spiderman and Spiderwoman… except your webs are going to help you with your reading and writing…" Eager to become superheroes, my second graders mimic Spidey's web-making gesture. Emanuel, who gets his assessments transcribed because of his disabilities, describes "the rain falling so hard while he was camping that he could practically drink from his hood." The top-down web tool helps all students including Emanuel to brainstorm and plan as a first step in their writing. Emanuel captures his image in the web writing plan before focusing on the mechanics of the sentence writing. The result: clear sentences with vivid imagery.
Three years later, I am facilitating a course for teachers from across grade levels, kindergarten through high school, to leverage the top-down web graphic organizers in their own classrooms. In the course, we practice not only use of the graphic organizers but also prerequisite skills, such as categorization, which are necessary to become independent with these tools. We work on integrating graphic organizers into the curriculum to build students' independence and to support their progress towards college and career readiness.
Under the Every Student Succeeds Act (ESSA), states have access to funds that can be used to support teachers in developing high-quality, research-based professional development for their colleagues with coaching and support. Both the teachers who develop and take these courses benefit. Leading professional development offers teachers like me new opportunities to grow professionally and a pathway to do so. Such opportunities are not widely available in education, which stands in sharp contrast to my prior experience in business.
In fact, a simple cost/benefit analysis from my MBA training reveals the value-add in providing support for teachers interested in running professional development and becoming experts in their topic areas. Initial investment in such coaching and support becomes even more cost-effective when distributed over time, as has been the case with me. With fellow teachers, I have presented the material in courses and at conferences. With students, I have incorporated in my classes what I have learned from other teachers.
As I became a teacher leader, I connected to teachers across subject areas, including math, ELA, computers, and special education. I customized materials to meet their individual needs but also took their expertise back to my classroom to improve my own teaching practice. I already understood the power of asking higher-order questions, or "H.O.T." Questions like "Why does the main character decide to go on a journey?" and "What new ending can you create for this story?" After collaborating with other teachers, I now say: "You asked a H.O.T. question," and hear from my students "I am H.O.T." today.
In building other teachers' practices, we worked together on individual lesson planning and strategy implementation during our class time. I was inspired during this collaboration by the diversity of cross-content applications of the web. Science teachers employ it to help their students research for their animal projects, math teachers reinforce vocabulary instruction using the web, and high school English Language Arts teachers use it to support their students in developing their debate arguments.
For teachers like me, becoming a teacher leader is a sure way to both promote the collaborative professionalization of teaching and improve teacher effectiveness. Our state should seize this opportunity under ESSA to encourage, develop, and promote teachers to continue to excel as teacher leaders. Teacher leadership is both cost-effective and improves student outcomes. In business, law, medicine, and many other professions, clear pathways to leadership opportunities help professionals navigate their careers. Those in the teaching profession deserve the same. After all, that is just good business.
Alicia Serafin is an ESL teacher at the Shawsheen Elementary School and West Intermediate School in Wilmington, MA. She is a Teach Plus Greater Boston Teaching Policy Fellow.
Popular in the Community