Who do we need to be to unlock children's potential? Some say good teachers are born, not made. Others believe in the power of teacher training to cultivate an effective teaching workforce. And still others believe that a child's learning should be made teacher-proof. I recall hearing this at the orientation to the curriculum program I used as a first year teacher in Baltimore City in 1997. Great news, we were told, this program was strong enough that even teachers could not mess it up. We just had to learn to teach the program - and then stick to it. No matter what.
I lasted a year before leaving for a different school. I taught (do we call it teaching when it is teacher-proof?) this program almost twenty years ago and wonder often, as teachers do, where my students ended up - and how I could have done more for them.
The LEGO Idea Conference was launched on Monday with a Pecha Kucha event, during which Vishal Talreja, the co-founder and CEO of Dream a Dream, challenged us to think about what core competencies adults working with youth must have in order to transform children's lives. As schools and school systems rightly invest money in professional development to deepen teachers' understanding of pedagogy, teaching practices, standards, or to teach new skills such as 3D printing and CAD design, perhaps we are missing something just as important - creating opportunities that enable teachers to grow in their capacity to support the whole child.
Since the most recent financial crisis, there has been an increased interest in understanding what core competencies children will require to thrive in today's world and in the future. The International Baccalaureate serves as a model for this - weaving a rich learner profile throughout teaching and learning across K-12 education. Lessons are planned not just to deliver content effectively, but to enable students to develop themselves as learners. Many other effective schools have honed their own sets of attributes - often linked to their school's mission and driven by published recommendations such as the OECD's core competencies for careers.
Mr. Talreja went on to identify the following capacities for adults to effect transformational change for youth:
Building connections and helping others to do the same
Teaching self-advocacy
Authentically evaluating others
Building physically and emotionally safe learning spaces
Enabling joyful, happy learning
The list above was driven by Mr. Talreja's experience. There are universal and local elements to these competencies. Another educator or team might generate a different list - although I would argue that we would be able to see the links across such lists from around the word.
This viewpoint - that who we are as educators matters and that teachers' love for their work and their students should be nourished and empowered - is profoundly optimistic and almost revolutionary in an era when many teachers feel measured solely by numbers.
What can schools do - given limited time and limited resources - to support teachers in their efforts to support students? Here are three high impact strategies from the LEGO Idea Conference that almost any school, with any budget can try:
Make schools a place where teachers as well as students can ask for help. Daniel Wilson, director of Project Zero, shared this advice while discussing the barriers presented by formal learning settings. Know if and how the teachers can get help when they need it. Create systems to seek help where they don't exist and scale these systems where they do.
Engage teachers and children in the design process - or redesign process. Architect Kabir Vajpeyi President of the Vinyas Society and Ashoka Fellow, shared small, low cost shifts such as covering walls in chalkboard paint to encourage expression or painting game boards in the school yard.
Play! Start the day - or the staff meeting - off with a game. Brainstorm uses for a toothbrush, create a points-based game using items from your handbag or briefcase, teach someone else a game from your childhood, make an instrument using junk. Even five minutes of play before digging into data or beginning formal teaching can build relationships, establish trust, increase serotonin, and make us all more effective at doing the work we feel called to do.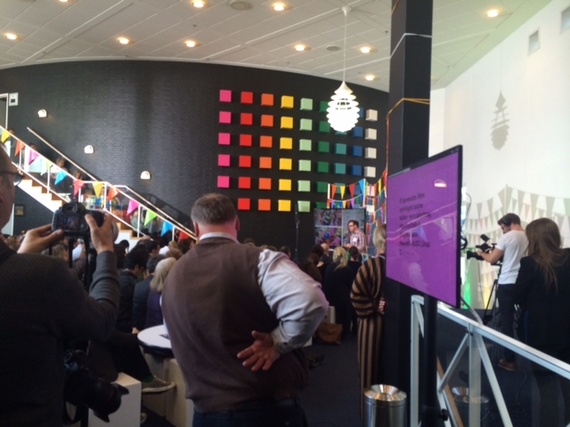 REAL LIFE. REAL NEWS. REAL VOICES.
Help us tell more of the stories that matter from voices that too often remain unheard.