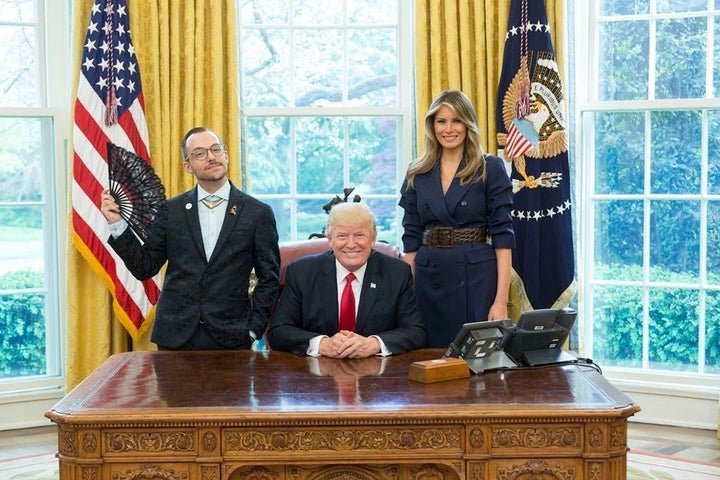 Gay teacher Nikos Giannopoulos' displayed his LGBTQ pride as he sported a rainbow pin and clutched a lacy fan in an official photo with President Donald Trump and first lady Melania Trump. And now the Rhode Island teacher of the year's bold stand for LGBTQ rights has gotten global attention after the image went viral on Facebook.
Giannopoulos said he wore the pin "to represent my gratitude for the LGBTQ community that has taught me to be proud, bold, and empowered by my identity — even when circumstances make that difficult." He brought the fan that day to "celebrate the joy and freedom of gender nonconformity."
"When I met the president as Rhode Island's state teacher of the year, I did not know what to expect," he wrote in the Facebook post. "After a lengthy security process, we were welcomed into the Roosevelt Room where we each met Secretary of Education Betsy DeVos. Shortly thereafter, we walked into the Oval Office. The man seated at the desk read prepared remarks from a sheet of paper and made some comments about CEOs and which states he 'loved,' based on electoral votes that he had secured. He did not rise from his seat to present the national teacher of the year with her much-deserved award, nor did he allow her to speak."
He wanted to speak to the president, but none of the teachers got the chance.
The teacher had wanted to tell Trump that "queer lives matter and anti-LGBTQ policies have a body count." He also wanted to tell the president how the LGBTQ community is hurt by "politicians callously attacking our right to love or merely exist," Giannopoulos added.
But he revealed to NPR that Trump was happy for him to pose with the fan for the official photo. "Absolutely go for it," he recalled the president saying. Trump said that he looked "very stylish" with his fan as the teachers gathered around the president, Giannopoulos told Yahoo.
Giannopoulos said when he thinks of the day he met the president, he "will not remember the person seated at the desk." He'll remember the students he has taught and the other teachers with him that day, Giannopoulos added ―including one who presented Trump with letters from her refugee student, "pleading with him to hear their voices."
CORRECTION: An earlier version of this article suggested incorrectly that Trump was unaware the teacher wanted to pose with the fan.
Before You Go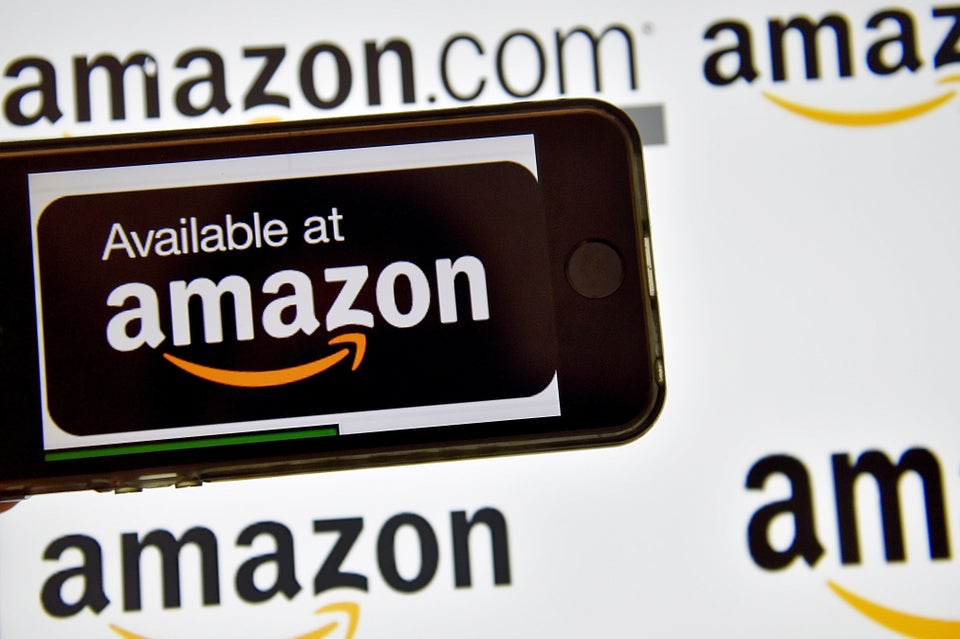 YouGov Brand Index's LGBTQ Rankings