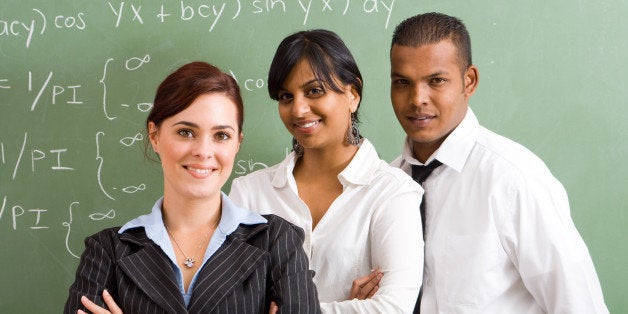 In 2007, teacher Lori Nazareno and her colleagues had a crazy idea: to design and run a teacher-powered school.
Their bold vision included designing the learning program, allocating the budget, and selecting their colleagues -- with teachers working collaboratively to make the school successful. Today, the Mathematics and Science Leadership Academy (MSLA) in Denver is celebrating its fifth anniversary, with full enrollment and highly satisfied teachers.
The growing number of these schools raises the question: Can teacher-powered schools transform American public education? My colleagues and I believe the answer is yes. Here are five ways teacher-powered schools are changing the eduscape:
1. Bringing teachers and administrators together on behalf of students.
In education, accountability trickles down: federal leaders pressure states, states pressure districts, districts pressure principals, and principals pressure teachers. This sets up a culture of compliance in which all players try to meet expectations from the top -- rather than working together based on what students actually need.
But teacher-powered schools change that dynamic. Teachers identify students' needs and design schools to directly meet those needs. School leaders, who are selected by teachers, work to support teacher teams' decisions -- not the other way around. This can have critical impact at the district and state levels. As schools demonstrate success, they can influence district and state leaders to rethink their decision making in support of teachers' work.
2. Personalizing student and teacher learning.
Teacher-powered schools use learning time in different, innovative, and personalized ways. For example, at many schools, such as the TAGOS Leadership Academy in Janesville, Wisconsin, students design, manage, and defend their own learning activities with support from teachers. At Boston's Mission Hill K-8 School, teachers regularly meet to coach one another on better supporting the needs of individual students.
3. Embracing responsibility for school success.
In teacher-powered schools, teachers are collectively responsible for the success of their schools and students. They think beyond their own classrooms and take on an "our school" mentality. Teacher teams delight in having the authority to mentor new teachers, determine their schools' most important funding needs, and adapt learning programs as they discover what works best for their students.
And when something isn't right, teacher teams fix it. For example, teachers at San Francisco Community School modified the afterschool program to include more learning activities after parents communicated that students were getting home too late to do their homework.

4. Addressing teacher quality issues without seeking protections.
In many schools, teachers' jobs are protected by seniority and tenure. Teachers unions often seek these protections because they keep teachers from having to take responsibility for the results of decisions that are out of their control (for example, in states where teacher evaluation is based on value-added measure scores).
But in teacher-powered schools, teachers are less likely to feel that their jobs are threatened. As a result, they often take on different approaches to job protections. For instance, teachers at Avalon School in St. Paul, Minnesota and Chrysalis Charter School in Palo Cedro, California are among the teacher-powered teams who do not offer protections because teachers trust their colleagues to evaluate them fairly. These teachers have far greater control over the policies and processes affecting their schools.
5. Advancing fresh ideas about student achievement and assessment.
Teacher-powered schools tend to have a broader focus on what students should know and be able to do. They look beyond standardized tests and schools' mean proficiency scores.
As a result, teacher teams often choose tools and processes that assess student learning beyond traditional means. For example, many teacher-powered schools use The Hope Survey to assess non-academic skills that students need to be successful in work and life, such as self-efficacy and problem solving.
Teacher-powered schools are not a panacea for America's education problems. Yet the growing interest in these schools -- and the solutions and alternatives they provide -- shows we need to seriously explore how teacher-powered schools can be a part of our strategy to find solutions.
Let's open the door for teachers to power us forward in defining the most promising paths for K-12 improvement.
Related
Popular in the Community