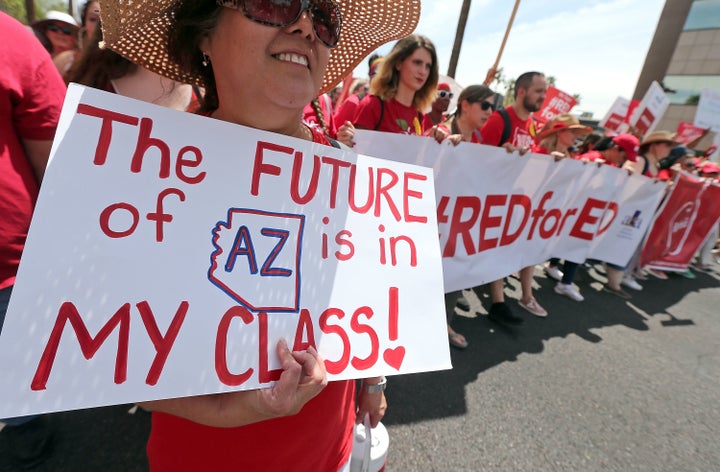 PHOENIX – Democrats in a host of red states are planning on running gubernatorial campaigns focused on education this fall, building off the backs of teacher revolts in states where Republican neglect of public education has become a top issue.
In red-tinted Arizona, where billboards for out-of-state school districts tempt the state's teachers to leave their jobs; in ruby-red Kansas, where former GOP Gov. Sam Brownback's cuts to education spending sparked a massive political backlash; and in blood-red Oklahoma, where at least 90 school districts have switched to a four-day workweek to save money; the issue could help Democrats pry away governorships that should be safely in GOP hands, according to strategists in both parties.
Tuesday's primaries could determine whether Democrats can capitalize on the teachers' movement, as Democrats pick a nominee in Arizona and Republicans decide on a candidate in Oklahoma. In all three states, Democrats have an uphill battle – Republicans are well-funded in Arizona, and President Donald Trump won both Kansas and Oklahoma by more than 20 percentage points during the 2016 presidential election. But the electorate's focus on education is giving Democrats hope.
"In past elections, [education] hasn't been the decisive thing that people have voted for," said Carrie Pugh, the political director at the National Education Association, which is still making the final decisions on where it will spend cash in the run-up to November. "This year, the electorate is saying it's more top of mind."
That statement may be most true here in Arizona, where Gov. Doug Ducey was once considered one of the safest incumbents of 2018, even after Trump won the state by just 3 percentage points in 2016. Ducey had both an approval rating above 50 and access to bundles of campaign cash.
His political fortunes dipped quickly starting in April, when Arizona's teachers voted to go on strike, demanding higher pay and more classroom funding. Seventy-five thousand teachers walked off the job and held a two-mile march to the state capitol in 110-degree heat. Now, Ducey, the former CEO of Coldstone Creamery and a favorite of the Koch political network, is considered one of the most vulnerable incumbent governors in the nation. Ducey and the Republican Governors Association has reserved $9.2 million of television airtime in the state, ready to defend the incumbent.
The money is necessary to counter grassroots energy of the teacher revolt, dubbed the #RedForEd movement, which has also put referenda on the ballot to hike taxes on people making more than $250,000 a year to increase education funding and to undo an expansive school voucher law. 
"Teachers who have traditionally not even voted, never mind gotten involved politically, have been transformed by what was genuinely a grassroots uprising of the #RedForEd movement," said Steve Farley, a longtime progressive state legislator and one of the Democratic candidates for governor here, who recalled hundreds of teachers filling the state capitol during normally sleepy late-night budget debates. "These teachers were so genuinely driven by their concern for the future of their classrooms." 
[Teachers] are ready not only to vote in big numbers themselves, but they're bringing communities and families out to the polls.

David Garcia, Arizona candidate for governor
David Garcia, a veteran and university professor who most operatives on both sides of the aisle see as the favorite in the primary, harkened back to his unsuccessful 2014 run for state superintendent of schools. Running with the backing of the business community, he lost by just a single point in a GOP wave year.
"When I was getting ready to run in 2014, all my friends told me the same thing: Don't count on teachers," Garcia said in an interview at his campaign headquarters, where a graph on the wall tallied up cuts to education funding in the state since 2009. "They're not going to get active. In 2014, they were, by and large, correct. That is not 2018. They're ready not only to vote in big numbers themselves, but they're bringing communities and families out to the polls."
Both candidates tick off statistics illustrating the problems with education in the state: Fifty-eight percent of the teacher jobs in the state are either unfilled or filled by unqualified people, according to Farley. Garcia notes the state has a 78 percent high school graduation rate, one of the lowest in the country. Both point to billboards from a school district in Fort Worth, Texas, trying to poach the state's teachers.
"Other states treat us like a farm team," Farley lamented at a happy hour with teachers the night before the first day of school earlier this month.   
But first Democrats need to pick a nominee – and the teachers who revolted couldn't agree on who to back. The Arizona Education Association, the state wing of the NEA, endorsed Garcia, who would be the first Hispanic elected statewide in Arizona in 40 years. The American Federation of Teachers' Arizona wing, however, went with Farley.
In an interview with HuffPost, Arizona AFT President Ralph Quintana questioned Garcia's dedication to public education, noting the candidate refused to fill out the group's endorsement paperwork. He also pointed out that Garcia had previously served on the board of a charter school and declared himself "neutral" on questions of school choice in a new book.
"How can you endorse someone who supports taking money out of our public schools?" Quintana asked. "There are certain platform issues we won't budge on."
Garcia has defended the book as a purely academic exercise with no relation to his political platform and dismissed criticism as "politically motivated attacks."
In Oklahoma, Democrats have settled on a nominee, choosing former state Attorney General Drew Edmondson. He's focused heavily on K-12 education, declaring it the "number one issue for the next governor." But national Democrats think his chances in November may rely on who wins a primary runoff on Tuesday night. 
Oklahoma City Mayor Mick Cornett and businessman Kevin Stitt are locked in a tight battle for the Republican nomination, with one major policy difference: Cornett supports a law GOP Gov. Mary Fallin proposed this year to raise taxes to support a pay hike for teachers, while Stitt opposes it. Their divergent stances are just one reason Democrats are more hopeful about Edmondson's chances against Stitt than Cornett.
In neighboring Kansas, the candidates are set, with Democratic state Sen. Laura Kelly battling Republican Secretary of State Kris Kobach and independent candidate Greg Orman. In her first television ad, Kelly goes all-in on education, noting she won a "Friend of Education" award for her work in the legislature.
"To me, Gov. Sam Brownback's massive education cuts weren't numbers of a spreadsheet, they were an attack on who we are as Kansans," Kelly says in the 30-second spot.
And the battles over education will go beyond red states, beyond the top of the ticket and beyond this election year. For Our Future, a union-backed organizing group, reported education funding as the top issue voters are bringing up to door-knockers in the traditional battleground states of Wisconsin, Ohio and Nevada.
In Wisconsin, Democrats have nominated state Superintendent of Schools Tony Evers to challenge GOP Gov. Scott Walker's bid for a third term. They think education will be critical to finally toppling the man who led the state's conservative political revolution. But Republicans aren't going easy: Walker has worked to rebrand himself as the "education governor," a claim Democrats scoff at. Americans for Prosperity, which is backed by the Koch political network, is spending $1.8 million on television and digital ads defending Walker's education record.
In Kentucky, which also saw a dramatic teacher walkout, Republicans expect education funding to be a top issue as GOP Gov. Matt Bevin runs for re-election next year. It's already proven to be a major issue in the state's legislative elections, with 30 educators on the ballot this fall in the Bluegrass State. (A whopping 71 educators are on the ballot for state House and Senate in Oklahoma.)
Back in Arizona, the GOP is clearly preparing to run against Garcia. The bulk of the millions of Republicans have already spent in the state have gone towards attacking him on immigration and border safety, slamming him for suggesting he would abolish the Immigration and Customs Enforcement agency.
Farley suggested the attacks would be politically fatal.
"I think he's totally unelectable now," he said. "I hope our voters in the primary are pragmatic enough to understand that anybody who wants to play into the preferred Republican narrative that Democrats are open borders, that's not somebody who's going to be able to prevail in November." 
Garcia brushes aside the negative coverage, noting he served on the border while in the military and insisting Republicans were going to target him on immigration regardless of his stances. Garcia added he's the more electable candidate because of his ability to fire up Latino voters who may otherwise stay home.
"Electing a guy named Garcia in Arizona is an exciting message," he said.
The money Republicans haven't spent hammering Garcia they've spent trying to rebuild Ducey's numbers. The number one topic in those ads? Education.
"Governor Ducey is leading," a female narrator says in an ad from the Republican Governors' Association, citing a teacher pay increase Ducey agreed to in order to end the walkout. "And teachers, students and taxpayers are winning." 
Calling all HuffPost superfans!
Sign up for membership to become a founding member and help shape HuffPost's next chapter