The 50-year-old teacher told ABC News that he was planning on selling his collection to "go towards my retirement." He recently threw that plan out the window, however -- all to help a perfect stranger.
Ellis, who teaches business and marketing at Klamath Union High School in Klamath Falls, Oregon, has put his collection up for sale on eBay. All the money earned from the sale will go toward helping a 4-year-old boy named Logan Roninger.
Logan has spinal muscular atrophy, a neuromuscular disorder that causes muscle weakness. He cannot crawl, walk or dress himself without assistance. Eventually, the degenerative condition will affect swallowing and respiratory function.
But as his parents point out, though Logan's muscles are impacted by the disorder, his mind and spirit are not.
The boy is said to love playing outdoors and going on adventures. With his condition, however, these activities can prove challenging.
"I'm a wildlife biologist, and my husband is a fishery biologist, so we spend all of our time outside; we love to hunt and fish and camp," Logan's mom, Trisha Roninger, told TODAY. "We make those things happen with Logan, but it's hard. You can only get so far in the woods, or you put him in a backpack."
Logan currently uses a standard motorized wheelchair to get around, but his parents are hoping to buy him a souped up wheelchair called a Tankchair, which can apparently traverse rugged terrain, and even power through sand and snow.
"Our very little boy just wants to play in the dirt, play in the mud," Logan's mom told ABC News. "We want to make it as accessible as possible. We want to give him that opportunity."
The Tankchair, however, is no small expense. It costs $17,000, and is not covered by insurance.
Wonderfully though, the Roningers won't need to bear this burden alone.
According to the family, local businesses and schools, including Klamath Union High School, have been pitching in to raise money for the new wheelchair. They say more than $11,000 has been raised by the community so far.
When Nat Ellis heard about the fundraising effort, he said he was determined to help the family reach their goal.
To pitch in, he decided to sell his toy collection.
"Life's not about us. It's about other people. So the best thing you can do is help as many people as possible," Ellis told ABC News.
The teacher recently put his collection up for auction on eBay. According to TODAY, the winner of that auction, Ruth Olsen, donated the collection back to Ellis so he could put it up for sale again to raise more money.
The latest auction ends on June 16.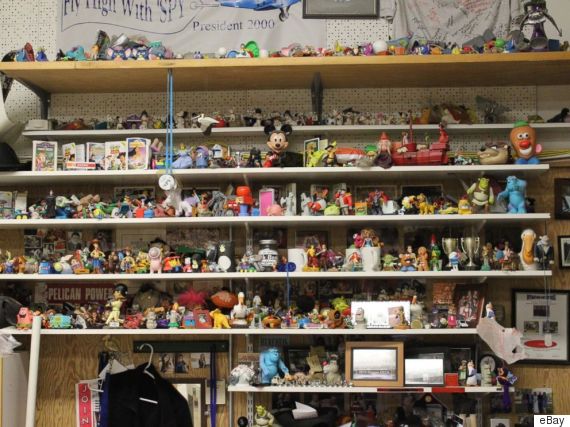 "This collection includes about 1139 pieces. All dust is graciously included. Many complete sets, many unique items," Ellis writes in the auction description. "The prize gem is a complete Peter Pan pirate ship. Many Star Wars, Ferbie, Beanie Baby, and a host of others that will make a great collection for you. A second gem is a collection of Dalmations. Not sure there are 101, but there are plenty for you."
Logan's mom told ABC News that she's "very grateful and frankly, a little overwhelmed at the kindness of people."
"I hope people see this story and realize one act of kindness can change someone's life," she said.
REAL LIFE. REAL NEWS. REAL VOICES.
Help us tell more of the stories that matter from voices that too often remain unheard.
BEFORE YOU GO
PHOTO GALLERY
Random Acts Of Kindness