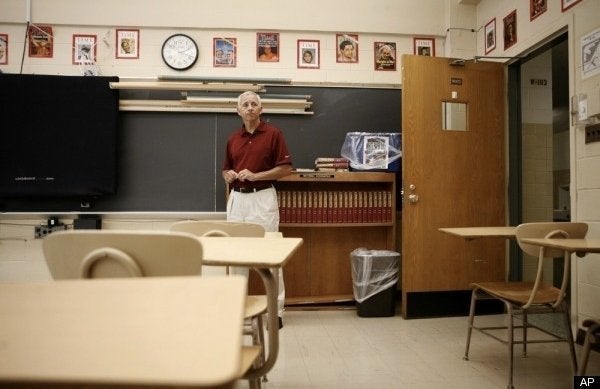 NEW YORK -- State lawmakers from Illinois to Tennessee are considering laws that could change what it means to be a teacher, as labor policy has become the heart of a pitched education debate -- one in which each side claims that the other doesn't put students' interests first.
Facing curtailed budgets and a push from the federal government for teacher accountability, many states are considering and passing measures that would limit teachers' collective bargaining rights and strip those with years of experience of job security.
Laws that alter collective-bargaining rights or the hiring and firing of teachers have passed in Wisconsin, Georgia, Oklahoma, Colorado, Utah, Idaho and Arizona. Last year, Washington, D.C. changed seniority rules through district contract negotiations. Recent bills introduced in Illinois and Tennessee show promise of passing. On the other hand, similar initiatives in states such as California have fallen flat for now, while New York City's mayor tries to breathe new life into his own proposal as massive teacher layoffs loom.
Teachers have a lot at stake: during budget shortfalls, union rules generally require that the least-experienced teachers be laid off first, a policy know as "last in, first out," or LIFO. New laws would end LIFO and tie layoffs and pay to performance instead of seniority. Also at stake for teachers is the right to bargain collectively to negotiate their salaries and benefits.
Opponents of the new laws say seniority and collective bargaining rights attract talent to the teaching profession. Obliterating them, they argue, deals a blow to the teaching profession, and in turn the quality of education students receive in the classroom.
On the other side, reform proponents assert that higher standards for teachers based on standardized testing scores will lead to better student performance -- and save money.
"This is entirely driven by budget issues," said David Bloomfield, former general counsel for the New York City Department of Education. "It's accountability meets budget crisis. It's a phony issue because the driver is money, rather than quality," he added.
Proposed state measures have met an intense week of demonstrations as organizations like former D.C. schools chancellor Michelle Rhee's StudentsFirst lobby to push them through.
But Sam Chaltain, a writer and education advocate, says the debate misses the point. "We think we're having a national debate about school reform, but we're actually having a national debate about labor law," he said.
"Proponents of killing last in, first out are missing the real issue," said Linda Darling-Hammond, the Charles E. Ducommun Professor of Education at the Stanford University School of Education, who served as education advisor to Barack Obama's 2008 presidential campaign. "We should be asking why these layoffs are happening anyway, why our country is abandoning its public schools," she added.
The anti-LIFO laws have become so pervasive that even a union known for its recalcitrance on the issue is advancing the teacher evaluation debate. Last week, the National Education Association's board produced a proposal that, for the first time, endorsed a teacher evaluation and tenuring system that takes student performance into account. To go into effect, the 9,000-member Representative Assembly would have to ratify the proposal in July.
NEA President Dennis Van Roekel told The Huffington Post that he wants to fix the problem of high turnaround in the teaching field. "According to the U.S. Department of Education, 47 percent of all teachers hired leave in their first five years," he said. "Critics say that their problem is it's too hard to fire all those teachers that need to be gone," he said.
The NEA proposal uses student test scores as one of three evaluation components. Van Roekel called for more sophisticated tests that would measure teacher impact.
Larry Sand, who runs the California Teachers Empowerment Network, an organization he describes as existing "for teachers who don't tow the union line," questioned the NEA proposal's sincerity. "It is a step in the right direction, but the devil is in the details," he said. "Just how various determinations are made are left very vague." Still, he noted, "NEA knows that teacher evaluations are coming and I guess they want a place at the table."
With or without the NEA's cooperation, some state lawmakers are moving bills that would radically change the professional trajectory of teachers.
Wednesday, despite opposition from city and state teachers unions, the Illinois state House's education committee unanimously greenlighted a measure that would ease teacher firing rules, making student achievement a factor in doling out tenure. The bill would also make it harder for teacher unions to strike and give Chicago's new mayor-elect Rahm Emanuel the power to lengthen the school day.
The Illinois law cleared the state Senate in April, and now faces the full House as it leaves committee. Unlike similar measures in passed by Republican-controlled legislatures Indiana and Florida, the Wall Street Journal explains, the Illinois bill is noteworthy because it passed in a Democrat-controlled body.
Bloomfield said Illinois is a possible exception to the idea that anti-LIFO laws are unlikely to pass Democratic legislatures because of the severity of the state's $15 billion budget gap. "This becomes a matter of difficult collective bargaining with all the layoffs coming," he said.
Tennessee's legislature is now considering a bill that would limit teachers' collective bargaining rights. Yesterday, the state House Education Committee voted to advance the bill to its Finance Committee, one week after Finance sent it back to Education because of an amendment that obliterated collective bargaining completely. The current version only limits bargaining in areas such as evaluation standards and merit pay.
New York City Mayor Michael Bloomberg has been lobbying the state government to end seniority rules as his schools budget projects the layoffs for 4,100 teachers.
"We need it -- and we need it right now -- because of layoffs," Bloomberg said last week, according to the New York Post. The state government appeared to side with the teachers union, and Gov. Andrew Cuomo said firing provisions would be arranged during contract negotiations instead of through legislation. But Bloomberg renewed his pitch, saying that the current round of layoffs would triage schools in the city's poorest neighborhoods.
The new measures reflect laws already passed in Wisconsin, Florida and Indiana.
Earlier this year, teachers joined the battle over Wisconsin public workers' collective bargaining rights. Teachers objected to Republican Gov. Scott Walker's push to revoke teachers' right to collectively bargain their salaries by holding a sick-out and occupying Madison's capitol building.
In March, Florida passed legislation that establishes a statewide assessment and merit pay system by 2014, denies tenure to teachers hired after July 1, 2011 and limits collective bargaining rights. Republican Gov. Rick Scott pushed and signed the bill, which was similar to one his predecessor Charlie Crist vetoed last year after major teacher opposition.
Under the direction of Gov. Mitch Daniels, who may pursue the GOP's presidential nomination for 2012, Indiana has also passed similar measures. In April, the state legislature approved charter-school expansion, merit pay and limits on collective bargaining.
Support HuffPost
The Stakes Have Never Been Higher
Related
Popular in the Community