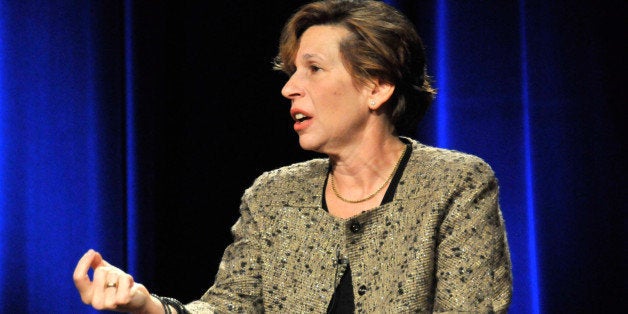 The American Federation of Teachers union is unveiling a seven-figure advertisement campaign ahead of Dec. 9, a day that the group has billed as a "national day of action" against the education reform movement and push alternative solutions.
"Public education is under attack and underfunded throughout our country," the advertisements read, according to materials AFT, the nation's second-largest teachers union, provided to The Huffington Post. "Now, communities are coming together for our schools and our children to champion great public schools as the heart of our neighborhoods. … Together, we can make sure our schools are places where all kids can thrive and the voices of those closest to the classroom are heard."
In an interview, AFT President Randi Weingarten said the AFT is spending about $1.2 million on the push. The radio, online and print advertisements, including a full-page ad in USA Today, are running through Dec. 9 in 30 cities, including New York, Chicago, Washington and Philadelphia. The messaging is framed around the idea of "reclaiming the promise" of public education, according to AFT materials.
Weingarten said various protests are expected to take place in at least 60 cities on Dec. 9. For the day of action, AFT has collaborated with the National Education Association, America's biggest teachers union, groups like the Schott Foundation, and community organizations like the Chicago-based Journey for Justice Alliance. The groups are circulating a document, "the principles that unite us," to outline their cause: making sure public schools "are public institutions"; fostering the creation of community schools; fighting so-called privateers; respect for teachers; and schools that are "welcoming and respectful places for all" and fully funded. The document says the groups do not entirely oppose charter schools, but that those schools must be regulated and accountable to the public.
The unions are calling the movement a groundswell of organic support against the usurping of public schools by "corporate interests" that want to make a "market-based system of schooling" involving high-stakes testing and attacks on collective bargaining. An AFT one-pager obtained by HuffPost lists the day's purpose as "to begin to create a national echo chamber for our vision and narrative." The memo calls on groups to "mobilize large numbers of parents, students, community residents and union members" to "tell stories of the impact of the corporate agenda on students," and, in some cases, "target an agent of the corporate agenda."
Weingarten said the idea behind the campaign came from a human rights conference in Los Angeles and through town halls AFT held in different cities. "We want to fight austerity, but we also want to come up with a proactive way of trying to change public education," she said. "You see a grassroots movement that says no -- not just no we have enough, no we're critical -- but these are the kind of reforms we need to help kids succeed in life, college and career. We thought it was important to have one day to mark that."
In Illinois, the Chicago Teachers Union is expecting 500 teachers, students and residents to hold a press conference near City Hall and march to the State of Illinois building to deliver a wish list to the governor.
Friday, in advance of the Day of Action, activists in Austin, Texas, are slated to march from the Capitol South Steps to the Federal Building to rally with unions and advocate for their agenda. In Boise, Idaho, teachers and unions plan to advocate outside the Capitol for more funding.
Weingarten acknowledged that the effort is a sort of rehash of previous campaigns. "People have been engaged in this effort for awhile. This is bringing people together like we have never done before in a thoughtful and deliberative process that is also about action," she said. "It's the growing of a movement."
Others took a different view. "The kinds of things that they have been against -- more options for families in low-performing schools, higher standards for students and stronger accountability for results -- those are all things that the public is strongly in favor of," argued Tim Daly, who oversees TNTP, an alternative teacher certification group. "Instead of being against things that the public is in favor of, there have been efforts to shift attention to red herring issues like privatization."
Before You Go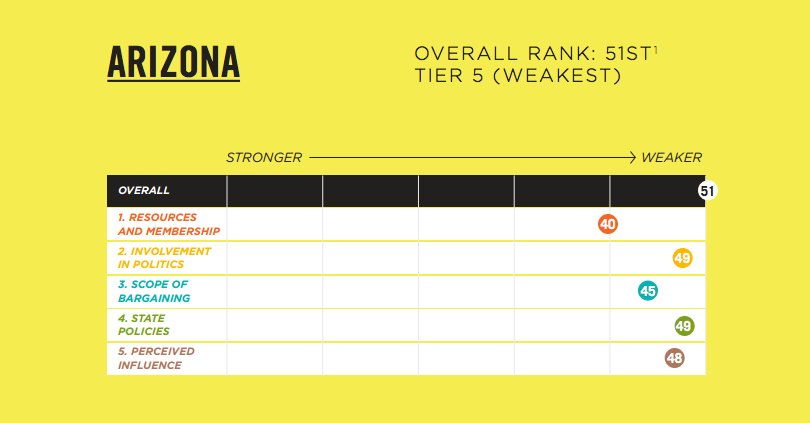 How Strong Are U.S. Teacher Unions? Fordham's State-By-State Comparison
Popular in the Community