"Teacher voice is needed in order for real reform to take place," U.S. Secretary of Education Arne Duncan told the inaugural cohort of Teach Plus D.C. Teaching Policy Fellows last week, when he joined more than 200 teachers and policymakers to celebrate the launch of Teach Plus D.C. It was a message the Fellows took to heart.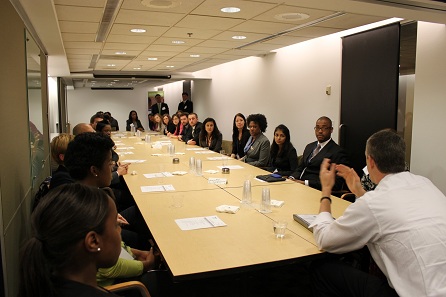 A diverse group of 25 district and charter teachers, the first D.C. cohort of Policy Fellows includes recent education school graduates, Teach for America and D.C. Teaching Fellowship alumni, and career-changers from fields as wide-ranging as business, mental healthcare and the military. Together, they'll spend the next eighteen months working toward positive change in their profession. Last Tuesday, they got started.
Three of those new Fellows reflected on their evening with Secretary Duncan:
Alyson Roberts, Reading Intervention, C.W. Harris Elementary School:
As I Metro-ed across the city to the event with Secretary Duncan, my mind wandered to what I always seem to think about when I have some reflecting time: my students. My brilliant, hilarious, wonderful students. I thought about their smiling faces as we completed our reading lesson that day, of their excitement over our prediction chart for Groundhog Day. But these positive reflections were followed, as they often are, by a more sobering reality: how long will that excitement -- that hunger to learn -- last? Are my students still smiling now, outside of school? What can I do as an educator to ensure that my students never lose their thirst for knowledge, to ensure that they go on in life to reach the great potential I know they have?
With my students in mind, I entered the room to meet Secretary Duncan, and it was with a renewed sense of urgency that I left that room. Secretary Duncan's down to earth, practical, no-nonsense nature truly resonated with me. He was right when he said this work was personal -- indeed, I was called to teaching because it is personal to me. My dedication to my students is all-consuming and unconditional. It is also true, as Secretary Duncan stated, that teachers are often too polite, too nice. The need is urgent for truly passionate and dedicated teachers to speak out and let the country -- even the world -- hear our views on what is best for our students. After all, we are on the front lines, fighting this daily battle.
As Secretary Duncan challenged us to, I will be making a seat for myself at the table of education reform. If there isn't one available, I will be demanding a seat, even creating a new table if necessary. My students deserve to have their voices heard, and I am more than willing to be their advocate. That is, until they get around to changing the world themselves.
Caryn Davidson, Kindergarten, Truesdell Education Campus:
The excitement was palpable in the room where the D.C. Teaching Policy Fellows met for the first time. The same conversations were taking place all over the room, everyone trying to get a sense of who the others were.

"Where do you teach?"

"And where is that exactly?"

"What issues are you interested in?"

In that room, everyone's hopes were high for what we can accomplish over the next two school years, given our proximity to top policymakers and the track record of previous Teach Plus cohorts in Boston, Chicago, Los Angeles, Indianapolis and Memphis. The launch event with Secretary of Education Arne Duncan was an inspiring way to start.

Having grown up frequenting his mother's after-school center on Chicago's South Side, Secretary Duncan understands the challenges facing urban schools. I was impressed by his down to earth yet intense nature. When I had the opportunity to ask a question about how to support teachers who do so much for our students above and beyond our classroom roles, I appreciated his answer: first and foremost, provide more community resources to students and families, using the school as a natural organizing feature to take some of the extra burden off teachers. Secondly, better utilize the $2.5 billion of federal funding spent each year on for professional development. "That money keeps me up at night," said Secretary Duncan. He suggested that teachers need to investigate how the Title II funding intended for this purpose is spent in our schools and make recommendations about what trainings we need.

Secretary Duncan was very clear: teachers need a voice at the table, and if a seat isn't made for us, we need to invite ourselves. If there is no table, we must create one.
If one thing is true about the inaugural group of Teach Plus D.C. Teaching Policy Fellows, it's that we have some very strong voices among us. I'm willing to bet that if we need one, there's a carpenter or two as well.
David Gesualdi, 1st Grade & Physical Education, KIPP D.C.: Heights Academy:
62 percent of new teachers feel unprepared to do their job. Wow. The federal Department of Education spends over $2.5 billion on professional development to aide our flailing education system. Wow. Hearing these statistics roll off Secretary Arne Duncan's tongue, I was struck not only by the numbers themselves, but also by the fact that he addressed our problems so candidly and responded with ways to proactively seek solutions.
From the moment he entered the Angle Room, where the Teaching Policy Fellows were getting to know each other, Secretary Duncan addressed us as his colleagues. Rolling up his sleeves and grinning, he asked, "So, why are you guys doing this?" He showed a deep interest in our purpose, and made clear that he saw us -- real, on-the-ground, current teachers -- as a positive force to improve our profession.
Throughout the presentation, from Teach Plus C.E.O. Celine Coggins' inspiring journey towards the creation of Teach Plus, to Massachusetts Teacher of the Year Adam Gray's real-life example of his struggle to master this craft, to the words of the Secretary himself, I got a strong sense of who is leading the movement to revamp public education, and how, as teachers, we must have a voice in that movement. As a new Teaching Policy Fellow, I am excited and honored for the opportunity to be a part of the change.
Alyson Roberts, Caryn Davidson, and David Gesualdi are Teach Plus Teaching Policy Fellows. The Teaching Policy Fellowship is a highly selective program for current teachers interested in having a voice in decisions that affect their profession.

Calling all HuffPost superfans!
Sign up for membership to become a founding member and help shape HuffPost's next chapter