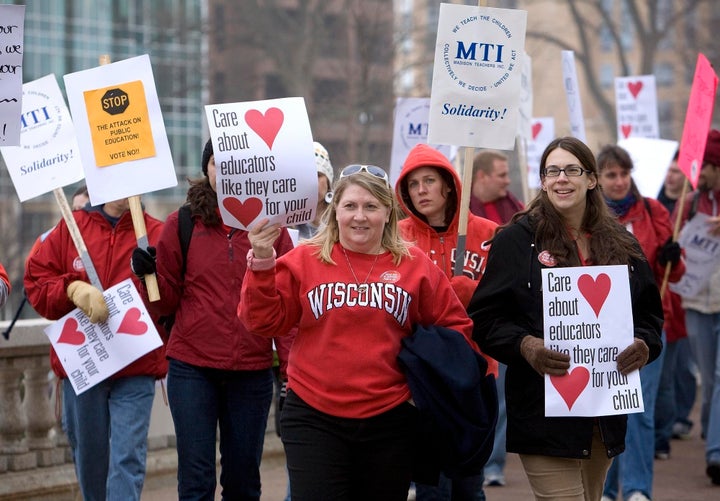 MADISON -- Cuts to teachers' benefits championed by Gov. Scott Walker offset about two-thirds of the reductions to school revenue resulting from his budget last year, limiting but not eliminating job losses in districts able to make the best use of these savings, according to a study being released Monday.
The report by the Wisconsin Taxpayers Alliance found that, following Walker's cuts to public workers' benefits and limits to collective bargaining last year, school districts across Wisconsin cut their spending on health and pension benefits by $287.1 million in the 2011-'12 academic year, after accounting for added benefit cuts because of higher-than-usual layoffs and retirements.
These offsets covered about 64% of the total decrease of $451 million in revenue for school districts that was imposed to help balance the budget passed by Walker and GOP lawmakers last year. That followed smaller cuts to schools passed as part of the 2009-'11 budget passed by then Gov. Jim Doyle and Democrats in the Legislature.
The report notes that the savings from the offsets would have been higher but some districts were blocked by union contracts, such as those in Milwaukee, from getting those savings last year. The taxpayers alliance analyzed budget data from the more than 420 districts around Wisconsin collected by the Department of Public Instruction that was released in July.
"This clearly shows that the benefits did generate a fair amount of money where districts limited them," said Todd Berry, president of the alliance.
The impact of Walker's changes to schools and local governments has been the subject of fierce debate for a year and a half, but it has taken place in the absence of good data and as a result often focused on rosy or bleak anecdotes from individual communities cherry-picked by both sides. That's because there wasn't yet data available to show the real impact of the changes.
The data used by the alliance isn't perfect -- for instance, it deals only with schools because no comparable figures are available for cities, villages and counties. The data also shows just overall spending on benefits by districts and how much it went down, not why it went down, meaning the taxpayers alliance had to rely on an estimate of how much of the savings were due to staff reductions rather than Walker's law.
But the study provides a much better look at the effects of Walker's proposals on school districts than had been previously available.
"We knew in detail about the revenue (cuts to schools) and we knew only sketchy details about the savings from Act 10 or the tools," said Andrew Reschovsky, an economist at the University of Wisconsin-Madison not involved in the report. "This fills that very important gap."
In the state budget, Walker and GOP lawmakers sharply reduced aid to schools and then also dropped by more than 5% the cap on how much money schools can raise through state aid and local property taxes.
To offset that cut amounting to $451 million in the first year, Walker and lawmakers eliminated through the Act 10 legislation most collective bargaining for teachers and most other public workers and then required most public employees to pick up at least half the required contributions to their pensions. The legislation also required state workers to pay 12% of their health insurance premiums and allowed schools to require the same of their employees.
These changes, however, don't currently apply in districts such as Milwaukee Public Schools, where unions and the district still have a valid contract laying out different terms.
The taxpayers alliance found that districts reduced their benefit costs by $366.3 million overall, which amounted to 81% of the total amount of revenue cuts to schools. However, part of that was due to schools shedding staff.
The study found that, through layoffs or simply not filling vacancies, districts statewide cut 2,312 positions, or 2.3%, last year, up from 1,519 positions, or 1.5%, the previous year.
Those staff cuts accounted for about $79 million of the overall benefits savings. They also contributed to a statewide rise in average student-to-teacher ratios to 14.4, up from 14.1 in 2011 and 13.9 in 2010.
The study found that the staffing cuts were smaller but still present in districts that made greater use of Walker's tools. For instance, in the 58 districts where the savings on benefits were between 80% and 100% of the revenue cuts, the number of positions dropped 1.5%.
In the 235 districts where there were savings of less than 80% of the revenue cuts, the staffing cuts were 3.2%, or more than twice as big.
There is no calculation of how much more Milwaukee Public Schools could have saved last year if not for its union contract with its teachers, spokesman Tony Tagliavia said. But as contracts expire, actions taken by the school board in 2010 and 2011 will result in an estimated $188.7 million in savings through 2017, he said.
Across the state, the study found that this year many of the districts' costs will rise more quickly than their revenue, raising the specter of additional cuts.
Rob Henken, president of the Public Policy Forum in Milwaukee, agreed that the study broke new ground but predicted it wouldn't end the debate over the impact of Walker's policies.
"You can see things both that a supporter of Act 10 would point to and say it's working and things an opponent would point to and say it has caused or is about to cause service cuts," Henken said.
Reschovsky of UW-Madison said that a big question would be what happens to districts this year and in the next state budget, in which Walker has already said that his first priority is an income-tax cut. So far, Walker hasn't committed to increases in state aid to schools. ___
(c)2012 the Milwaukee Journal Sentinel
Distributed by MCT Information Services
Related
Popular in the Community