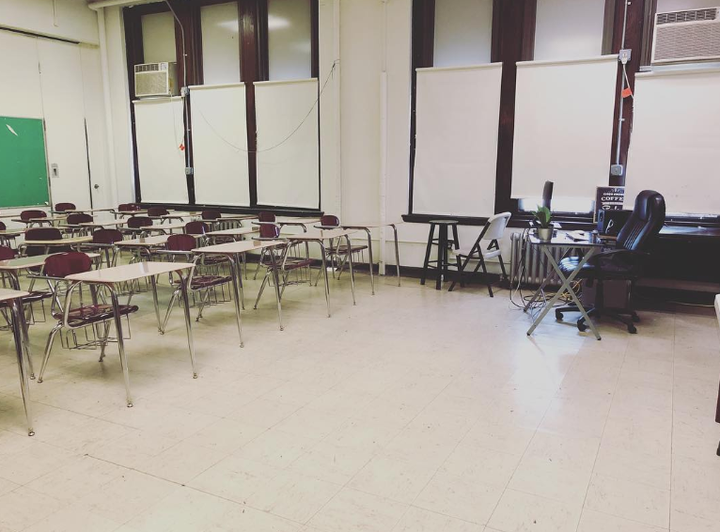 This is not a feel-good story. Not really, anyway. While some of my anecdotes may sound similar to tropes in a feel-good story, overall this is a story of misplaced priorities, misappropriated funds and a broken system.
While this story fosters hope in the fellow man, it is still a story of children who need and deserve much more than they are given. This is a story of a teacher who begged the internet for classroom supplies.
It began in 2009, in the trenches of the recession. Shortly after I had my daughter, I was laid off from my corporate job when my company purged 1,000 employees right before Thanksgiving. I found myself frantically looking for work along with millions of others. Without a glimmer of hope, I continued to look for work while also taking graduate courses to earn a degree in secondary education, something I had always wanted to do.
With two degrees under my belt, I still could not find work. By sheer luck, I was hired as a long-term substitute in a coveted, affluent school district. For three years, I fought for a contract. Every year I was invited back as a long-term substitute, and every year a young, fresh-out-of-college boy was hired for a full-time role.
Feeling used and abused, I left education.
In 2016, a startup company I was working for cut my department and outsourced it to contractors. I was once again out of a job. I took a job at a small school in Philadelphia. I cannot lie and say I wasn't nervous to go back to teaching, especially since this school was not in my former affluent area.
I didn't know exactly what I was getting myself into. I'd heard stories about teaching in the inner-city schools in Philadelphia. I'd listened to firsthand accounts from educators who were assaulted by their students, who were verbally and physically harassed, and who were emotionally abused. I'd seen "Dangerous Minds."
Last year flew by, as I dealt with a huge learning curve. In May, I knew I needed to do more the following school year. I knew I needed to completely commit to my role in this school and make it my permanent home. I loved my students, my co-workers and my school. However, as at every inner-city school, I knew I would have to purchase whatever I needed on my own.
I spent the summer looking for donations of used furniture. I purchased display tables from Toys R Us when the store went out of business. I browsed the sale and clearance sections in every store I walked into. By the time summer was coming to an end, I was horrified by how much money I had already spent.
"How did you find a job that pays you nothing and requires you to spend your own money on top of it all?" my husband somewhat-jokingly teased me when he watched me browse the local garage sale groups on Facebook. But he doesn't understand, just like others who aren't in education don't understand.
No one understands what it's like to have pieces of an office chair fly off your pants every time you stand up. No one sees the file cabinets without tops, held together by duct tape and pieces of plywood. No one comprehends the massive amount of tissues, pens, paper, snacks, Band-Aids and sanitary products teachers purchase for their students, especially for students from low-income households. No one gets it.
Instead, I hear exasperated and irritated parents complain about buying supplies for their kids every year. Every year I am told how the school district should provide "this and that." I read about Betsy DeVos and her 10 yachts and how the secretary of education is considering using federal funds to allow districts to purchase handguns for their classrooms. I wonder: Will these be additional funds, or do we have to divide the current funds between binders and handguns?
I made it my mission to create a real classroom for my students. I wanted the type of classroom I imagine all kids should have: a classroom in which students feel comfortable and confident. I was no longer just looking for basic pens and pencils. Because why can't my students sit in an inviting and cozy classroom? Why should children enjoy the comforts of a beautiful, clean, airy and bright classroom only in affluent areas? It's not at all fair and it's not at all how I want to teach.
Then, as if the internet were reading my mind (which, I'm not quite sure it wasn't) I read about teachers crowdfunding for classroom supplies and I thought, "Why not me?" In the past, I have donated to every GoFundMe, animal shelter, new mother in need, homeless shelter, children's hospital, and every other request for donation my friends, acquaintances and strangers have requested. I've earned some good karma, I thought.
So, I did it. I created a Wish List on Amazon. I asked for basics, like pens and pencils and paper, and I asked for some "luxuries," such as posters, beanbag chairs and bookshelves. I shared it on Twitter and Facebook, and I went to sleep.
I woke up to an empty Wish List and hundreds of messages. I added more to the list; I added items for my colleagues who needed pencils, notebooks, staplers and clocks. Again, overnight, almost every item on my Wish List disappeared. Almost everything was purchased. Kind strangers and friends and family purchased nearly $5,000 in supplies for my classroom and my school. I was overwhelmed, to put it mildly.
It's been a week since this incredible event happened to me and I am still in awe. I am amazed by the kindness of strangers. This experience taught me that while some may want to make us believe we are divided as a people, we are definitely more united than ever. When we see a common good cause, we all come together and help. And that kind of lesson is one I very much needed in today's world and one I would like my students to learn.
Sometimes, we have to depend on the kindness of strangers, and those are the times that define how we view the world. Sometimes amazing things happen.
But once again, this is not a feel-good story.
This is the story that we need to retell because this experience should not have even been possible. If our politicians cared about our children, our education and our future, they would always allot enough funds for schools. But they do not, and thus teachers are forced to throw themselves at the mercy of strangers. This story is one you've probably heard before; however, this time, I really need you to listen.
Do you have a compelling personal story you'd like to see published on HuffPost? Find out what we're looking for here and send us a pitch!
Popular in the Community