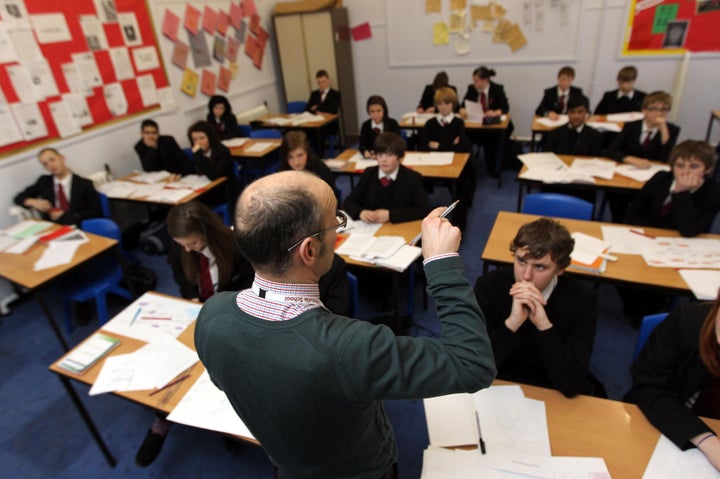 With unemployment lines growing shorter, and the hopes of a regular paycheck starting to rise, our nation continues to push forward to get more Americans back to work. At the same time, millions of working Americans continue to work hard at their job each day, but earn nowhere near the value they bring to their workplace and this country, nor what they need to give their children a better life than they had.
We are referring to teachers, who, when it comes to rebuilding our economy, our democracy and our nation's long-term health, might just be America's most valuable labor asset. Teachers remain uniquely situated to have the most important educational impact on shaping young minds, so it is teachers who are best positioned to help young Americans develop the skills and knowledge to lift themselves and many others out of poverty, and keep our country globally competitive.
Every American worker deserves the opportunity to feel like they are making a difference, they are positioned to succeed, and their value and achievements are recognized. It is no different with teachers.
And yet great teachers, in contrast to nearly every other profession, remain underpaid, underutilized, under-resourced and unrecognized. Many talented Americans today turn away from or leave the profession, citing unresponsive bureaucracies, little opportunity for pay or career advancement, and less than adequate working conditions.
That's why it's so important that teachers and leaders in the city of Newark, N.J. this week took an historic step forward to recognize the value and achievements of great teachers and empower them with critical roles and support.
Newark is the largest school district in a state long plagued with some of the worst income and ethnic academic achievement disparities in the country. New Jersey public schools rank 50th out of 51 states (including Washington, D.C.) on average in eighth-grade reading achievement gaps on the National Assessment of Educational Progress.
So when Newark teachers ratified one of the most progressive new contracts in the nation on Wednesday, it has to be recognized as a breakthrough achievement nationally in how to reward great teachers and empower teachers to be involved in continuously improving their schools.
Under the new contract, a great teacher working in the most challenging schools in a subject shortage area like math or science can earn as much as $12,500 beyond their base pay. And teachers who complete a district-approved program aligned with the new Common Core standards will receive a $20,000 bonus.
If you can believe it, such bonuses are not the rule in American public schools; they are the exception, even for the best teachers.
Going forward, teacher compensation bumps in Newark will no longer be based on the passage of time alone or on graduate degree attainment, two things research shows often have little correlation with student outcomes. Compensation will instead be based on performance.
Coupled with the bonuses, this means the most effective Newark teachers will become among the highest paid in the nation this spring.
Better compensation like this is a great start in appropriately thanking top teachers. But the Newark contract -- which, according to the National Council on Teacher Quality, "moves the district forward by leaps and bounds" -- doesn't stop there.
Under a new "Framework for Effective Teaching," educators will be involved in helping one another improve through coaching and professional development. For the first time, teachers will have a seat at the table evaluating one another, a recognition that in any profession some of the best feedback comes from colleagues. And the contract empowers a majority of teachers in any school with authority to decide things like how to adapt school schedules or how to use training and preparation time as they deem are in the best interests of their students.
A culture that recognizes and harnesses the value and achievements of great teachers may go a long way in encouraging top teachers to stick with a city like Newark that needs them, while encouraging talented teachers elsewhere to come aboard.

The leaders involved in reaching this historic agreement deserve great credit. Together, State District Superintendent of Newark Public Schools Cami Anderson, Newark Teachers Union President Joseph Del Grosso, American Federation of Teachers President Randi Weingarten and New Jersey's Commissioner of Education Chris Cerf offer a stunning example of organized labor and management stepping outside their comfort zones, breaking through traditional paradigms and collaborating on a creative "third way" approach that both sides agree is in the best interest of kids. They have proven that collective bargaining can be a mechanism for positive change.
The next challenge for Newark is to create a full-blown culture that empowers each educator to be a top teacher and produces student achievement results that validate the approach. The district is on the right path, and shows us that it is possible to begin to give teachers the "thank you" they deserve.


Eli Broad, founder of The Eli and Edythe Broad Foundation and Andy Stern, president emeritus of Service Employees International Union and senior fellow at Columbia University's Richman Center for Business, Law, and Public Policy.
Popular in the Community