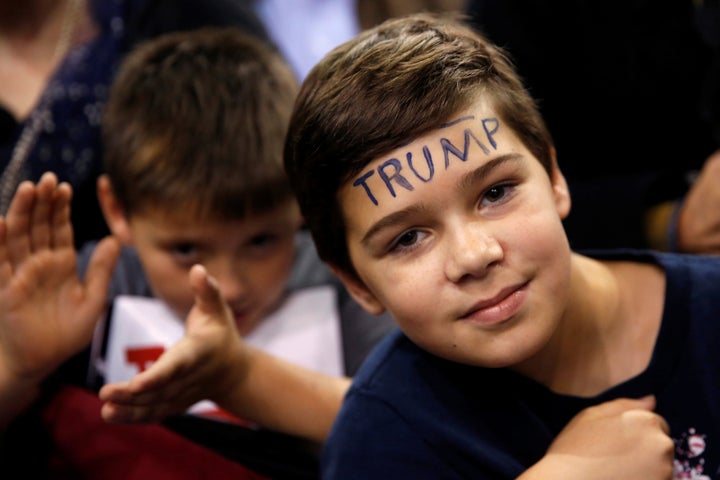 High school history teacher Jessica Lander didn't sleep at all Tuesday night. As she made the 30-minute drive from her house to work on Wednesday morning, she sobbed, her mind racing about how she would explain the previous night's events to her diverse classrooms of students, many of them immigrants. When she arrived at school 40 minutes before her first class, she turned the lights off and sat in the dark, writing down her thoughts about how she should best comfort her students.
From there, the day didn't get much easier. When her students trickled in, she opened the room up for questions. Her students, some of whom are refugees who grew up in camps or lived through war, expressed fear for their futures. Hearing their intense anxieties, Lander broke down crying in every one of her classes. Many of her students cried as well.
"So many of my students have asked me: will I be kicked out of the country? Will my parents be kicked out? How many us are going to be forced from this country? Will we all be told to leave?" said Lander. "These are students coming from all sorts of countries. Refugees from the Congo, Iraq, Burma. Students from El Salvador and Brazil. Students from all across the globe who came here in hopes of a better life. And all of them asking the same questions."
At lunch, Lander didn't eat; she only wrote. But by the end of the day, she emerged with resolve. Her students were scared, but she could be their champion.
"I'm going to continue to remind and to reiterate and to demonstrate to them that they have a voice. Their experiences matter and are important. I'm going to work to affirm them and who they are," said Lander, who teachers in Lowell, Massachusetts. "The message I will be telling my students over and over and over again is: we care about you. We're here to protect and defend you. You have a voice ― and let me help you develop the tool to make your voice heard."
Lander's experience isn't unlike that of many teachers around the country who work with diverse groups of students. The rise and election of Trump ― who spoke about Mexicans as rapists and proposed a ban on Muslims entering the country ― has struck fear in the minds of some of the country's most vulnerable learners. Many of these students' families came to the U.S. for a better life, but are now wondering if they will be allowed to stay. And if they do stay, will they be wanted?
"Their experiences matter and are important. I'm going to work to affirm them and who they are."
Teachers navigate a tricky space when it comes to politics. Some schools have policies about how much teachers are allowed to divulge about their political beliefs, and exposing details of your personal life in the classroom is typically frowned upon. While some teachers want to stand in solidarity with students who may feel targeted by Trump's rhetoric, they also have to create a safe space for students who support the president-elect.
On Wednesday, educators dealt with a range of reactions from students. Some teachers reported feeling worried about increased rates of bullying, but others said that their students handled the election's divisive nature with respect and maturity ― unlike many of the adults around them. Either way, educators now have a front-row seat to how this year's uniquely polarizing presidential election is affecting the next generation.
On Tuesday, Andrea Avery, a teacher in Arizona, wore a pantsuit to school. On Wednesday, she wore all black.
When students in her high school English class walked in the door that morning, they were greeted with a specific message. Avery had written on her classroom whiteboard: "Dear students, whether you are feeling elation or despair, your job is the same. Do not let it blind you or reduce you. Use it to make yourself and the lives you touch better."
Students spent the first few minutes of class writing in their journals. Many of them wrote about the election results. A few shared what they wrote with the class.
Some students expressed real fear and anxiety about the president-elect. Others, who support Trump, expressed frustration that their opinions were seemingly being judged. There were a few tense moments, but overall the discourse remained civil.
"We've been practicing all year long to have civil disagreements around literature. We practice these skills when the stakes are low, so they're the kind of skills we can call on even when the stakes are high ― and the stakes are really high now, and really high for some of my students," said Avery. "For them to convey to other students why their anxiety and frustration is real and not an overreaction, I was proud of them doing that. And my students [were] saying things like, 'OK, well, I haven't lived that experience, so you're teaching me something about what I don't live in America.' I was really down at the beginning of the day but felt really restored at the end of the day, and I think it's because of them.'"
Indeed, the election results have touched students on all end of the educational spectrum. When Anthony Nicodemo, a social studies teacher in New York, came to work on Wednesday, several students with special needs were in a panic about the president-elect.
"One of our autistic kids was yelling, 'he's going to be a dictator," Nicodemo said. "I was surprised. Our kids aren't that normally engaged in current events. I walked in and they were in full-blown crisis. It had worse of an impact than I thought."
Nicodemo tried to calm the students by talking about the political process and the different checks and balances on a presidents' powers.
But it's not just teachers in the United States who have been faced with tough questions in the past week. Educators all over the world have been feeling the gravity of America's elections.
This conundrum is what inspired Sophia Jennings, a writer and producer based in Los Angeles, to start a project collecting stories from educators all over the world about how they're handling the results. Jennings has so far heard from teachers in China, Jordan and a number of U.S. states.
"A lot of the teachers I've talked to have said [Wednesday] was the hardest day I've ever had to work," said Jennings. "This was a huge event for teachers."
Rebecca Klein covers the challenges faced in school discipline, school segregation and the achievement gap in K-12 education. In particular, she is drilling down into the programs and innovations that are trying to solve these problems. Tips? Email: Rebecca.Klein@huffingtonpost.com.
Support HuffPost
The Stakes Have Never Been Higher
Popular in the Community