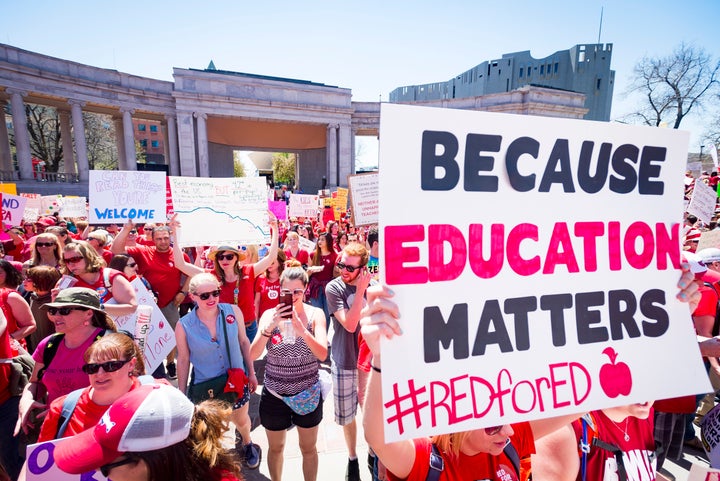 More than 1,000 teachers and other education professionals won state legislative seats across the country in Tuesday's elections, the nation's largest teachers union said Friday.
More than 1,500 current and former teachers and education professionals sought office in the 2018 elections, the National Education Association announced in October. Teacher-led protests swept states from West Virginia to Arizona last winter and spring, leading to an exceptional influx of candidates.
The group said the final tally before Election Day numbered more than 1,800 such candidates. Of those, the union said, 1,081 won their races for state legislative seats on Tuesday.
That success means teachers and educators will hold roughly 15 percent of all state legislative positions nationwide next year, based on the number of such positions counted by the National State Legislative Council. An additional 42 races have yet to be called, the NEA said.
A lack of historical data makes it hard to compare this year's numbers or success rates to previous elections, or to draw a direct connection between those victories and the earlier protest movements.
But the NEA and the Democratic Legislative Campaign Committee, the Democratic Party's state legislative campaign arm, said before Tuesday's vote that the number of teachers pursuing office had increased from previous electoral cycles. A DLCC spokesperson said before the election that it had counted more than 1,200 educators running for office as Democrats in 2018, an increase of roughly 200 from two years ago.
Not all of those included in the NEA or DLCC counts are teachers. The union used a broad definition to compile the numbers, counting current and former classroom teachers and professors at the K-12 and postsecondary levels, as well as candidates who had worked as administrative or support staff in schools, districts and universities. Many of them were incumbents, and the vast majority of the candidates ran as Democrats. But more than 400 candidates included in the initial count sought office as Republicans, according to the union's data.
States like Kentucky, where teachers walked out of schools amid pension reforms and budget cuts in the spring, saw a record number of educators run for office this year. Fourteen of those 51 teachers and educators vying for office won Tuesday, according to the Louisville Courier-Journal.
Educators won other high-profile victories that were not included in the NEA's list, which only counted state legislative races. Jahana Hayes, a former National Teacher of the Year, won a U.S. congressional seat in Connecticut. U.S. Rep. Tim Walz, a former high school geography teacher, won Minnesota's gubernatorial race. And former school superintendent Tony Evers beat Gov. Scott Walker (R) ― a longtime target of teachers and unions ― to become Wisconsin's next governor.
Union leaders said this week that they were also encouraged by victories for candidates like Gretchen Whitmer and Michelle Lujan Grisham, who won gubernatorial contests in Michigan and New Mexico, respectively. Both ran on pro-public education platforms.
NEA leaders said this week that they hoped the success of educators could help shift debates around funding for public education and teacher pay across the nation, especially after teacher walkouts in West Virginia, Kentucky, Arizona, and Oklahoma turned attention to cuts to education budgets in those states and elsewhere.
"Education had a good night [on Tuesday]," NEA President Lily Eskelsen Garcia told HuffPost. "Nobody expects to win every race there is. But we saw wins up and down the ballot, and we are on fire."
Popular in the Community