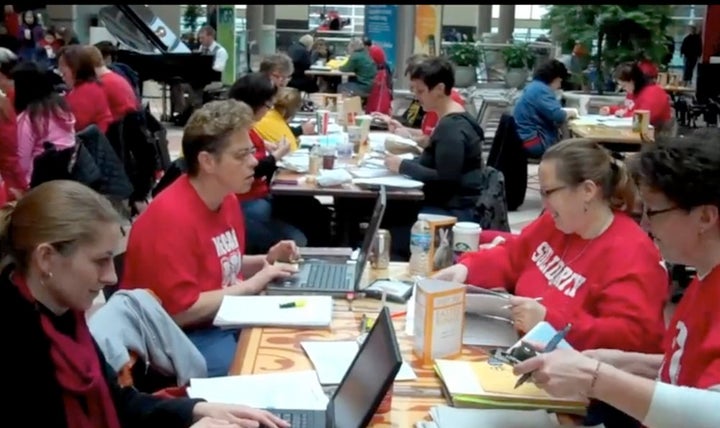 Amid nationwide criticism of their profession, teachers are staging "grade-ins" at local malls to demonstrate what educators do in their time off.
Teachers in Oklahoma gathered at mall food court tables last week to plan lessons, grade essays and correct tests, according to the Daily O'Collegian, the Oklahoma State University newspaper. Participating teachers said the idea was to illustrate the amount of work educators take home.
English teacher Paula Denner tells the Daily O'Collegian she got flack from her attorney friend, who said all professions work abnormal hours.
"[The attorney] may do some work at home, but you know he is running up a bill for it if he has to," Denner said. "There are few jobs like teaching. The thing with this job is, we do most of our work at a different time than we are actually at the workplace."
The Michigan Education Association has also been holding "grade-ins," WILX reports.
In Lansing, Mich., teachers are making their case as Gov. Rick Snyder has proposed to cut school funding. Franklin Mays, a Lansing School District teacher, says the bottom line is that it would set back student learning.
"Cutting budgets is going to have a big impact on the children," said Mays.
Teachers in the Milwaukee, Wisc. area have also held recent grade-ins at mall food courts. Teachers there say they need to stand their ground as they -- and other educators across the country -- have been targeted by state governments that see teachers' pay and benefit packages as budget-busters.
This has contributed to a public perception that teachers are undeserving of what they earn. Megyn Kelly of Fox News recently argued teachers don't deserve as much money because they "don't work as much."
The Milwaukee "grade-ins" were organized by WI Public Employees Against Walker's Attack on Workers Rights, according to the event's Facebook page. Wisconsin organizers credit grade-ins in New Jersey for inspiring their public display.
Calling all HuffPost superfans!
Sign up for membership to become a founding member and help shape HuffPost's next chapter