A small rural town in Oklahoma has decided that the best way to prevent a hypothetical mass shooting at their schools is to arm teachers with guns. 
So far, approximately 5 percent of all teachers at Okay Public Schools are packing heat, according to Superintendent Charles McMahan. 
At the beginning of the current academic year, the Okay Public School Board of Education instituted a policy laying out how teachers with a concealed carry permit could obtain permission to bring a gun to school. 
On Monday, the policy drew a little more public attention. The old "Gun Free School Zone" signs were replaced with new signs warning that armed staff members "may use whatever force is necessary to protect our students," the Muskogee Phoenix reports.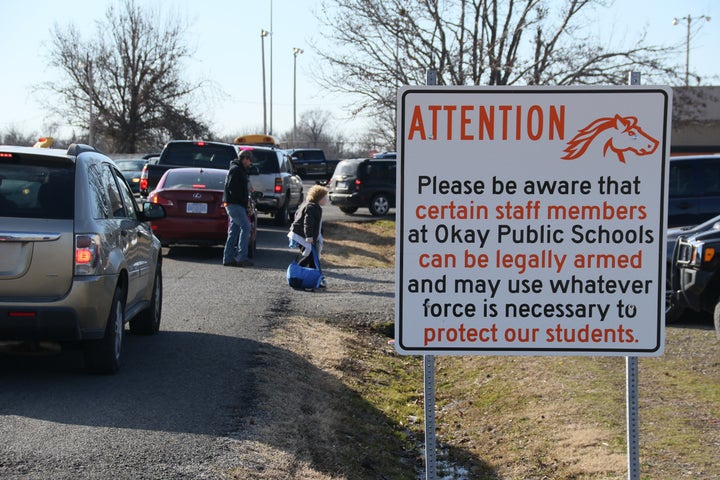 "No specific incident caused us to pass this policy," McMahan said. "But with everything that's going on in the world, we've heard that you may possibly see more attacks from radical groups looking for children."
The town of Okay has a population of roughly 650 people and only one local police officer. Law enforcement officers from nearby Wagoner take about 10 minutes to respond to any given situation, McMahan said.
"If a shooting situation were to happen, which we pray it never will, seconds matter," he said.
Along with having a concealed carry permit, teachers participating in the program must have a certificate from Oklahoma's Council on Law Enforcement Education and Training, receive a psychiatric evaluation and take a shooting course three times a year. 
Participating teachers must have their weapon on them or secured in a lockbox, according to the policy. The guns must be .45 caliber or less. And McMahan said they must be "name brand" guns.
But what if an angry or upset student gets hold of a teacher's firearm? What if a gun is lost on school grounds? What if a teacher accidentally discharges the weapon?
"The risks are outweighed by the threats that are out there," McMahan said. "The chances of a student getting ahold of one of the guns would be very, very slim."
What if police mistake an armed teacher for an armed suspect during an actual shooting?
"Not really a concern to us, as we have identifiable gear," he said. According to the policy, armed teachers wear an identifying badge, hat or jacket. "We do realize this could put us at risk, but that is the chance we take to keep our students safe."
Perhaps the most important question is simply: Do armed civilians actually stop mass shooters? McMahan believes they do. The evidence suggests only when they're former military or law enforcement themselves.
About the only thing more terrifying than a lone gunman firing into a classroom or a crowded movie theater is a half a dozen more gunmen leaping around firing their pistols at the killer, which is to say really at each other and every bystander. It's a police officer's nightmare.
The superintendent said he hasn't received any negative feedback regarding the policy, though he clarified that he was "not counting Facebook comments."
Calling all HuffPost superfans!
Sign up for membership to become a founding member and help shape HuffPost's next chapter