As of June 10, there have been 74 school shootings since the December 2012 massacre at Sandy Hook Elementary School in Newtown, Connecticut. Wary of the dangers facing their students, teachers at one Iowa school have developed a device that could save lives in the event of an on-campus attack.
A group of educators at West Middle School in Muscatine created The Sleeve, a 12-gauge carbon steel case that quickly slides over a door's closer arm. According to Illinois news outlet WQAD, the device is able to withstand 550 foot-pounds of pressure on the door from the outside. The idea here is that, if the door cannot be opened from the outside, a shooter will be in too much of a hurry to try and force his way into the room and will move on.
(Story continues below.)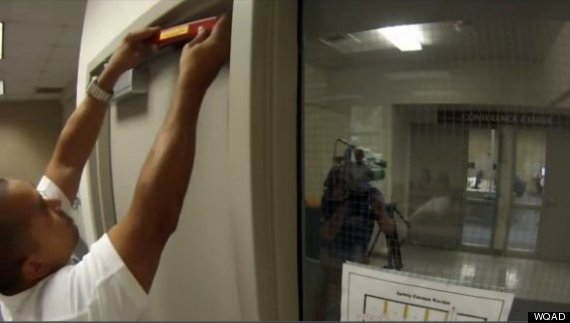 A demonstration of The Sleeve being fitted over a closer arm at the top of a classroom door.
West Middle School teacher Daniel Nietzel got the idea for "The Sleeve" while undergoing the school's active shooter training. A few of his fellow teachers were apparently eager to help develop the idea and formed Fighting Chance Solutions to turn The Sleeve into a reality. Their product is currently waiting for patent approval.
"We were instructed to tie a belt or a cord around the closer arm. It seemed like a logical way to secure a door without having to go into the hallway, [but] it took us a long time to get a cord, stand on a chair, and tie a knot, which could potentially be the most important tie of your life," he told WQAD of the training session that inspired The Sleeve. "I can tell you in our training, all five rooms that the teachers were trained in; the doors were breached, the cords were ripped, and the officer who was portraying the active shooter came in and killed all of us."
While the safety device doesn't solve the country's problem of shootings in schools, it does provide an added bit of safety for students and faculty alike.
"My hope," Edwin Colón, one of the product's developers, told The Muscatine Journal, "is to show the rest of our nation that we have to be proactive in addressing this issue that is not going to go away."
CORRECTION: An earlier version of this post incorrectly located the town of Muscatine in Illinois, rather than Iowa.
Related