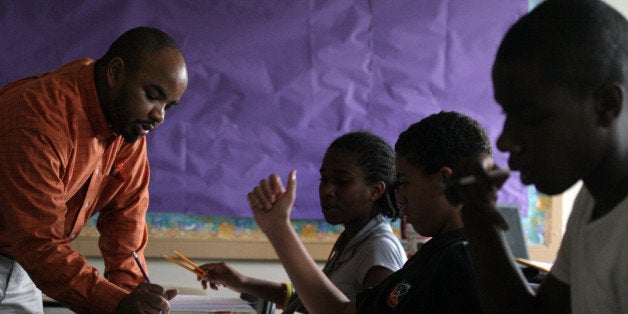 Co-authored by Clint Smith
Two percent. That is the number of teachers in this country who are African-American men. This would be shocking as a stand-alone statistic, but in the context of our nation's student population, it is appalling. For the first time in this country's history, a majority -- 50.3 percent -- of public school students are people of color. African Americans, specifically, comprise roughly 16 percent of the students in public schools. Two percent remains the count for African-American male teachers, and most students will never encounter a black male educator in their lifetime. This is why we will be co-hosting a panel discussion entitled "2% is Not Enough: How Do We Get More Black Male Teachers in America's Classrooms?" from 2:00 p.m. to 3:30 p.m. on Thursday, September 25 at the Congressional Black Caucus Foundation's 44th Annual Legislative Conference at the Walter E. Washington Convention Center in Washington, D.C.

Why does this matter? According to The Center for American Progress, when students see teachers who share their racial or ethnic backgrounds, they often view school as a more welcoming place and students of color who are taught by teachers of color perform better on a number of academic outcomes. Teachers who share the backgrounds and experiences of their students are uniquely positioned to serve as role models to students of similar backgrounds. Furthermore, a diverse teaching corps not only helps students of color, but benefits students of the many races and backgrounds in our country today, who can begin to understand and appreciate authority figures of backgrounds different from their own, while they are learning in school.
Teachers from all backgrounds can be transformative figures, but without more teachers of color, students might rarely, if ever, gain exposure to a more culturally and racially diverse educational experience. We believe exposure to more teachers of color prepares our students to the diversity they will encounter inside and outside of the classroom, and especially beyond graduation day. We recognize that there are a lot of factors that go into being a good teacher. But, when students also identify with a teacher's background and more tangibly envision their own leadership and success, there is a unique potential for them to reach beyond their dreams. We need more African American men to understand that teaching is the opportunity to change lives, and we as a nation need to support them in making the leap into the classroom.
We must also recommit ourselves to teaching, coaching and mentoring the young people from our community. Solutions must come from a variety of places -- teacher preparation programs need to do a better job recruiting and training diverse teachers and school districts; states and the federal government must provide the necessary supports to enable them to do so; and schools must engage in deep reflection on what culturally responsive teaching should look like. We also must make it more affordable for low-income students to receive a college degree and the training associated with teacher preparation so that no door is closed due to financial limitations.
We can and we must do more.
Clint Smith is a 2011 DC Teach For America alumnus and doctoral candidate at Harvard University.
Rep. Eleanor Holmes Norton (D-DC) is co-chair of the Congressional Caucus on Black Men and Boys.
REAL LIFE. REAL NEWS. REAL VOICES.
Help us tell more of the stories that matter from voices that too often remain unheard.