The Teach Plus Teaching Policy Fellowship is a highly selective program for teachers who are interested in having a voice in the decisions that affect their classrooms. As the 2013 cohorts of Teaching Policy Fellows in Memphis and Chicago wrap up, we caught up with some of the teacher leaders to ask them some questions about their experiences in the program.
How would you describe your experience in the Teaching Policy Fellowship?
"As teachers, we have few opportunities to be involved in the decisions that affect our careers and our students. However, by participating in this Fellowship, I felt so empowered to join policy conversations, and the results were tangible, positive outcomes. Being published, connecting with policymakers, and taking ownership of professional development events have changed my outlook on our profession. In the current landscape of educational policy, there has never been a more important time for us to take action--Teach Plus showed me how to do that." - Susan Volbrecht, Chicago
"Through the Teach Plus policy fellowship I gained an understanding of just how hungry policy makers are to hear from currently practicing teachers. Whether it be at an Aspen Institute convening or giving a TEDx talk, when I and other Teach+ fellows spoke policy makers listened, and then more importantly acted based on the expertise we had to offer. Teachers should lead education policy makers and not the other way around and the fellowship made that possible." - Matt McCabe, Chicago
"The Fellowship has been an experience that I will take with me for the rest of my life. I gained a sense of renewed dedication to my profession and developed a results oriented mentality. I learned more about policies that are geared toward improving teacher development and student achievement. Teach Plus created an atmosphere in which I was able to continue to grow, learn, and make impactful decisions within the teaching profession." - Joy Singleton-Stevens, Memphis
"Where do I begin? The networking opportunities are endless. In addition, I learned so much about education policy as well as different avenues for getting my voice heard by the people who influence decisions that affect teachers' classrooms." - Jane Rezos, Memphis
What's a highlight from your experience as a Fellow?
"The single best experience I've had as a Teaching Policy Fellow was getting an op-ed published on CNN.com during the 2012 Chicago Teachers' Strike. I have always wanted to be a writer, and Teach Plus helped me develop a focused platform on educational reform from which to write and publish. The organization has given me confidence as a writer, as I now believe that my words and ideas about education can influence the minds of others. The support began from my Executive Director who read my article and then right away sent it to the Teach Plus communications manager in Boston. Through emails and phone interviews, she helped me refine the piece, and it landed on CNN.com's homepage which was a pretty amazing feat. From there, I was able to publish two more op-eds in The Huffington Post, and I wrote a chapter for a Teach Plus book. I know that this experience seems personal, but many of my thoughts and opinions that went into those pieces emerged from the Teach Plus Fellowship cohort meetings. They helped inform me on policy issues that I would not have been able to have expertise on had I not become a fellow. My cohort members also supported my endeavors through their online and in-person comments." -Gina Caneva, Chicago
What would you tell a colleague who was thinking of applying?
"I love teaching. I love talking about teaching. I have professional conversations that are almost always about my students or my classroom practice. Teach Plus has made me think about education policies that affect my students, my classroom, and myself. It has made me ask some difficult questions, reaffirmed some of my beliefs, and forced me to reexamine and reshape other beliefs I thought I had. It's given me information I would not have found on my own. It's given me an opportunity to dialogue with people who have similar views and people who I could not differ from more philosophically. That's a good thing. The fellowship's power for me has been in the diversity of voices in our cohort. Teach Plus has given me the tools and the opportunities to speak differently about my life work. It's elevated those conversations." -Tai Basurto, Chicago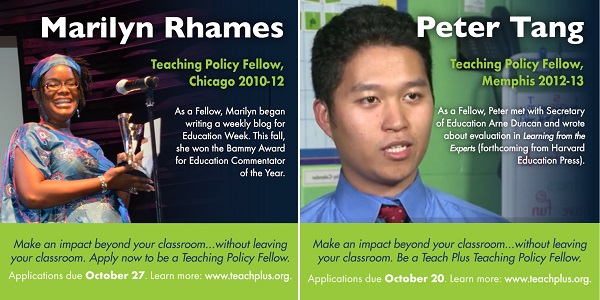 Support HuffPost
The Stakes Have Never Been Higher
Related
Popular in the Community