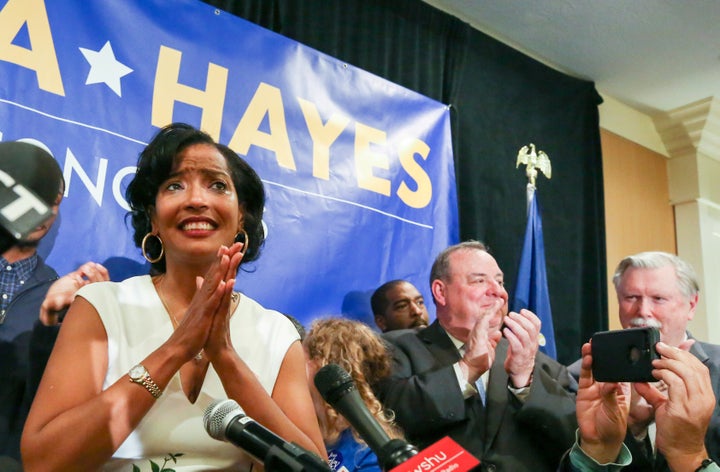 When Allyssa DiGiovancarlo was in high school, she remembers, she had a teacher who would always preach the importance of civic engagement, and remind students of the power of the ballot box.
On Tuesday, DiGiovancarlo, now 20, got to put those teacher's words into action. She showed up to vote in the midterm elections. She cast a vote for a Connecticut candidate named Jahana Hayes, whose ideas she loved.
The best part? Hayes was that teacher.
The 2018 midterm elections featured at least 1,500 former or current teachers and education professionals running for office, according to the National Education Association, the country's largest teachers union. Pundits and policymakers watched those races closely, seeing them as a referendum on the ideas that bolstered the teacher protests that swept states like Arizona and West Virginia this spring.
The teachers' students, former and current, were watching too.
For DiGiovancarlo, watching Jahana Hayes run for ― and win ― a seat in Congress felt like a personal triumph. Hayes' story of starting off as a single, teenage mother, before going on to have a successful career in education, had always resonated with DiGiovancarlo. The candidacy only cemented her admiration of Hayes.
"It shows me that just because I'm living in Waterbury, Connecticut, it doesn't mean I can't grow and be great," said DiGiovancarlo, who is now in college.
The NEA had no official tally of how many current and former educators had won their races as of Wednesday afternoon. But the early view from union leaders is that the 2018 elections delivered a victory for public education nationwide, despite pockets of disappointments around the country.
"Education had a good night last night," NEA President Lily Eskelsen Garcia told HuffPost on Wednesday. "Nobody expects to win every race there is. But we saw wins up and down the ballot, and we are on fire."
Hayes, a former National Teacher of the Year, is heading to Congress from Connecticut. Rep. Tim Walz (D), a high school geography teacher by trade, won the race to become Minnesota's next governor. Former teacher and state school Superintendent Tony Evers will become Wisconsin's next governor after defeating incumbent Scott Walker, who earned the ire of teachers in 2011 for attacking their right to collectively bargain.
Current and former educators won races for state auditor in Minnesota, secretary of state in Michigan and even state land commissioner in New Mexico ― a position that oversees vital school land trusts that in recent years have been sold off to oil companies and other businesses, to the dismay of teachers and public education advocates. In Kentucky, where teachers shut down schools in protest amid budget and pension cuts in April, a record 51 educators ran in state legislative races Tuesday. Fourteen of them won, according to the Louisville Courier-Journal.
"Everyone who flipped a gubernatorial seat ran on a platform of health care, infrastructure and public education," said Randi Weingarten, president of the American Federation of Teachers, the union that represents nearly 2 million educators nationwide. "It is a good day when you have eight more governors who want to actually make public education and student success a priority, and want to work with teachers, not against them."
The results weren't uniformly rosy, however. There were also significant letdowns.
In Arizona, David Garcia ― an Arizona State University professor and former state Department of Education official ― lost his race to unseat Republican Gov. Doug Ducey. In Florida, Tallahassee Mayor Andrew Gillum (D) appears to have fallen just short in the governor's race after campaigning on a pro-teacher, pro-public education platform. (The race could still receive a recount.) In Oklahoma, site of a high-profile teachers' strike earlier this year, Republican Kevin Stitt defeated Democrat Drew Edmondson, who'd supported tax increases to fund raises for teachers. 
But even those setbacks were accompanied by signs of progress for public education advocates. Arizona voters rejected a ballot measure that would have resulted in a massive expansion of the state's education voucher program. In Florida, voters approved new taxes to fund public education and teacher pay in several major counties.
Looking ahead, the more intangible effects of teachers' involvement in this election cycle could echo far beyond statehouses, and far beyond 2018.
Christine Marsh, a Democrat in Arizona who has spent decades as a high school English teacher, is still locked in a battle for state Senate, her race too close to call. On Wednesday, while the votes were still being counted, she returned to the classroom.
But for her former student Judith Giller-Leinwohl, winning is almost besides the point. Marsh created opportunities for herself. She was ballsy. She got legions of students to pay attention to a state Senate race. And she stuck to her values.
Marsh had always been a force of good in the classroom. To see her take her energy outside of school ― while remaining a fierce advocate for her students ― was heartening, said Giller-Leinwohl, 26.
"It's so powerful for her students to see she isn't just talk about some of this," Giller-Leinwohl said. "She really put it into action."
CORRECTION: A previous version of this story misstated the year Walker earned the ire of teachers. It was 2011, not 2015.
Calling all HuffPost superfans!
Sign up for membership to become a founding member and help shape HuffPost's next chapter