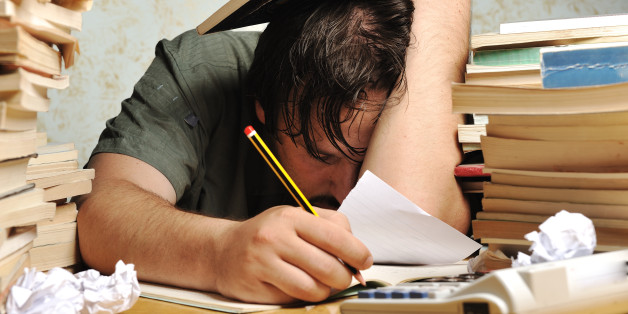 Teachers are stressed out. But they're not getting much help from their districts.
According to a recent survey published by Metlife, stress levels among American teachers have increased sharply, and job satisfaction has dwindled to its lowest level in 25 years. Amid the strains of low wages, pressures surrounding high-stakes testing, long working hours and threats of layoffs, almost half of teachers leave the profession after just five years, costing districts' billions of dollars and depriving students of the experience of learning from seasoned professionals.
Given all these factors, it seemed natural that districts would want to enact morale-boosting programs. So we decided to reach out to our Twitter and Facebook followers to see if their local school districts were doing anything interesting to help them de-stress and unwind.
Unfortunately, the answers we received were pretty depressing. Here's a sample:











@HuffPostEdu no but they add to stress with more requirements that do little to help kids

— Frank L. Rogers (@flrbase) October 3, 2013
"@HuffPostEdu: TEACHERS: Does your school district do anything special to help you de-stress?" LOL LOL LOL

— Kelly Harrington (@Srta_Kelly) October 3, 2013
@HuffPostEdu Not at all. @CHSTAunited

— Ms Ullrey (@MsUllrey) October 3, 2013
@HuffPostEdu ha! I'm convinced this word doesn't exist for them.

— Aishousha (@AishyM) October 3, 2013
@HuffPostEdu They ring the 3:00 bell, the calendar turns to Friday, and the school year has a last day. We don't get any raises ever though

— Roderic Rinehart (@rodericrinehart) October 3, 2013
@HuffPostEdu No, but I would love an option to de-stress either at school, or something outside of school!

— Ashley Richardson (@ashley_nrich) October 3, 2013
On the bright side, we found two people who said their districts are doing great things to help staff de-stress, and those efforts seem to be paying off in terms of morale.
@HuffPostEdu We do morning stretch each morning and have a health fair each year #de-stress

— Parker Ormerod (@ParkerOrmerod) October 3, 2013

You go, Katy ISD!
Does your school district do anything special to help teachers and students de-stress? We want to know! Send tips to Rebecca.Klein@huffingtonpost.com.
REAL LIFE. REAL NEWS. REAL VOICES.
Help us tell more of the stories that matter from voices that too often remain unheard.
BEFORE YOU GO
PHOTO GALLERY
Teachers: How Do You De-stress?