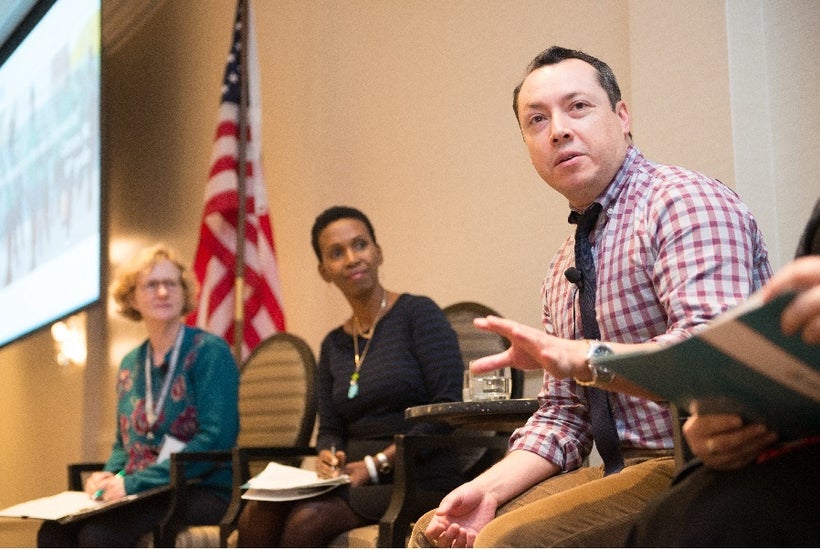 With an estimated 23 million U.S. jobs being tied in some way to international trade, the economic case for promoting students' global competencies—the skills needed to appreciate and interact effectively with people from other cultures—has never been more clear. But how can American schools do this in meaningful ways that truly engage their students?
Recently a group of over 100 educators and administrators from 36 states and the District of Columbia came to Washington, DC to explore answers to this very question. Attendees at the Global Education Leadership Conference were primarily alumni of the U.S. Department of State's Teachers for Global Classrooms Program (TGC).
Since 2011, over 450 U.S. teachers have participated TGC. Each completed a rigorous certification program on globalizing classroom content and then traveled to observe and co-teach at schools overseas. IREX, the program implementer, estimates that each TGC teacher reaches an average of 130 U.S. students per year, providing these more than 58,000 students with more opportunities for global learning and teaching them to recognize multiple perspectives.
A Compelling Case for #GlobalEd
Despite the range of their home environments (rural, urban, and suburban) and the diversity of their schools (public, private, and charter), TGC alumni consistently emphasized the relevance of global education. But teachers stressed that student job readiness is only one benefit to globalizing classrooms and curricula. They cited global education's ability to increase student engagement, to promote mutual understanding, and to help youth navigate an increasingly complex world.
"This is exactly what our kids need to learn—being collaborative, being a problem-solver," said Kate Boyens, a teacher at Scott Elementary School in Naperville, Illinois.
Jennifer Chavez-Miller, a teacher from South Valley Academy in Albuquerque, New Mexico, says that global education naturally resonates with this generation of students. "They really want to know how to connect with the world. They already have globalization in their lives. This just pulls it in academically."
Antjuan Marsh, the Principal at Shades Valley High School in Birmingham, Alabama, said that the global competencies of recognizing multiple perspectives and communicating with diverse audiences are immediately relevant to his student body. With a 70% minority population and students of 10 different nationalities at his school, he says, "We are a global campus. It's who we are."
7 Strategies for Globalizing Schools and Classrooms
Throughout the conference, participants shared a range of practical strategies to help schools and classrooms "go global":
Teachers need to create win-win scenarios with administrators, parents, colleagues, and students to promote global education.
Confront the "add-on myth" that global education is extra work. Show how it supports current educational standards.
"Heroes and holidays" events are great entry points. But teachers can build on one-and-done approaches by asking, "Where do we go from here?" Take your classrooms deeper into a global issue in your community like climate change or migration.
To help students care about what's happening on the other side of the world, focus on shared interests and realities to start, such as technology, sports, entertainment, or preventing bullying. Or introduce global issues using the Sustainable Development Goals.
Incorporate global topics into ongoing conversations and coursework with students and create regular check-ins. Ask students, "What are you going to do this week to develop your sense of global citizenship?"
If we want our students to be 21st century leaders, we as parents and teachers have to be role models.
Identify stakeholders and supporters. You need to find out who your allies are. You can feel like you're all alone, but you're not.
Classroom Collaboration Across Cultures
Whether from urban centers or rural towns, teachers employed a range of practical approaches to help American students learn about and collaborate with their peers abroad. Some became email pen pals with students in Ghana. Other TGC alumni visited cultural exhibitions like Heifer Global Village. Still others leveraged local Sister Cities connections.
Many teachers raised students' awareness about subjects that are both local and global. Students would research the issue, such as hunger in the United States and overseas, and then take action by fundraising for a nearby food bank or an international charity.
In another example, Mario Perez's newcomer students in Arlington Heights, Illinois and a school in the Republic of Georgia recently studied environmental issues together. They incorporated a service-learning component by doing local river cleanups and used the Clean Swell app to record and compare the amount of plastics they collected.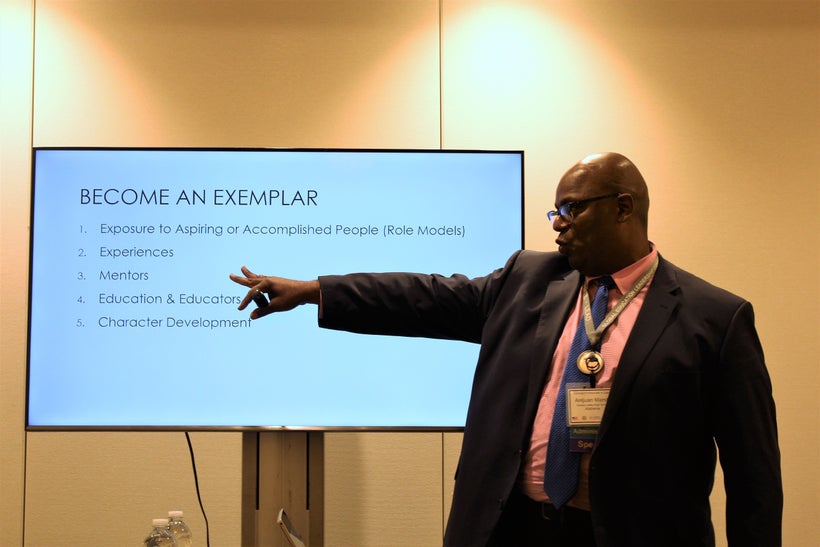 Infusing STEM with Global Competence
People often associate global education with social studies. But teachers declared that global competence can be infused within any subject area or activity from reimagining science fairs to mathematics.
"Math teachers need to be a little more creative when it comes to linking global concepts into our lessons," admits Todd Noyes from Ithaca High School, who regularly incorporates global education topics into algebra and pre-calculus classes.
In his Latitude vs. Temperature Lab, students examine global climate change by measuring countries' temperature fluctuations over a year. Students graph latitude vs. temperature and decide if there is a correlation between them. They also examine cultures in various latitudes and how peoples' ways of life may be shaped by weather.
Mr. Noyes cites students' increased engagement in their coursework because of these approaches, "Students are digging deeper into what they're finding. They're researching beyond the bare minimum."
Creating a Vision to Transform Education
The event culminated with a strategy session where the network of teachers and administrators created a vision for global education they could implement upon returning home, which included training more of their peers to globalize classrooms.
Stacy Gasteiger, an elementary school teacher from Selinsgrove, Pennsylvania, says "TGC has transformed my life as a teacher. It opened me to so many possibilities, which have transformed the education my students are getting. I now feel part of the world as well as part of our small rural community."
Calling all HuffPost superfans!
Sign up for membership to become a founding member and help shape HuffPost's next chapter
This post was published on the now-closed HuffPost Contributor platform. Contributors control their own work and posted freely to our site. If you need to flag this entry as abusive,
send us an email
.